The TV week
Future Island (RTÉ 1, Wednesday and Thursday 7pm)
In the midst of a pandemic, 2020 has been Irish science's finest hour. But how will our brightest brains equip us to thrive in a future that's safe and sustainable? And how can Irish citizens actively participate in shaping and choosing this future? Presented by Liz Bonnin, Future Island will curate Ireland's most exciting and inspirational stories and voices into a family-friendly celebration of our nation's experts and innovators.
Entrepreneur of the Year (RTÉ 1, Thursday 11.10pm)
This year celebration of Irish entrepreneurship throughout the difficult time that is 2020. Winners will be selected from three categories – Emerging, Industry and International. An annual Special Award is given to visionaries who have challenged the status quo and pushed boundaries to build a better working world for all those around them.
Black Monday (Now TV)
October 19, 1987 – Black Monday, the worst stock market crash in Wall Street history. The story of how a group of outsiders took on the old-boys club of Wall Street and ended up crashing the world's largest financial system, a Lamborghini limousine and the glass ceiling.
The Simpsons (Sky 1, weekdays 5.30pm)
Hard to believe this legendary series has been on the air for 31 years. Along the way, we learned to shout 'Eat my Shorts!' plus 'Doh!' and a host of other classics from Bart, Homer, Marge and Lisa.
BEST FILMS
The Leisure Seeker (RTÉ 1, Wednesday 9.35pm)
Comedy drama starring Helen Mirren, Donald Sutherland and Christian McKay. A runaway couple decide to throw caution to the wind and go on an unforgettable journey in the faithful old RV they call The Leisure Seeker.
The Fugitive (RTÉ 2, Friday 9.30pm)
Harrison Ford took the title in the film version of the hugely successful television series where Dr. Richard Kimble, unjustly accused of murdering his wife, must find the real killer while being the target of a nationwide manhunt led by a seasoned U.S. Marshal, played by Tommy Lee Jones.
Terms Of Endearment (RTÉ 1, Friday 9.35pm)
Shirley MacLaine, Debra Winger and Jack Nicholson star in this 1983 film that had queues around the street across the world. Aurora is a finicky woman in search of true love as her daughter faces marital issues. Together, they help each other deal with their problems.
JoJo Rabbit (Sky Cinema, from Friday)
Jojo is a lonely German boy whose only friend in the world is his imaginary incarnation of Adolf Hitler. While his world view is shaped by the surrounding of Nazi Germany, he fails to ingratiate himself with his peers in the Hitler Youth.
CLASSIC MOVIE
The Hunt (Sky Cinema, from Saturday)
Twelve strangers wake up in a clearing, not knowing where they are, or how they got there. They don't know they've been chosen for a very specific purpose to provide human prey for a group wealthy hunters at a remote Manor House. Hillary Swank stars.
KIDS STUFF
White House Secrets and Scandals (Sky History, Sunday 9pm)
Stories that have once been shrouded in secrecy and hidden from public view will be revealed in this new series giving access to some of America's most iconic locations, organisations and public scandals of the country's highest office.
Dawson's Creek (Netflix)
Classic 1990s teen drama that ran for 128 episodes and started the careers of many major actors. Set in the town of Capeside, the plots revolve around the main characters of Dawson, Joey, Pacey and Jen.
ON DEMAND
The Wine Show (Amazon Prime)
The seven-part series sees actor Domnic West join Matthew Goode, Matthew Rhys and James Purefoy at their base in Portugal's Quinta do Noval in the Douro Valley, covering the harvest and helping with the traditional grape-treading.
Rita (Netflix)
Hugely popular Danish dramatic-comedy series centred around Rita – an unconventional teacher who is unapologetic about sexuality – and sleeping with the headmaster. She's also a single mum who loves her three children – one of them a teenager still attending the school where she works.
The Walking Dead: World Beyond (Amazon Prime)
Set ten years after the zombie outbreak, two sisters along with two friends leave a place of safety to brave dangers, known and unknown, living and undead, on an important quest.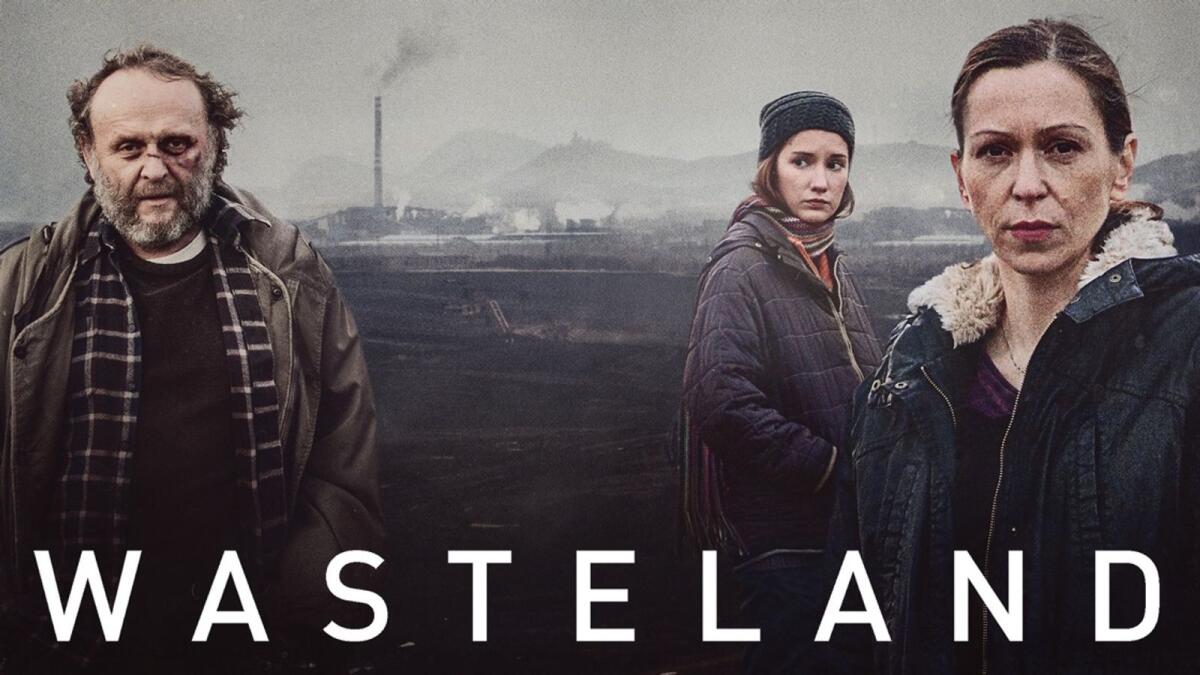 Wasteland (All4)
In the village of Wasteland, mayor Hana Sikorova is struggling against a foreign mining company eager to access the huge coal reserves that lie beneath the village. The firm is offering attractive compensation to locals in exchange for selling their homes, but Hana's efforts are hampered when her daughter is abducted.
SPORTING MOMENTS
Golf: The Masters Highlights (BBC 2, Wed to Sun 11.30pm. Also Sky Sports)
Kat Downes presents highlights as the world's finest players face off on the fairways and greens of Augusta National in one of golf's major tournaments. Though moved from its usual slot in April, the battle for the green jacket will be as fierce as ever across an elite-level playing field, including Tiger Woods who completed the comeback of the decade to win his 15th major last year.
The Championship: Hurling and Football (RTÉ 2 + Sky Sports, November weekends)
After an unprecedented absence of inter-county play, the GAA Championship is finally back, and with games set to take place behind closed doors, Sky and RTÉ will be there for the fans with a stellar line up of GAA legends bringing the games to life through coverage and expert analysis.
NOVEMBER PODCASTS
Tommy and Hector
Conversation of the language loving storytelling variety – unpredictable and intimate from a pair of worthy wordsmiths. Tommy Tiernan and his school pal Hector O'hEeochagain are joined Mayo woman Laurita Blewitt in a shed at the bottom of a garden in the West of Ireland.
The Stand With Eamon Dunphy
He's an individual who's never stuck for an opinion on everything from football to Trump to Boris to the Catholic Church. No less engaged with Ireland and the world as he grows older, Eamon tells it his way – like it or not.