Four iconic music venues and the musicians associated with them
TV WEEK (Wednesday 30th to Tuesday 5th)
TOP SPECIALS
Classic Movies: The Story of the Third Man (Sky Arts, Thursday 31st, 8pm)
This six-part series dissects the stories behind six of cinema's most iconic and acclaimed films. It begins with Carol Reed's film noir classic, The Third Man, starring Orson Welles, which follows an American writer as he chases his old friend and agent of corruption Harry Lime through the ruins of post-war Vienna.
An Seisiún (RTÉ 1, Friday 1st, 8.30pm)
Four iconic live music venues synonymous with traditional and folk music are showcasing the best of bands, musicians and singers who have proud associations with these much cherished family run venues. The Saw Doctors, Mick Flannery, Stockton's Wing, Lisa Canny and The 4 of Us celebrate the rich musical heritage of Campbells Tavern in Galway, The Cobblestone in Dublin, Connollys of Leap in West Cork and McGrory's of Culdaff, Donegal.
Marty's Big Picture Show (RTÉ 1, Sunday 3rd, 7.30pm)
In this six-part series, Marty Morrissey and historian Liz Gillis uncover the work of Ireland's photographers. Episode 1 explores Limerick in the 1970s as pictured in the work of photographer Gerry Andrews, revealing a changing city, but one where the past is still visible on every corner.
Bog Amach (RTÉ 1, Monday 4th, 8pm)
Presenter Emer Mhic an Fhailí has a passion for property and interior design, and she takes six couples to spectacular locations across the country as they search for the perfect place to settle. Each week she shows house-hunters three potential properties in their chosen areas.
WATCH OF THE WEEK
Secrets Of The Female Orgasm (CH4, Thursday 31st, 10pm)
Yewande Biala is an Irish biochemist and author with two degrees, in addition to being a former Love Island contestant. She's articulate, charismatic and outwardly confident. But, like as many as one in eight women, she's missing one big thing in her life – being able to orgasm.
BEST FILMS
Peppermint (Virgin Media 2,Thursday 31st, 9pm)
After surviving a brutal attack that killed her husband and daughter, Riley discovers the system shields the murderers from justice, and transforms herself from citizen to urban guerrilla on a quest for revenge.
Step Brothers (RTÉ 2, Thursday 31st, 9.30pm)
Will Ferrell and John C Reilly are lazy, unemployed leeches who still live with their single parents. But when their mother and father marry, the overgrown boys' world goes upside in an insane rivalry pulling the new family apart.
Glastonbury At 50 (RTÉ 2, Friday 1st, 11.10pm)
A social and musical history of probably the world's greatest music festival, as told by its principal curators, Michael and Emily Eavis, and many of the key artists who've appeared there. A musical voyage through some of the biggest artists in the world.
Tar (Sky Cinema, from Friday)
Starring Cate Blanchett as Lydia Tár, a groundbreaking conductor at the height of her career, preparing a book launch and a live performance of Mahler's Fifth Symphony – until her life unravels in a singularly modern way.
CLASSIC MOVIE
The Boxer (RTÉ 1, Wednesday 30th, 9.35pm)
Daniel Day-Lewis plays a rising boxing talent imprisoned for 14 years after involvement with the IRA. Newly freed from jail in his early 30s, he reopens his neighbourhood gym – but has to battle against his former IRA colleagues. A knockout.
KIDS STUFF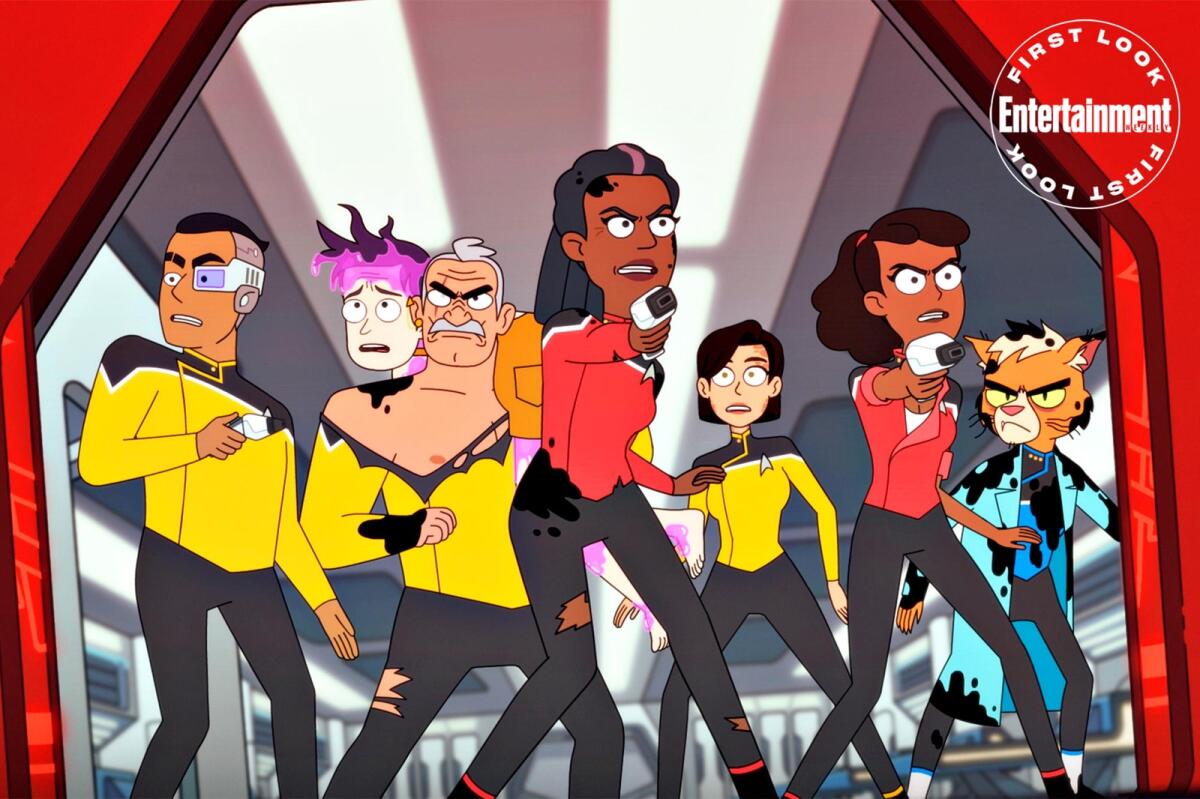 Star Trek: Lower Decks (Paramount+)
Focuses on the support crew serving on one of Starfleet's least important ships, the USS Cerritos, in 2380. Ensigns have to keep up with their duties and their social lives, often while the ship is being rocked by a multitude of sci-fi anomalies.
Star Wars: Ahsoka (Disney+)
After the fall of the Galactic Empire, former Jedi Knight Ahsoka Tano investigates an emerging threat to a vulnerable galaxy. Introduced in the Clone Wars animated series, she now squares off against the fearsome Grand Admiral Thrawn.
ON DEMAND
Joe Pickett (Paramount+)
Game warden Joe Pickett and his family navigate the shifting socio-political climate of a rural town on the verge of economic collapse; when a murder victim winds up on Joe's doorstep, the Picketts find themselves embroiled in a larger conspiracy.
Who Is Erin Carter? (Netflix)
Erin is a mother, wife and teacher living the ex-pat dream in Spain – until she is caught up in a robbery in a supermarket, which then leads to her being revealed as clearly not who she says she is. How far will she go to keep her true identity at bay as her life begins to unravel?
Wanted: The Escape Of Carlos Goshn (Apple TV)
He was the chairman and CEO of Renault and Mitsubishi Motors who was forced to turn fugitive when the story behind his relentless climb to the top of the corporate ladder led to his shocking arrest, and an unbelievable escape that stunned the world.
Mr Sloane (Sky/Now)
Bittersweet British comedy-drama about a buttoned-down accountant in the late 1960s whose life has hit bottom: he's lost his job and wife. A chance encounter with a free-spirited American gal, however, just may change his fortunes. Nick Frost and Olivia Coleman star.
Greatest Days (Amazon Prime)
Aisling Bea leads the cast in a feel-good story of love and friendship featuring the hit songs of Take That following five best friends who have the night of their lives seeing their favourite boy band in concert. Twenty five years later, they reunite for one more epic show by their beloved band.
SPORTS CENTRE
KPMG Women's Irish Open 2023 (RTÉ 2, Thursday & Friday 31st and 1st, 4pm)
Marie Crowe is joined by John McHenry for live coverage from Dromoland Castle, County Clare.
Hatton (Sky Documentaries, Thursday 31st, 9pm)
A definitive portrait of one of the world's most beloved boxers – Ricky 'The Hitman' Hatton. The documentary charts his journey from the Hattersley estate near Manchester to headlining on the strip in Las Vegas is an emotional insight into a brilliant but flawed sporting hero.