The haunting love story that inspired the song Grace
TV WEEK Wednesday 6th to Tuesday 12th)
TOP SPECIALS
Scéalta Grá na hÉireann (TG4, Wednesday 6th, 8.30pm))
It is one of Ireland's most haunting love stories. Grace Gifford and Joseph Plunkett's story captured the hearts of millions and inspired the timeless ballad, 'Grace'. Two kindred spirits united by their love for art, poetry and the dream of a free Ireland, Grace was planning their wedding while Joseph was planning the 1916 Easter Rising.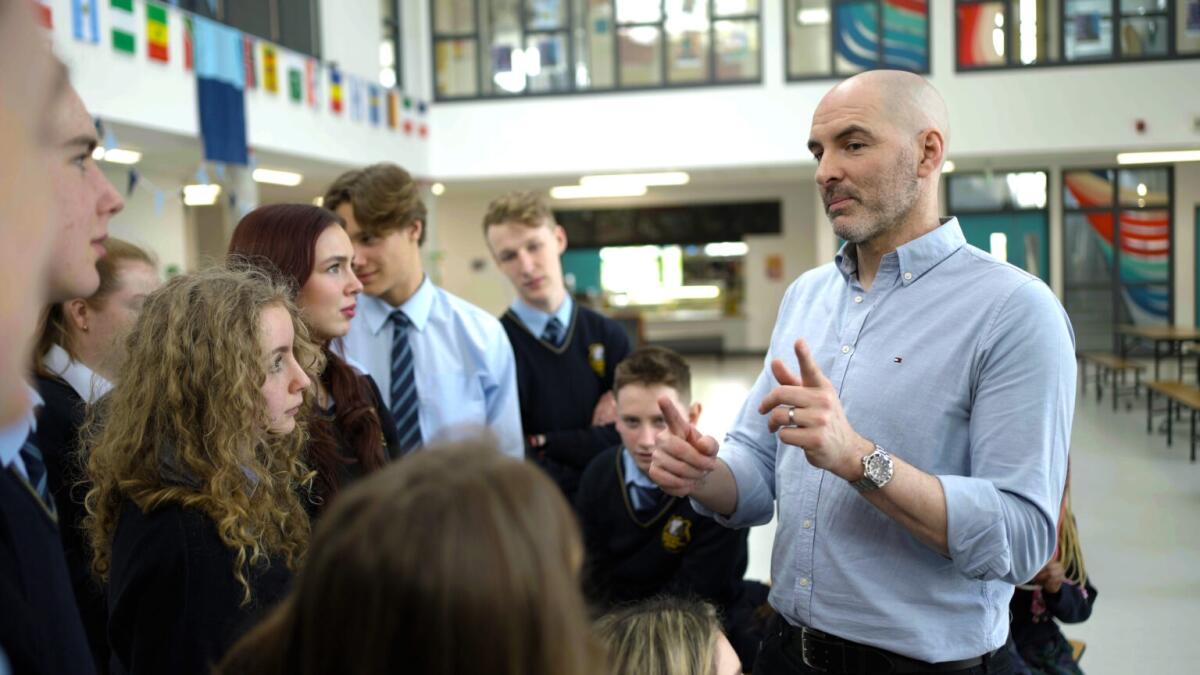 Richie Sadlier: Lets Talk About Sex (RTÉ 1, Thursday 7th, 10.15pm)
The ex-footballer and psychotherapist takes on his most personal and urgent journey yet as he cuts straight to the heart of Ireland's Sex Ed curriculum. Through the eyes and opinions of transition year school students, the series explores Ireland's sex education history, its current state, and envisions a more progressive future.
Mrs Brown's Boys (BBC 1, Friday 8th, 9.30pm)
After a long absence due to the pandemic, the Dublin matriarch is once again sticking her nose into places it doesn't belong – and always with hilarious results. Now well established as one of television's most popular comedy shows, the brainchild of Brendan O'Carroll seems set to run and run.
Hidden Assets (RTÉ 1, Sunday 10th, 9.35pm)
This second episode of the new series sees Claire flexing her muscles as the lead detective sergeant in charge at the Criminal Assets Bureau, where she faces a sudden challenge – a coordinated cyber-attack targeting CAB and the Belgian Counter-Terrorist Unit, with a connection to the Brannigan case.
WATCH OF THE WEEK
The Lovers (Sky Atlantic, Thursday 7th, 9pm)
Roisin Gallagher is a foul-mouthed Belfast supermarket worker who doesn't care about anything, including her life. Johnny Flynn is a self-centred political broadcaster with a perfect London life. But when he unexpectedly – and literally – drops into Janet's world, they instantly clash, and find themselves inextricably drawn to each other.
BEST FILMS
Kajillionaire (RTÉ 1, Friday 8th, 11.25pm)
Evan Rachel Wood and Debra Winger star in this comedy drama concerning two con artists who've spent 26 years training their only daughter to swindle, scam and steal at every turn. During a desperate heist, they charm a stranger into joining them, only to have their entire world turned upside down.
Scream V1 (Sky Cinema, from Friday)
The four survivors from the most recent Woodsboro Ghostface killings have moved to New York City for a fresh start. But just as they begin to feel a sense of security, they receive that infamous call – and Ghostface will stop at nothing to hunt them down.
80 For Brady (Sky Cinema, from Saturday)
Academy Award winners and nominee Jane Fonda, Rita Moreno, Sally Field and Lily Tomlin star in this heartfelt comedy, inspired by a true story of friendship where four lifelong friends set out on a journey to see their hero Tom Brady play in Super Bowl and discover that it's never too late to live life to the fullest.
CLASSIC MOVIE
Master and Commander: The Far Side Of The World (Film4, Thursday 7th, 6.20pm)
Based on the popular seafaring novels of Patrick O'Brien, the story is set during the Napoleonic Wars of 1805, aboard the HMS Surprise, where brash Captain Jack Aubrey (Russell Crowe) and the ship's scholarly surgeon, Stephen Maturin (Paul Bettany), are ordered to hunt down and capture a powerful French vessel off the South American coast.
KIDS STUFF
Curse of Skinwalker Ranch (Sky History, Wednesday 6th, 9pm)
Skinwalker Ranch is the site of suspected paranormal and UFO-related activities, and this follows a team of investigators utilising ground-penetrating radar to investigate anomalies such as ionising radiation, UFO markings, a human bone discovered in an airtight cellar and cattle mutilation.
Jumanji: The Next Level (RTÉ 1, Saturday 9th, 8pm)
When Spencer goes back into the fantastical world of Jumanji, pals Martha, Fridge and Bethany re-enter the game to bring him home. But the game is now broken, and fighting back, and everything is about to change.
ON DEMAND
Mayans MC (Disney+)
Follows the life of Ezekiel 'EZ' Reyes, a member of the Mayans motorcycle club on the California Mexico border. Once a golden boy with the American dream within his grasp, EZ and his brother, Angel, are driven by a need for vengeance in a life never intended for them. If you liked Sons Of Anarchy, this will throttle your attention.
The Control Room (Virgin Media Player)
Gabe is an ordinary emergency call-handler working for the Scottish Ambulance Service in Glasgow. But slowly it emerges that he's an individual with dark secrets from his childhood which unexpectedly come back to life the day he receives a desperate call from a woman who seems to know him.
Miracle Workers (Sky/Now)
A comedy set in the offices of Heaven Inc. When God plans to destroy the Earth, two low-level angels need to convince their boss to save humanity – and promise him they can pull off their most impossible miracle yet: help two humans fall in love. Daniel Radcliffe is a long way from Harry Potter as an over-worked angel, while Steve Buscemi is perfect as a boozy God.
Choose Love (Netflix)
Netflix's first-ever interactive rom-com that puts the power in viewers' hands as it follows Cami, the girl with the perfect job as a recording engineer and a great boyfriend who loves her. Cami seems to have it all, but she can't stop herself wondering if the new hot guy at work is worth throwing it all away for – or what about the re-appearance of her ex, Rex. You decide.
SPORTS CENTRE
Horizon Irish Open (RTÉ 2, Thursday 7th, 1pm)
Joanne Cantwell is joined by Gary Murphy and John McHenry for live coverage of the first day's play from the K Club. Dave Kelly reports.
European Qualifiers (RTÉ 2, Thursday 7th, 7pm)
Darragh Maloney presents live coverage of France v Republic of Ireland from Parc de Princes, Paris. Commentary from Des Curran. KO 7.45pm.
Rugby World Cup 2023 (RTÉ 2, Friday September 9th, 6.45pm)
It's finally here – the event that could mean so much for Ireland. Jacqui Hurley is joined by Donal Lenihan, Jamie Heaslip, Jerry Flannery and Stephen Ferris for live coverage of the opening ceremony followed by France v New Zealand from Stade de France, Paris. KO 8.15pm