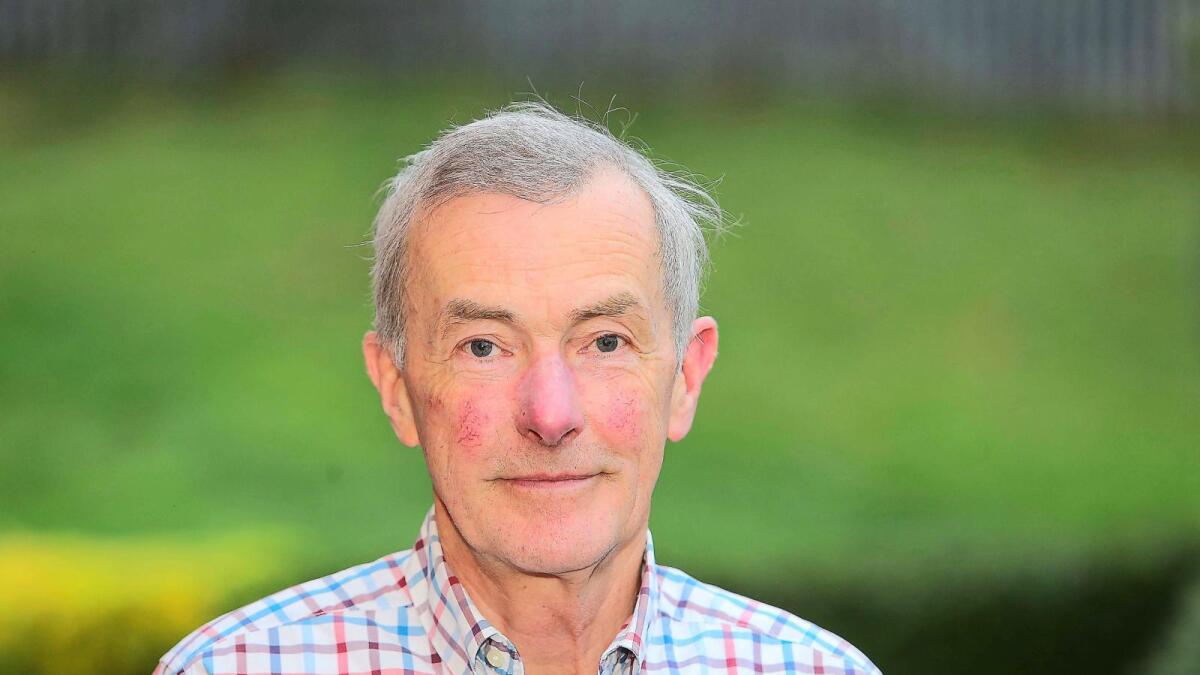 On the high seas
INDEPENDENT PEOPLE: CHARLIE LAWN
There aren't too many people who can tell you the difference between a regular ice cube and ice you've chipped from an iceberg when you drop them in a glass of whiskey, but this is just one of Charlie Lawn's many anecdotes after a career that has brought him all over the world.
Charlie's varied career has included a five-year stint as aide-de-camp to Taoiseach Charles J. Haughey, seen him spend two years in Canadian waters and serve as Inspector of Navigation with Waterways Ireland.
A native of Dungarvan, Charlie lives in Auburn, Athlone, with his wife Ann, who works in the radiology department of Roscommon hospital. The couple has three daughters – Sarah, who works as a solicitor; Emily, who is a language teacher and textile designer Orla, who is currently completing her studies.
Charlie and his family first came to Athlone in 1996 when he took up the position of Inspector of Navigation with OPW and although he spent four years working with the European Commission in Brussels in between, he returned to Athlone in 2004, once again taking up the post of Inspector of Navigation, although it was now under the remit of Waterways Ireland and his area of responsibility had expanded.
Prior to coming to Athlone, Charlie spent 24 years in the Naval Service, serving on the LÉ Eithne and as Commanding Officer of the LÉ Aoife.
"A naval career is a particular career suited to certain people," he said. "You are depending on your spouse to look after home. You need someone who is well able to be independent and look after things."
Charlie served on the LÉ Eithne when it became the first naval vessel to have a helicopter on board.
"This was a totally new departure and I was involved in the introduction of a helicopter to sea-patrolling. The LÉ Eithne was also the first naval vessel to visit the US, I was second-in-command, Executive Officer, at the time," he says of his highlights in the Navy.
Another highlight saw him serves as aide-de-camp to the office of An Taoiseach, from 1987 to 1992, when Charlie Haughey was Taoiseach.
"He had asked for a naval officer. I was there five years," he said. "It was an opportunity to have insight into the workings of Government at close quarters.
"It was interesting to be in the same room as the likes of Margaret Thatcher. It gave you a heightened interest in what was being written about in the papers."
While in this position, Charlie accompanied the Taoiseach on two trips to Washington when George Bush Snr was president and to Australia and New Zealand.
When his naval career ended, Charlie moved to Athlone and said that coming from a background of working with big shipping vessels to a town where people had much smaller vessels, he said: "One of the things that surprised me was the level of expertise in places like Athlone and Banagher to maintain and refurbish the boats."
He has seen many improvements over the years in both the town itself and the numerous waterside facilities now on offer, such as the town marina, the expansion of Portaneena, the introduction of a floating jetty at The Wineport, to name a few.
"Another important change was Coosan Point. Waterways Ireland put in new pontoons and the local authorities improved the land side. When we came to Athlone you couldn't go to see the lake and go for a lakeside walk," he said
"In the future I hope Coosan will continue to be developed. Athlone Tri Club is there now, Waterways Ireland has the moorings, the Boat Club holds its annual regatta and Swim Ireland is doing long distance swimming there now. And of course first and foremost the anglers are there."
Charlie added there have also been vast improvements from a safety point of view, such as the introduction of the RNLA lifeboat, the air ambulance and he said the legislation requiring people on boats to wear life jackets was extremely important and one that people adhere to.
In 1999 Charlie left Athlone to work for the European Commission in Brussels as Inspector under the Common Fisheries Policy and spent two years in European waters and two years in Canadian waters.
"The job in Brussels was to visit national fisheries inspectorates to ensure the Common Fisheries Policy was being applied equally across all member states so that it was a level playing pitch throughout the EU," said Charlie.
He spent two years in Canadian waters and said: "One of the things that intrigued me was seeing icebergs off the Canadian coast. We'd all heard of the Titanic and what it had hit. I'd always been professionally very keen to see an iceberg and to navigate where there were icebergs."
"They were quite large, we had to be cautious. You can get surrounded by ice very quickly.
"The particular difficulty in the Canadian seas in winter is that the continental US is frozen so the air on the sea is also frozen, the spray blows up onto the deck and freezes on the masts and sometimes the crew have to climb up and chip it off so the masts can work.
"It was a job I did for four years and I enjoyed it immensely," he said.
While Charlie was in Brussels, the Belfast Agreement had been signed and it brought Waterways Ireland into existence. It was one of six north-south implementation bodies.
"There is still a very real significance to that agreement," he said.
"My jurisdiction had increased to include the Ernie and Lower Bann in Northern Ireland, as well as the Shannon," he says of his return to the post of Navigation Inspector in 2004.
Charlie said he was very fortunate with the people he worked with who allowed him to do his job and kept him grounded in his tasks.
"A good team makes all the difference," he said.
Having a keen interest in sport, Charlie is the chairman of AIT Athletic Club and also a member of Athlone Tri Club.
"The other thing I support is Park Run, an initiative that happens at 55 locations throughout Ireland every Saturday at 9.30am. It's a 5K run in parkland, runners, joggers, walkers, people with dogs, people with buggies. It starts at 9.30am on the dot and it's a great way to start your Saturday," he said.
"You get a time and it's posted on the website in the afternoon. Whether you're in the UK, Italy, Canada there's a Park Run and you can just drop in. It's community based and it appeals to unaffiliated people. The Athlone course is in the grounds of AIT but it's nothing to do with AIT," he added.