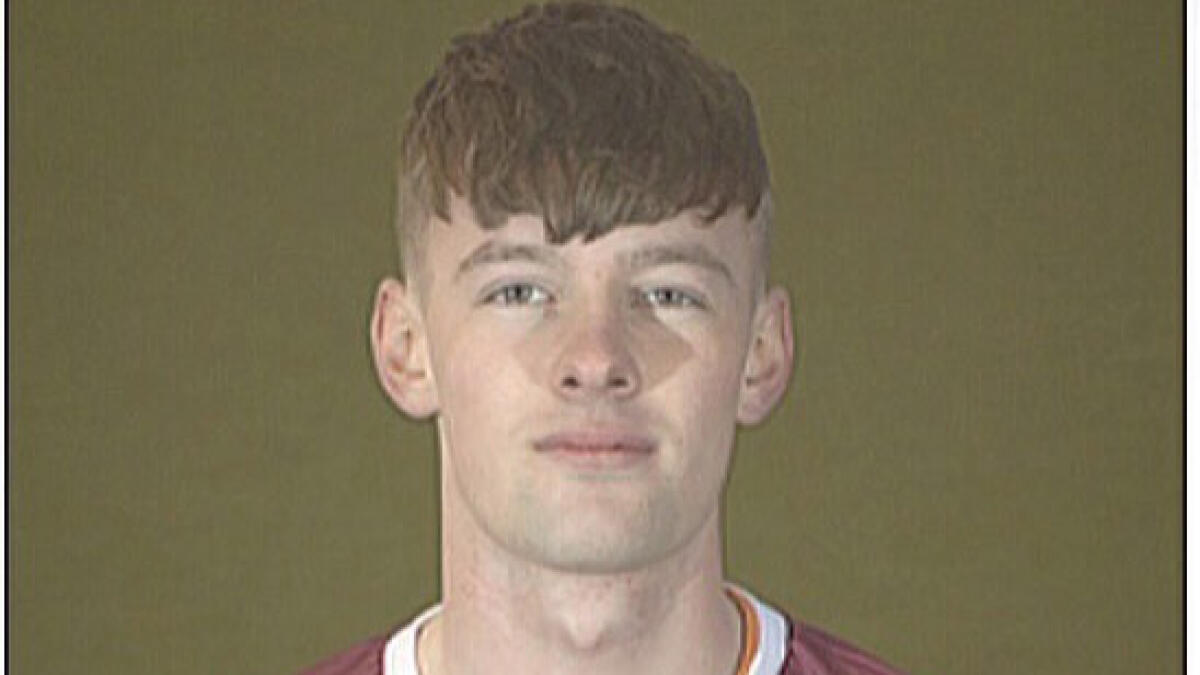 'Talk to someone. Everyone wants to help. You have to make the first step'
A talented young local sportsman has spoken out about his struggles with depression and anxiety in a bid to help others who are dealing with similar issues.
Kevin Daly (20) from College Park, Athlone, was one of the brightest young football prospects in the midlands, and was on the watch list of scouts representing some of the big UK football clubs.
However, anxiety and depression left him experiencing panic attacks whilst playing football that left him convinced he was going to drop dead on the pitch.
Kevin has now learned how to cope with the good and bad days and wants others who may have similar feelings to know that there is help at hand.
"The first step is coming to someone and say: 'I'm not alright'. I didn't know how to do that for a long time that's why I couldn't. The only regret I have is not talking sooner."
In an interview with the Westmeath Independent, he emphasised that reaching out for help is vital.
"For someone who's going through it and doesn't know what to do, for me the advice is just to talk to someone. Everyone wants to help. You have to make the first step.
"There's no quick fix, it's hard work. But the feeling doesn't last for ever."
Kevin's story began when he suffered a serious injury to his anterior cruciate ligament, whilst with Salthill Devon in Galway, which left him out of football for some 18 months.
He had previously played with Willow Park schoolboys, before joining St Kevin's Boys in Dublin and then lining out for Salthill Devon in the Airtricity League Under 17 division.
"When I was injured during that period I started having time to think. I was down in myself because I was doing well at that stage playing football.
"As the rehab went on with my knee, I started to become pretty frustrated with myself, I started to get annoyed with little things," he explained.
"I started to develop panic attacks and over that time they started to get worse and worse."
Eventually, when he recovered from his injury and returned to the football pitch, he linked up with Galway United in the Airtricity League Under 19 division in February 2017.
His return to the football pitch though coincided with a number of other incidents in his life, including the death of his grandmother and an horrific fall sustained by his brother, Michael, which left him in a coma.
Michael was lucky to survive after falling 27 feet from an apartment balcony in the town. He suffered a shattered skull and a blood clot on the brain as a result of the accident in late February 2017 and spent six days in a coma but has made remarkable progress since then.
The accident affected Kevin deeply and he admits he just couldn't cope after that.
"When I joined Galway, a lot happened in a short space of time. Everything that happened, I just buried it. I just wouldn't talk to people. During that time, I got deeper into depression. I'd sit around the room. I wouldn't talk."
His worsening anxieties meant he felt forced to quit Galway United. "I left because I started to have panic attacks on the pitch. At that stage I knew something wasn't right.
"I was coming off faking injuries. My heart would be racing and I was thinking there's something wrong with me here. I'm not right and I couldn't say it to them so I didn't give them an explanation. I just talked to the manager and said 'I just need time off, I can't be here.'"
He said it was only later he understood he was experiencing panic attacks.
"You basically think you are going to die. Your heart's racing, you're sweating, you are dizzy. You are shaking, you can't relax. You are just completely overwhelmed by it.
He explained starkly: "I wouldn't play football because I thought I was going to drop dead on the pitch."
"My family started to notice. I was becoming withdrawn from everything. I wasn't really leaving the room. I wasn't happy doing anything that I would normal be happy doing."
Encouraged by his family and friends, Kevin saw a counsellor, Brian Walsh, from the Midlands Counselling Centre for eight months.
The counsellor stressed to Kevin that it was important for him to be patient and not feel he had to be better immediately because it would take time.
However, Kevin struggled at first to see a brighter future.
"I just felt I couldn't see a way out. Deeper and deeper I was falling into it."
But with perseverance, talking about his issues, and the support of his family and friends, Kevin began to come through.
"I was very lucky. I have great family, great friends, my girlfriend as well. They supported me through everything. They were understanding. People want to help you, that's the most important thing."
Kevin is now feeling positive.
"Of course you still have your good and bad days, but you know how to deal with them. You understand why you feel like that and you can take back control of it whereas before it has complete control over your life."
He is back playing football with Willow Park in the Leinster Senior League. However, his experiences have changed his approach to life and to sport.
Previously football was everything to him. "It was all I was interested in. It was all I wanted to do."
Now though, he has a changed perspective. He wants to enjoy his sport again, but he now knows that being happy is the main priority.
Kevin says he wants to share his story because he is passionate about ensuring that others know there is help at hand, particularly with mental health being such a massive issue for young men.
"Especially at my age, it's hidden away. It's rampant," he says.
"We feel like as men that we should bury our emotions and just get on with it but it doesn't work like that. It will hit you all of a sudden, everything will hit you and you'll be completely overwhelmed by everything."
It's so important to talk to someone, he believes. "Everyone wants to help."
And he says people, if they feel they need to, should also seek proper professional help.