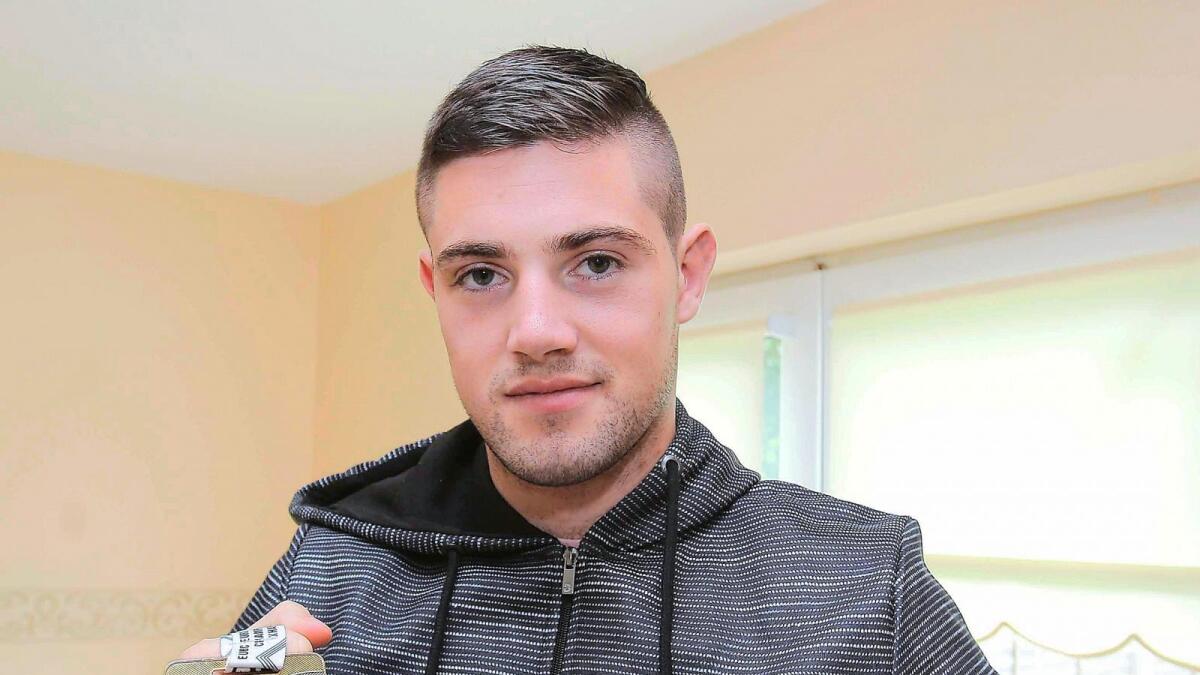 Joe Ward: 'My gut feeling was that now was the time to turn pro'
After one of the most successful amateur careers in Irish boxing history, Joe Ward decided to act on his "gut feeling" that now was the right time to turn professional.
On Friday last, following weeks of rumour and speculation, it was confirmed that the 25-year-old Moate man had left the amateur ranks and signed a management deal with New York-based Times Square Boxing.
Ward travelled to Long Island in New York to sign the contract, and he expects to spend a lot of time in the States as he embarks on his professional career.
"I'll be spending a lot of time in New York, learning my trade and working to get to where I want to be, which is world champion," he said on Friday.
"I feel happy. This is a new chapter for me in my career. I've been a very successful amateur. Amateur boxing did a lot for me, and I'm grateful for that.
"I will obviously miss the (amateur) team. I'll miss the craic and I'll miss everyone that was involved with the Irish boxing team, but this is a new journey for me.
"It's been a long time coming and I finally got to make the move with some great people, Joe Winters and Adam Glenn (of Times Square Boxing) who are going to be my managers and contractors, so it's exciting times ahead."
Ward said his new management has been in talks with a number of promoters, and an announcement about who his promoter will be - and when he will be making his professional debut - is expected in the coming days. His coach as a professional is also yet to be finalised.
While his decision to embark on a professional career is not a surprise, the timing of the switch did raise a few eyebrows.
Many had assumed Ward would remain amateur for one more crack at the Olympics, in Tokyo next year, after he had a disappointing outing at the 2016 Games in Rio.
"Look, it was always my life-long dream to be an Olympic medallist, but things change in life," he said last week. "You've got to go with your gut feeling, and what you feel is best for yourself. I felt like now was the right time to make the decision to go professional.
"I think if I wasted another 14 months (leading up to the Tokyo Olympics), not knowing what the outcome was going to be, I could be falling behind in terms of the sort of professional career that I could be having."
Ward, who is gifted at the art of hitting and not getting hit, feels his style will translate well to professional boxing.
"I think I have a style that's suited to the pro game. Obviously I will need to adapt to a certain amount of things but I feel I have the right style. I'm a great fighter, and I think I'll be able to adapt fairly easily."
As an amateur he's spent his senior career in the 81kg weight division, and he now plans to shed a couple of pounds to compete in the 175lb (or 79.4kg) light heavyweight division as a professional.
"I feel like I will be comfortable making that weight, and I'll be a big powerhouse at that weight," he said.
Ward leaves amateur boxing with a superb medals haul that includes three senior European championship golds – which is a record for a male Irish boxer – and three senior world championship medals (two silver and one bronze). He also won World Junior gold and World Youth gold medals.
He has never lost a bout on Irish soil and defeated 2008 Olympic silver medallist Kenneth Egan on three occasions.
Bernard Dunne, the high performance director for Irish amateur boxing, said he was disappointed by Ward's decision to turn pro.
"I'm not sure who is advising him but it is a surprising decision," Dunne told The Irish Times.
"I've met with Joe several times, I've spoken to him on the phone after the last number of weeks and we've tried all we can to keep him…
"Unfortunately it's our loss and professional sport's gain."