ADSL looks back with pride on 43 years of magical memories
Image 1 of 6
Image 2 of 6
Image 3 of 6
Image 4 of 6
Image 5 of 6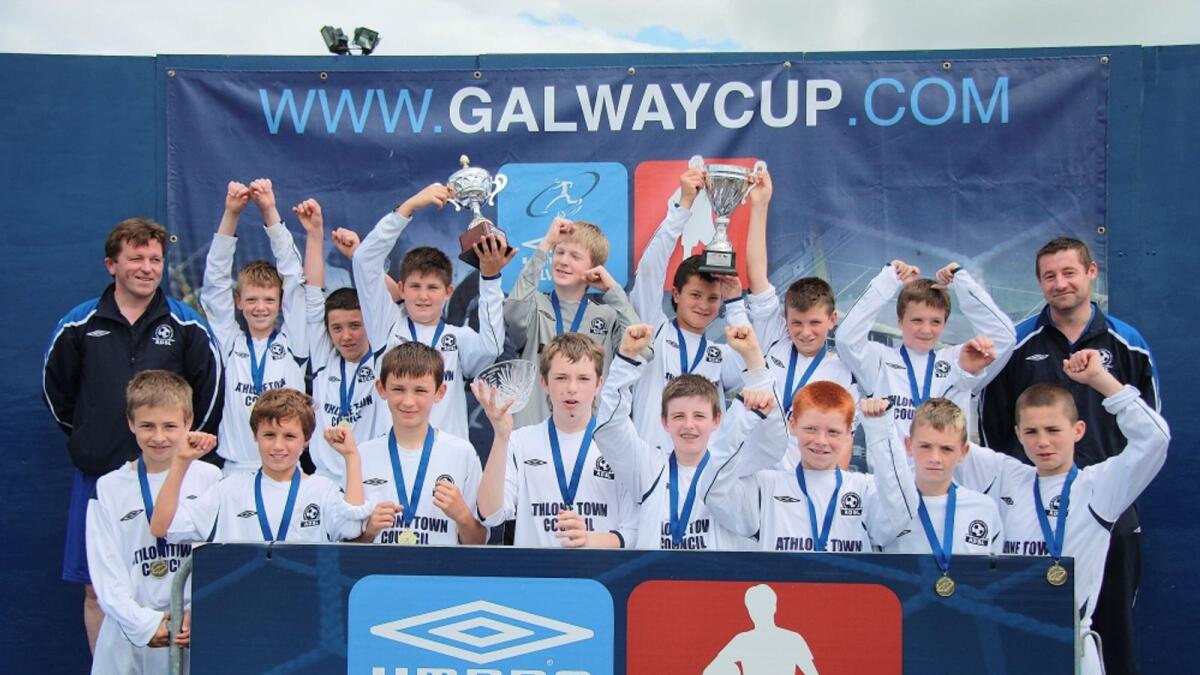 Image 6 of 6
Previous
Next
The demise of the Athlone District Schoolboy/Girl League (ADSL) will have taken many by shocked surprise.
The ADSL was regarded as a staple, if not a pillar, of the local sporting infrastructure in Athlone and its environs. For 43 years it provided organised football for thousands of Athlone youngsters, nurturing a love for the sport that would endure well into adulthood, and also providing a springboard for some to go on to greater things on the national and even the international stage.
More than anything else the ADSL was always there and was an integral part of what it was to grow up in this town and in this region. The demise of the ADSL will therefore resonate sadly with many.
Athlone has always been regarded as a hotbed of football, enjoying a rich, proud and storied history but while organised underage football can be traced back to at least the early 1920s, the Athlone and District Schoolboy League was only formed in 1977.
A debt of gratitude is owed to legends of the local game such as the late and greatly missed Breffni Rowan, Pat 'Cisco' Flynn and Johnny O'Leary and to John Nolan and Pat Murtagh who formed the ADSL all those 43 years ago. Others to carry the ADSL torch and progress the league included John Burke, Michael Butler, Seamus Carr, Sean Feeney, Joe McEvoy, Willie Wallace, Ray O'Brien, James O'Grady, Padraig Quinn, John McGrath, Imelda Rohan, Andy Dunne along with the most recent committee members of Brendan Connell, Alan Hanniffy, John Dolan, Terry O'Neill and PJ Allen. Of course, there were many others, too numerous to mention here, who kept the flag flying for the town of Athlone and are to be commended for their unselfish work in the interest of underage soccer.
Under the astute guidance of all former committee members and with the contribution of hundreds of adult volunteers, within the member clubs, the ADSL grew and prospered.
It was always a small league, either the smallest or one of the smallest leagues in the country. It was essentially a "town league" and very unlike many others in the country who were essentially "county leagues" or drawn from a combination of counties. Yet it was a vibrant league. That smallness, drawing on a rich footballing heritage, generated intense competition and evolved into great sporting rivalries. Both players and spectators alike will have many happy memories of fantastic sporting contests down the years played out in Iona Park, Willow Park or down the Springwell Road. For so many young players, these were their "fields of dreams".
The ADSL was always very progressive and as a constructive member of the SFAI (Schoolboys Football Association of Ireland) pioneered the introduction of rule changes at national level, allowing girls to play with the boys and which in turn occasioned the slight change in its name to the 'Athlone District Schoolboy/Girl League'.
The ADSL was also the conduit for the development of clubs that are now well established. Willow Park, St Francis and AC Celtic started life as schoolboy clubs playing in the ADSL. As Athlone grew clubs like Hodson Bay Celtic and St Joseph's, catering for their growing young populations, grew with the ADSL, while other clubs like Temple Villa, St Peter's and Ballinahown developed underage structures that brought the game to their area. The ADSL was also further enriched by the involvement of clubs like Ballinasloe Town and also provided organised football for Connaught Celtic, East Galway FC, Mullingar, Kilbeggan, Raharney and even Kinnegad at a time when nobody else did. Local clubs currently participating in the Leinster Senior League and Combined Counties FL have all reaped the benefits of the ADSL structure.
By 1990 the ADSL entered the Kennedy Cup for the very first time and went on to make a huge contribution to the most prestigious schoolboy football tournament in the country. The ADSL and its clubs produced players of the highest quality with many going on to represent Ireland at various levels with a few signing for English clubs, all embellishing a growing reputation for the ADSL.
Players like Alan Sheehan who went to Leicester City, Eric Molloy who went to Manchester United, Michael Collins who went to Millwall, Ray Kelly who went to Manchester City and, most recently, Dylan Gavin, who is with Charlton Athletic, all kicked their first football in the ADSL. Many more would play in the League of Ireland. Other players like Robbie Benson, current Irish rugby international Jack Carty, Tom O'Halloran, Adam Lennon, Carla McManus, Jordan Carr and Kyle Conway, to name a few, have also represented their country, while former ADSL player Heather Payne is a current senior Irish international. The ADSL were also graced with the silken skills of Rose of Tralee winner Jennifer Byrne who also represented Ireland on the senior international stage.
Other former ADSL players would excel on other stages such as Patrick Hoban with Dundalk; rugby internationals Robbie Henshaw and Niall Murray; Westmeath players Dessie Dolan and Aoife Connolly; the Daly brothers and Brian Stack with Roscommon; while One Direction's Niall Horan also once graced the ADSL pitches!
The ADSL was also innovative. It facilitated coaching seminars and workshops for club coaches and which were run variously by Brian Kerr, Noel O'Reilly, and by former and current FAI High Performance Directors Wim Koevermans and Rudd Dokter to mention a few. The ADSL also hosted summer camps and ran "girls only" coaching initiatives before the national "soccer sisters" was ever heard of. Under the astute coaching of Pauric Nicholson and Jimmy Greene, the ADSL ran "pilot programmes" for coaching elite players that ultimately evolved into the FAI's 'Emerging Talent Programme'.
The ADSL embraced the ETP concept and established itself as one of the first "development academies" in the country. These development academies took part in tournaments to continue the football education of players and graced venues all over Ireland and also abroad, competing in the UK, the Netherlands, France and in Malta over the years.
All told the ADSL played teams from more than 20 different countries from all across the UK and Europe, from the USA to the UAE, from India to Lebanon, from the Cayman Islands to Columbia. They were magical times for those players and were experiences and opportunities they might otherwise never have had. These were marvellous trips and evoke many happy memories. Karaoke night was sometimes more important than the football! The sight of some 75 ADSL players belting out Katy Perry's 'Fireworks' in Cardiff city centre in 2011 really sums it up!
There were also some famous results – beating Celtic Boys in Glasgow in 2008; and defeating French club champions St Etienne 4-3 in France in 2010 in a tournament when the ADSL rubbed shoulders with Real Madrid. The ADSL beat Kilmarnock in Scotland in 2011 and Cardiff City were beaten in Cardiff in 2012. Remarkably, an ADSL U-13 side defeated a Northern Ireland team managed by Jim Magilton 3-0 in the Macron Cup in Galway in August 2015.
The ADSL enjoyed some spectacular success in the Kennedy Cup and were group winners in 2005, 2013 and most recently in 2017 and also won various Plate and Shield titles down the years. The Kennedy Cup was a wonderful journey and experience for those who took part, both on and off the pitch.
The ADSL also punched above its weight in SFAI Inter-League competitions, contesting two Inter-League finals since 2012 and losing three other national semi-finals, two of those only in extra-time. The ADSL U-12s won the inaugural national SFAI Plate final as recently as 2018.
The ADSL is indebted to a talented team of volunteer coaches such as Pauric Nicholson, Jimmy Greene, Padraig Gaffey, Ronnie Coleman, Tommy Hewitt, Dermot McCormack, Clive O'Neill, Colin Fortune, Dermot Lennon, David McHugh, Brian Frawley, Conor Foley, John Stacey, Tadhg Carey, Anthony Sherlock, Tony O'Sullivan, Kevin Rohan, Mark Egan and Tom Silke to mention just a few who, along with many others, gave so generously of their time and expertise in the development of Athlone's finest football talent.
But the ADSL was about much more than developing elite players. Week in and week out the ADSL provided football for young players at every level and every ability. A mention in a match report in the 'Westmeath Independent' was the crowning glory. The ADSL Finals Festival on the May Bank Holiday weekend was often the culmination of it all with seemingly never-ending finals at the Athlone Town Stadium. All were treated equally, paraded out onto the pitch to the "Champions League music" providing wonderful memories for players and their families.
The Futsal Tournament was a unique shining light for the ADSL. Those atmospheric nights in the AIT, when the Count John McCormack Hall reverberated to thumping music and thunderous football before enthralled capacity crowds, were just magical and created memories for all who were there that will endure forever.
There were sad days too and none more so than on September 1st, 2016 when AC Celtic and ADSL U-11 goalkeeper Tim Ross tragically died in a road traffic accident on his way to school that fateful morning. That was a very sad time but the manner in which the ADSL, with others, came together to accompany Tim on his last journey and the manner in which he is still remembered speaks volumes for all that the ADSL represented.
Perhaps it is only in its absence that the ADSL may be fully appreciated. It can be said that the ADSL served football, sport and this town well for over four decades. The ADSL brought great recognition and honour to Athlone. It provided a valuable sporting and recreational outlet to thousands of young people. It has created many happy memories for a huge amount of people. Many will be sad to see it go. One can but hope that we will not come to rue its demise.
The ADSL was honoured with a Rehab 'Athlone People of the Year Award' in 2014. The citation for that award may now provide a fitting epitaph: "The ADSL has as its objectives to promote, foster and develop, in all its clubs the game of soccer in Athlone and District and to encourage the greatest possible participation and to improve and develop the standard at which the game is played. The ADSL also seeks to develop the young person as well as the young player and recognises the values of sport in building good character and values."