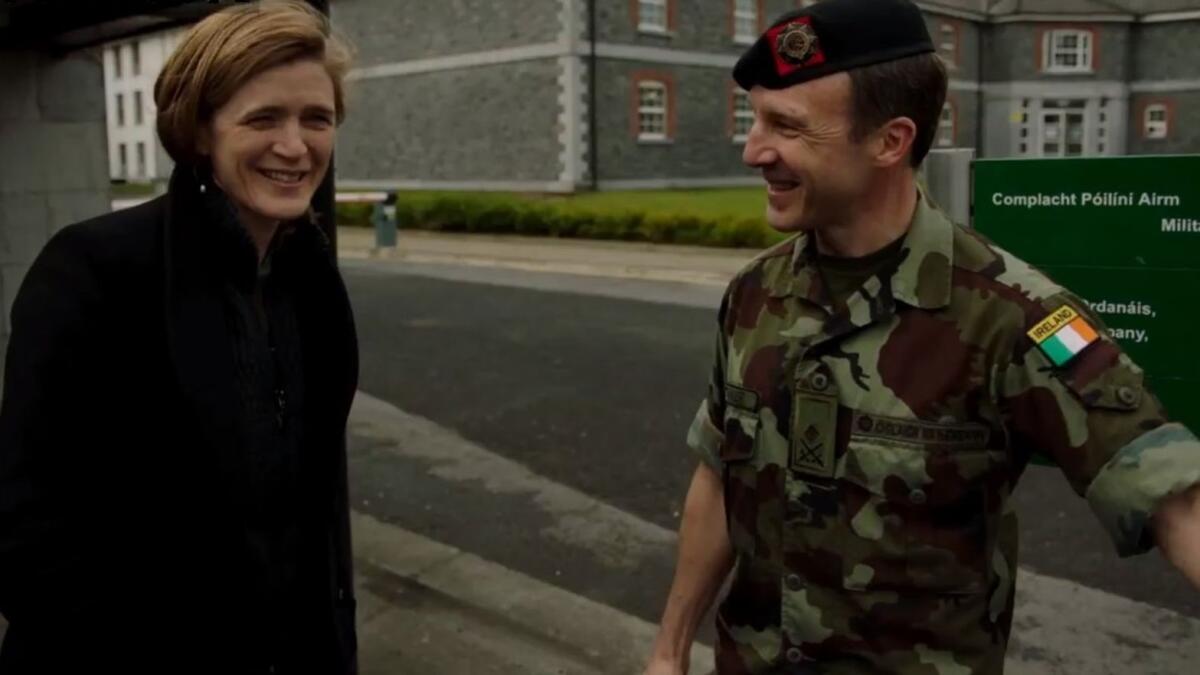 Daughter of Athlone man set for key role in Biden administration
Samantha Power, the US diplomat and daughter of an Athlone man, is set to take up a significant role in the incoming Biden administration.
It was announced today that President-elect Biden would be nominating Power to head the U.S. Agency for International Development (USAID).
"Her expertise and perspective will be essential as our country reasserts its role as a leader on the world stage," Biden said of Power, who previously served as one of the top officials in Barack Obama's administration.
Power was born in Dublin and her father, dentist Jim Power, was a native of Athlone.
Her grandfather, Commandant Jim Power, lived in the Retreat area of Athlone and was an Army officer based in Custume Barracks.
During World War Two, Comdt Power supervised the detention of twelve Nazi spies who were held as prisoners in Custume Barracks, and Samantha visited Athlone and the barracks in 2018 during the recording of an episode of RTE's 'Who Do You Think You Are?' which traced her roots.
"When I was growing up, I spent a huge amount of time with my grandfather," she said on the RTE programme.
"I heard a lot about these German prisoners but I knew that Ireland was neutral in the Second World War, so what the hell are a bunch of Germans doing in Athlone? It just seemed very strange."
Her grandfather lived to the age of 101. He died in 1996 and is buried, along with his wife, Frances, in Coosan.
Samantha's parents experienced difficulties in their marriage and when she was nine years old she and her younger brother were brought to the United States by her mother, Vera.
She had been "very close" to her father, Jim, who remained in Ireland and sadly died when Samantha was aged fourteen.
"My Dad and I had been almost inseparable," she said in 2018. "The way the custody was to work was that my father was supposed to come to America and spend time with us there.
"He had a very serious drinking problem and wasn't able to basically get sorted in order to do that. He ended up deteriorating, I think it's fair to say, pretty severely over those years and died in 1984."
He was also laid to rest in Coosan cemetery.
Announcing Samantha Power's role as head of USAID, the Biden-Harris administration described her as "a leading voice for humane and principled American engagement in the world."
It said she would now "rally the international community and work with our partners to confront the biggest challenges of our time, including COVID-19, climate change, global poverty, and democratic backsliding."
President-elect Joe Biden stated, "Samantha Power is a world-renowned voice of conscience and moral clarity — challenging and rallying the international community to stand up for the dignity and humanity of all people.
"I know firsthand the unparalleled knowledge and tireless commitment to principled American engagement she brings to the table."