Keeping art going through the lockdown
The popular local artist, Rosemarie Langtry, has been working her way through the challenges of the lockdowns by linking up with artists throughout the world, mentoring young artists, creating new colourful art, and planning for a brighter future.
The Ballinahown native has made her name since the late 1990s as one of the midland's most talented and prolific artists.
"The first lockdown happened very quickly in March 2020, I had plans for exhibitions and classes, but all plans were cancelled instantly," said Rosemarie. "I was accepted for a residency in Cape Kennedy in the USA, exhibiting in a group exhibition "Celtic Connection " in Dover, New Hampshire."
Sadly for Rosemarie she had to leave her classes and plans behind her at her studio in Ballinahown Community Centre.
"I went down once just to pick up my gear and then set up everything at home," she said.
Rosemarie joined 'The Yellow Chair Salon' – a place where artists presented their work and where international art expert Michael David provided a helpful critique on their art.
"Michael David is a fantastic artist, and I was honoured and delighted to do the workshop with him," said Rosemarie.
Rosemarie has further plan stateside for later in 2021, but she is resigned to thinking these exhibitions and classes may be online or via Zoom.
"I've missed it all immensely, the exhibitions and one-on-one interactions. Fortunately, I have my local boglands to provide inspiration during these challenging times," she said laughing.
While Rosemarie was growing up in Ballinahown it was a common place that the whole family were involved in preparing and gathering the turf from the bog. A lot of Rosemarie's artwork has been inspired by the bog and she is acclaimed for her paintings of bog cotton.
"Old stuff also inspires me, and whether it is the bog, old rusty nails or whatever, I find all of that very inspiring," said Rosemarie. "I love to work with something old that has marks of nature and is imperfect but still I see the beauty within. I may also include the object actually in the work itself."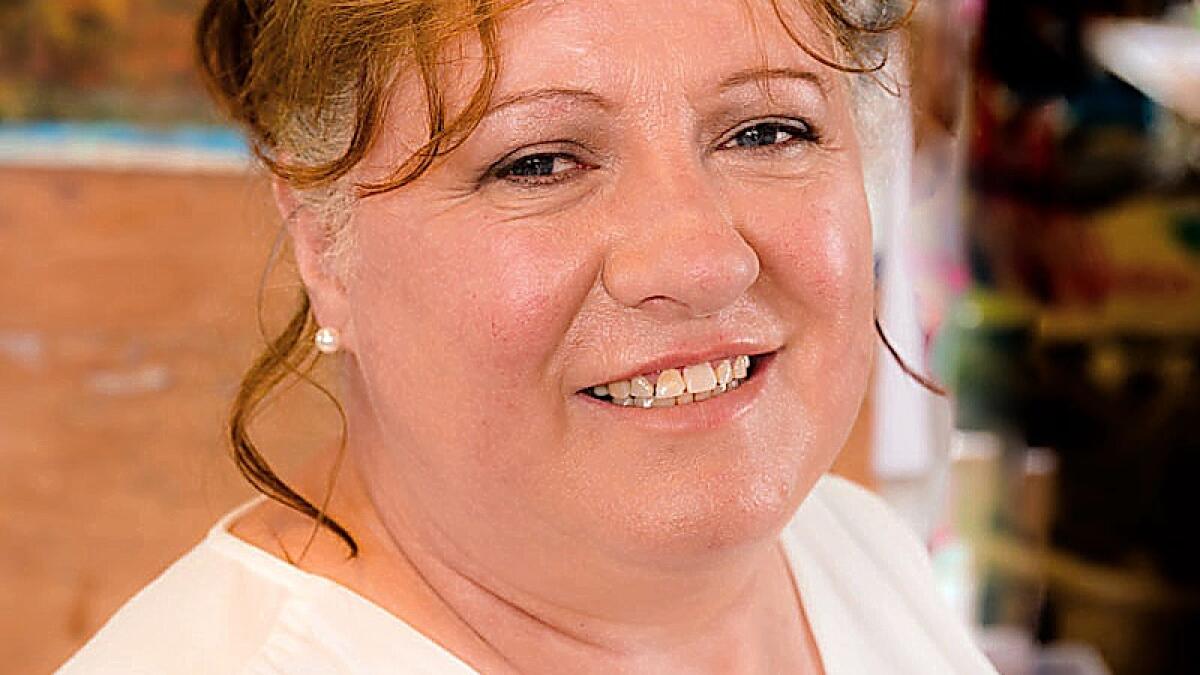 Looking for the positive in the lockdowns and looking for different inspirations for her art, she worked on projects that were always put on the long finger normally due to a lack of time. However there was plenty of time during the Covid crisis.
"Nature has really stood out during the pandemic, I've listened to the sound of birds in the background while I have been working, realising I hadn't really noticed them before," said Rosemarie.
Rosemarie works in many different art mediums and has been based at various studios such as Belmont Mill, Abbey Road Studios, Making Space Studios and Ballinahown Community Centre.
She has exhibited in Westmeath, Longford, Offaly, Roscommon and throughout Ireland as well as internationally in Provincetown, Massachusetts, and is currently the only Irish artist selected for the 'REDis' exhibition in Chicago, USA.
Rosemarie is very much a community person and has missed her Ballinahown studio, where she taught art classes.
"I work with all ages, and abilities, and I've worked over the last few years with young adults in Moate Adult Training Centre, St Hilda's Services and I facilitated several art projects with them over the years with some supported by Westmeath Arts Office," said Rosemarie. "We created a project on the roundabout between Moate and Horseleap and others in the sensory garden at Dun na Si. We have recently completed our first project via zoom, "Connected to the Past, which was interesting."
Rosemarie said she was privileged to have her images of St Bridget projected on to Athlone Castle and Kildare Cathedral as part of this year's Herstory light show celebrating the role and achievements of St Brigid.
"My artwork portrays Brigid as a modern, strong, and simple woman who is surrounded by representations of her various strengths and powers," said Rosemarie.
While she is known for her use of colour in art, Rosemarie has found herself experimenting with different colours than she had prior to the lockdowns.
"I've used brighter colours and I also noticed I used a lot of blue during this time of lockdown but I'm not sure of the significance of this," she said.
During the pandemic she connected with many artists and groups online, for example, Rosemarie is currently taking part in the Artist Voice & Vision group exhibition "Viral Collaboration", in the famed gallery of The Bridgeport Art Centre in Chicago
"The gallery is open to the public and online, but of course I was disappointed not to go to the exhibition. I really miss visiting art galleries, including the Luan Gallery in Athlone," she said.
Rosemarie has stayed at home during the three lockdowns, so she could keep loved ones, like her mother, safe.
"Such strange times, but it is so important that we all do what is asked of us. I think some people felt like they were confined, but I felt it was important to stay home and stay safe for the good of all. I think we are all more connected and appreciate what is important to us due
to the pandemic," she said. "Like everyone, I've missed family and friends. Talking on the phone and on zoom is not the same as human contact but all the same it's good to keep in touch."
Rosemarie was delighted to take part in the Luan Gallery Art Fair before Christmas, and pleased that it was open to the public to view before this latest lockdown.
"I also had an opportunity to exhibit along with Ursula Ledwith at Fernhill Garden Centre in Athlone in early December," she said. "It's important as an artist to be able to get your work out there for people to view and I would like to take this opportunity to thank all for their support over the years."
In the future, Rosemarie would like to do larger art pieces if space allowed,
"It would be an ambition of mine to do some larger artworks at some stage," she said. "It would necessitate more studio space, but you never know, that may just be my next goal!"
Rosemarie is incredibly grateful to her husband, Brendan and her three sons, Michael, David and Mark for their encouragement throughout her art journey.
Rosemarie has a new website, where her art can be viewed, and will include details of classes when they recommence - https://rosemarielangtry.com/