Bord na Móna proposes new windfarm for local bog
Bord na Móna has confirmed its intention to develop a wind farm at Lemanaghan Bog between Ballinahown, Ferbane and Ballycumber which it said could support 80 to 100 jobs during peak construction.
Due to Covid-19 restrictions, the company said it is unable to have a public event or meet in person to discuss the project with the local community, and instead has developed a Virtual Public Consultation Experience on the www.lemanaghanwindfarm.ie/ project website.
The exact scale and location of the turbines planned is unclear at this stage, and will not be revealed until the next round of consultation in the autumn of this year.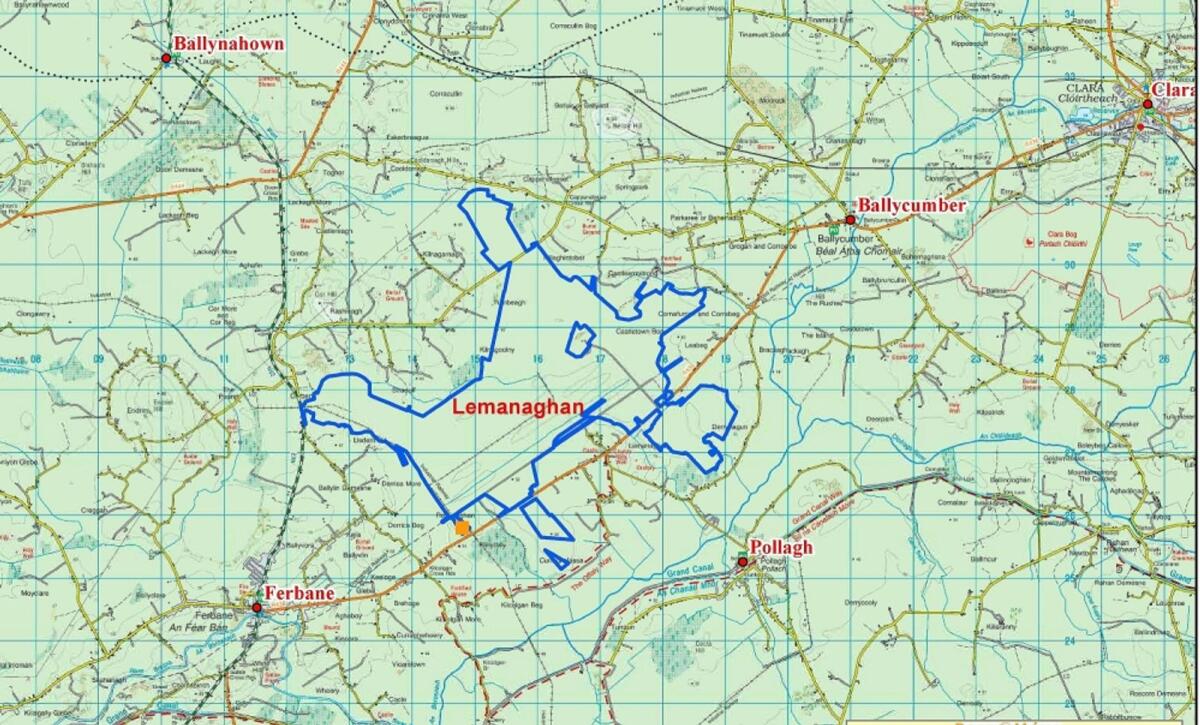 The proposed project, to be known as Lemanaghan Wind Farm, comes closest to Ferbane but is also not far from Pullough and Ballycumber.
While the exact acreage of bog being examined is not specified, maps show that it spans a wide area encompassing Lemanaghan Bord na Móna Works, towards Dernagun with a large expanse coming very close to the Ferbane to Ballycumber Road.
It also stretches in other directions to the edge of the N62 between Ferbane and Doon, and a stretch of road linking Doon to Ballycumber. The bog being examined also comes close to another stretch of road linking Rashina to Cappanlosset crosswords, while closer to Ballycumber, it comes near Castlearmstrong and Corrabeg.
"Over the coming months, in order to determine the extent of the proposed development Bord na Móna will undertake a number of on-site surveys on Lemanaghan Bog, such as ecology surveys, ornithology surveys, aquatic surveys, heritage surveys and site investigation works," the company said. It also suggested it could incoprorate an amenity similar to the 10km walking/cycling track at its windfarm in Mountlucas, near Daingean, into this project also.
Other benefits of the project put forward by the developers included a Community Benefit Fund, the upgrade of road infrastructure, substantial rates to the local authority and a number of "long-term, high quality technical jobs in operations and maintenance".
Although still at the early pre-planning stage, Bord na Móna is looking for feedback from the public whether it is queries or concerns about the development or information about the local area.
"To have your say, please complete the online survey via the dedicated project website," the semi-state company stated in the information booklet for the project by April 16.
If you are unable to use the online survey you can send your completed survey form or other views, by post to Lemanaghan Wind Farm, Bord na Móna, Main Street, Newbridge, Co. Kildare or by email to: Lemanaghanwindfarm@bnm.ie
If you don't have access to the internet, a postal copy of the public consultation material can be requested by contacting the project's Community Liaison Officer – Colm Dempsey (weekdays 9am-5pm) on 087 4143305.