€200m Roscommon road project gets Cabinet green light
The Minister for Transport, Eamon Ryan has announced that the N5 Ballaghaderreen to Scramoge Road Project has been approved by Cabinet today and will now progress to the construction phase.
The project involves the construction of circa 34km of new single carriageway road that will extend from the western end of the existing N5 Ballaghaderreen Bypass to the townland of Scramoge in County Roscommon, bypassing the towns and villages of Frenchpark, Bellanagare, Tulsk and Strokestown. Provision will also be made for pedestrian and cyclist facilities where the route meets access points to some of the towns along the route.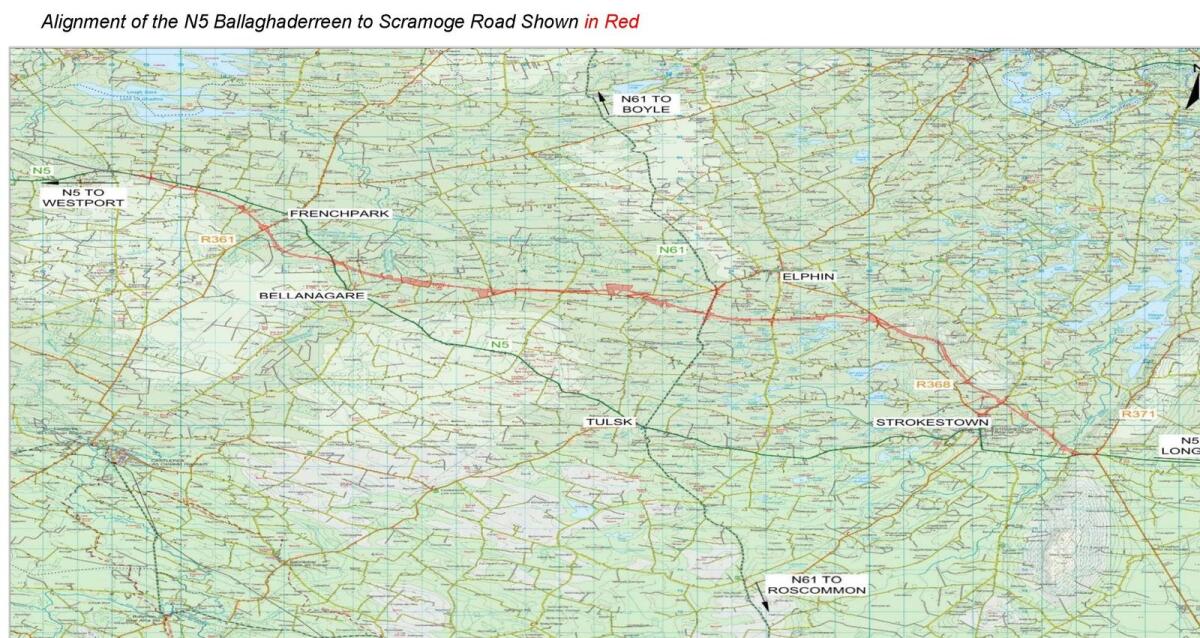 The total estimated investment value of the N5 Ballaghaderreen to Scramoge Road Project is more than €200million and it will take three years to complete.
Following cabinet approval, Minister Eamon Ryan said: "The Ballaghadereen to Scramoge project will replace one of the worst sections of primary road in the country. By completing the missing links in the N5 corridor it will improve access to the north west. The new route will also make the towns and villages it serves more attractive places to live, work and shop by diverting heavy traffic, trucks and other heavy goods vehicles out of their centres".
Minister of State for Transport, Hildegarde Naughton said: "This scheme, which we approved at Government today, will eliminate sections of the N5 that have had collision rates nearly twice above the national road average. The N5 road scheme which now moves to construction phase will improve safety for all road users including pedestrians and cyclists. Dramatically improving the safety of the N5 corridor, the new route will also benefit road users by improving overall journey times and reduce travel costs".
Peter Walsh, CEO of Transport Infrastructure Ireland said: "We very much welcome Government approval for the N5 Ballaghaderreen to Scramoge project today. Upon completion this project will improve road user safety as well as enhance regional accessibility for both the northern and western regions of the country".
The Government says the project will remove approximately 70% of traffic from the existing N5 corridor will improve safety, air quality and noise, thereby creating a more attractive route for active travel. It will also create opportunities for enhanced physical activity within and between the communities of Strokestown, Tulsk, Bellanagare, Frenchpark, along with the tourism potential of the Candidate UNESCO World Heritage Site of the Rathcroghan Archaeological complex.