New novel shines light on incredible family story
Photo: Drum native Sheila Killian.
Sheila Killian fondly remembers Fr Jimmy's picture hanging up in her homeplace growing up and the awareness and pride in her granduncle's achievements.
It is fitting then that Fr Coyle's tragic death far from his native Drum in Birmingham, Alabama, 100 years ago next month at the hands of a Methodist Minister and a KKK member, forms the backdrop to her first novel 'Something Bigger' which has been receiving very positive advance reviews, including a glowing review from acclaimed author Donal Ryan.
Inspired by her grandaunt Marcella, who lived with her brother and was actually the first person to discover him following the 1921 shooting, Sheila has used an incredible family story as the basis for her first work of fiction.
"I grew up in Crancam, on the Drum Road, and my grandaunt Marcella came to live with us when I was very small. She had emigrated to Alabama to be with her brother, Fr Jimmy, when she was only fourteen, and lived in the South for 60 years.
"So she was like a grandmother, particularly to me and nearest-in-age brother, and was fascinating to us with her Southern drawl and slang. She always talked about Fr Jimmy, and the story, even at that distance of time and geography, clearly defined her. So because of Marcella, I guess I grew up with the story as it happened," she explains.
"I remember Marcella mostly as a blue-eyed old lady with white hair in a hairnet. I remember her as kind – she taught me to read and read me stories of Brer Rabbit. My memories mostly involve her being in bed, having jelly sweets and fruit for the small ones in the family, and commenting constantly on whatever was on TV,"recalls the Drum native who has written the book from her point of view.
Years in the making,it s launches just in time for the 100th anniversary of Fr Coyle's death on August 11, something Sheila, who has been writing creatively for many years, winning several prizes, is particularly pleased about.
Asked what relevance the story has for today, the Drum native who teaches in UL, says: Even though the story is set thousands of miles and a hundred years ago, I believe it has real relevance today on a number of levels. It's a story of identity and belonging, and of immigration and acceptance (or sometimes not acceptance). And it has themes of social justice and that kind of mindless, following the mob thing that people can be drawn into when they are afraid. All of these things matter a lot in both the US and Ireland today. At another level, it's a story of love, different kinds of love, and of loss and finding yourself after life doesn't go as expected, and I think that's something everyone has to deal with," she says.
Sheila, who spent a lot of time in Birmingham, Alabama researching her book is happy that Fr Coyle's memory is kept alive there in places like the Birmingham Civil Rights Museum, and the church where he served for many years. She hopes it will help people locally and elsewhere to remember Marcella and Jimmy.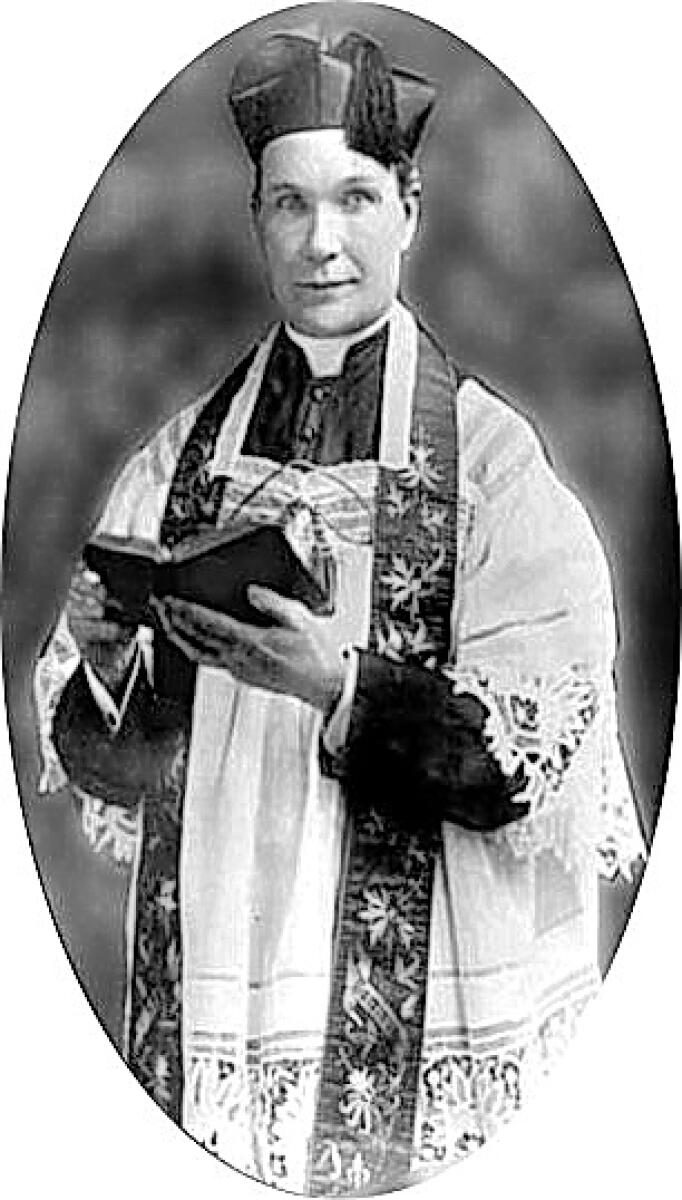 Photo: Fr James Coyle.
"I'm delighted that the book will be out for the 100-year anniversary, and that it will be published in the US as well as being available in Ireland. The downside of a US publisher is that the book is only available to order online here, but it can be easily ordered from the usual places like Book Depository or through local bookshops," explains Sheila, who is thrilled with the reaction. "People have been really kind about the book so far. It doesn't launch until July 20, but the people who have read the advance copies – both established authors and immediate family – have all said lovely things."
"The story – bearing in mind that it is by now fiction based on fact, rather than fact that has been dramatised – is still a shocking one in many ways. I think one of the most shocking aspects is how easily people can get drawn into othering whole groups of people, and into spreading rumours and likes about them, as they did about Catholics 100 years ago in Alabama. It's also a story with redemption, though, and about dealing with loneliness, and I think those things are timeless and useful to read. I also hope it brings the story to life a little and helps people locally and elsewhere to imagine and remember Marcella and Jimmy," ends Sheila, who is currently working on her second book buoyed up by the reaction to her debut.
Remembering a Drum priest who died for his faith 100 years ago
On the evening of August 11, 1921 Fr James E. Coyle, a native of Drum in Roscommon, was sitting on his porch swing in Birmingham, Alabama, saying his evening prayer as was his usual custom.
That warm evening was tragically different than usual, however, and he was confronted by Methodist Minister Rev. Edwin Stephenson who shot him three times, the fatal blow entering his left temple and exiting the back of his skull, according to an article by James Pinto for the Fr James E. Coyle Memorial Project.
Poignantly, he was found by his beloved sister Marcella, who also confronted the killer as he left the scene. Fr Coyle died a short time later in hospital.
Earlier in the day, Fr Coyle had married Ruth Stephenson, the minister's daughter and Catholic convert, to a Puerto Rican by the name of Pedro Gussman. Then a hotbed of Ku Klux Klan activity and anti-Catholic sentiment, Birmingham in the so-called Deep South of America was a place of high tensions and divisions.
Following the shooting, Stephenson, himself a prominent Klansman walked into the courthouse, very close to Fr Coyle's rectory, with the gun in his hand and confessed: "I just shot the priest".
What followed was a huge outpouring of grief from the city and diocese, and what experts have called a trial of the century of its time, something akin to the OJ Simpson trial as a modern-day equivalent. Rev Stephenson was acquitted and resumed his ministry shortly afterwards.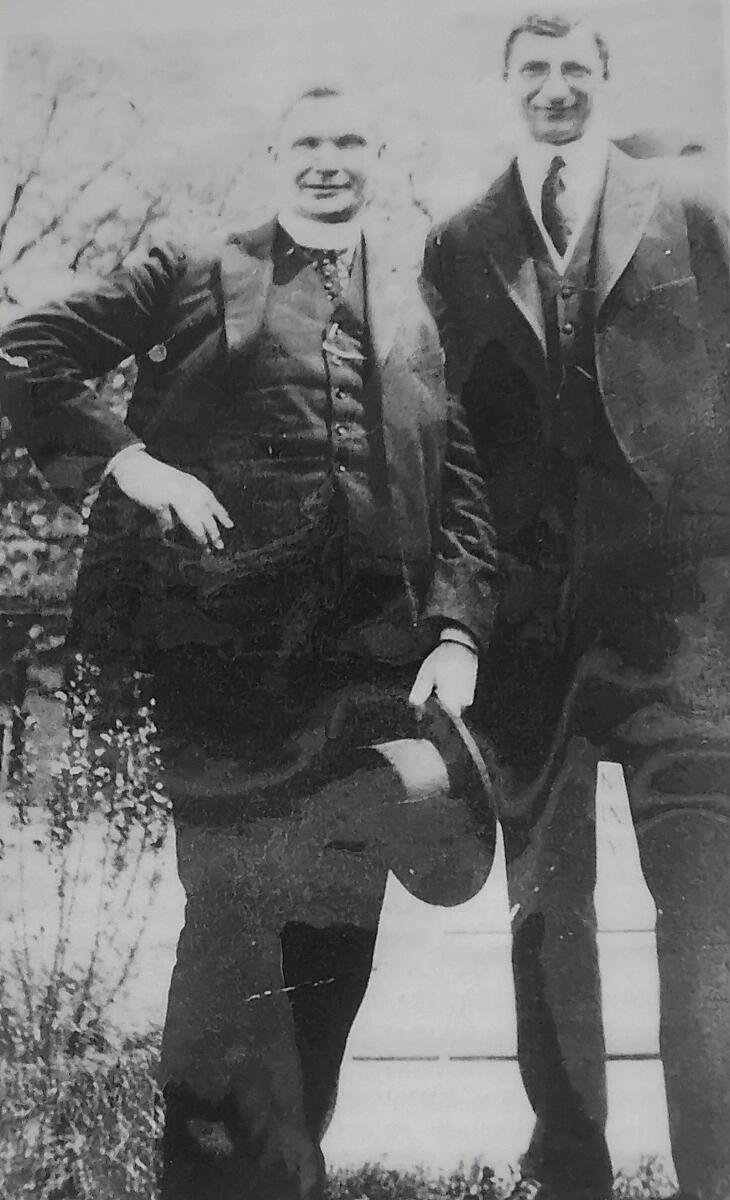 Photo: Fr Coyle pictured with Eamon DeValera in the United States. Photo: Drum Heritage Centre.
Both judge and jury in the trial reflected the KKK and anti-Catholic sentiment prevalent at the time, and there was massive criticism of the prejudicial judicial process at the time and since.
Still remembered by many in the Deep South as a martyr for his faith, there have been repeated calls since then for the Roscommon-born priest to be beautified or made a saint. His story featured in a 'Would You Believe' RTE documentary some years ago as singer Brendan Shine travelled to Alabama to walk in the footsteps of his granduncle. Now it is in the spotlight again with the launch of Sheila Killian's first novel 'Something Bigger'.
Fr James E. Coyle was born in Drum in March 1873 to parents Owen Coyle and Margaret Durney, his father was principal of the nearby Drumpark National School, now the site of Drum Heritage Centre and the nearby parish hall, and his mother was the daughter of Francis Durney, the schoolmaster in Cornafulla NS.
It's fitting then that Drum Heritage Centre remembers him with a large display entitled 'Priest, Poet, Patron' and 'Drum's Martyred Priest' where his early life is chronicled with photos of his birthplace, probably Mehambee as is listed in his baptism papers, but Fr Coyle himself listed the neighbouring townland of Kilmacormack as his birthplace in an early biographical sketch. Either way, he and his family, he had one brother and four sisters later moved to a homestead in Ardnagowna from where he left to study at the Jesuit run Mungret College in Limerick after getting his early education from his father in Drumpark NS. From there, he went to the North American College in Rome to study for the priesthood.
Ordained on May 26, 1896 at the Basilica of St John Lateran by Cardinal Lucido Parocchi, he was sent as a missionary priest for the Diocese of Mobile, Alabama, in the US, and was assigned to the Cathedral of the Immaculate Conception until 1899 and following that he was Rector at the McGill Institute. He was later appointed to the prominent parish of St Paul's in Birmingham in Alabama and became parish priest in 1913.
A man with literary interest, he was a writer and a poet, founding the Catholic Monthly and acting as its editor. He also contributed verse and articles to other Catholic publications, and was a member of the Drama League, one of several prominent organisations he was part of.
Thousands of mourners came to St Paul's Church Birmingham to pay a silent tribute to Fr Coyle whose remains lay in state in front of the altar following his tragic death. Fr Michael Henry, a native of Clonown, delivered the homily at his funeral Mass because of his close friendship with Fr Coyle and spoke of his work, love and devotion to the church.
Thousands of miles away in his homeplace, Fr Coyle is remembered today as the 100th anniversary of his death approaches on a memorial in Drum old cemetery.