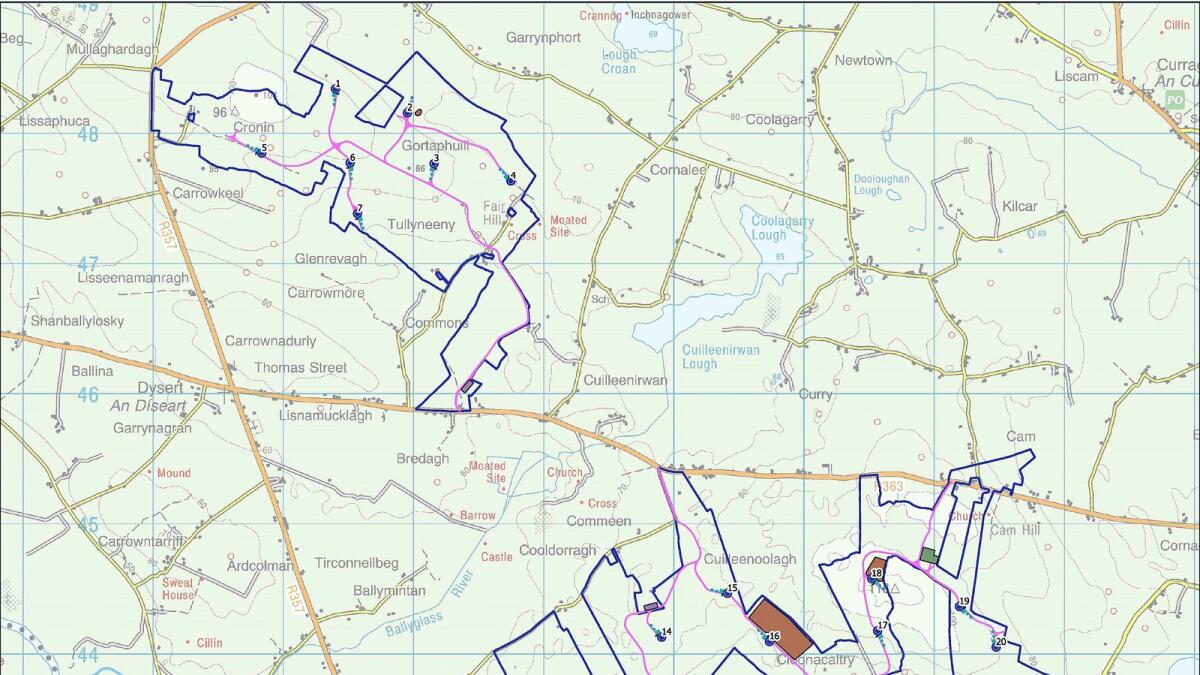 Face-to-face clinics next week in relation to €100 million Seven Hills wind farm
Energia, and Galetech Energy Developments (GED) will hold three days of face-to-face clinics by appointment with the community to discuss the final layout for the €100 million Seven Hills wind farm in South Roscommon.
Anyone wishing to meet the project team should telephone the freephone number 1800140232 in advance to book a face-to-face appointment, stating their preferred time slot and venue.
The first day will take place on Tuesday, July 27 from noon to 8pm in Dysart Hall, on Wednesday, July 28 it moves to Cam Community Centre in Brideswell from noon and 8pm. The final event is earmarked for Taughmaconnell Hall from noon to 8pm on Thursday, July 29.
Hand sanitiser and face masks will be provided, and social distancing measures will be in place. Attendees will be asked to arrive no earlier than five minutes before their scheduled appointment.
Amid massive local opposition, the latest wind farm plans cover up to 20 turbines, one fewer than originally proposed, seven being clustered close to Dysart and 13 nearer Taughmaconnell.
Among the townlands earmarked for the turbines include Gortaphuill and Cronin in the Dysart area, while the map shows it will also come close to Boleyduff, Cloonacaltry and Skyvalley in Taughmaconnell.
The final layout was recently launched hot on the heels of the project being judged a Strategic Infrastructure Development (SID) meaning that the plans can be officially lodged directly to An Bord Pleanála for decision bypassing the local authority. The developers hope to be in a position to lodge the application for the renewable energy project within two months.
Cllr Tony Ward, who is part of an opposition group to the project, already said people are up in arms that this project has been resurrected despite being fought and beaten in the High Court just a few years ago.
He, on behalf of the group, vowed to fight the plans with all their might again this time, with concerns about the water supply, the impact on the karst landscape and the unsuitability of the area for 180 metre turbines.
An online exhibition has been set up on the  www.sevenhillswindfarm.ie website with photomontages, maps and information of the planning process. A brochure is also available for download and copies have also been mailed to residents living within a 2km radius of the proposed site.
A spokesperson for the Seven Hills project said, "We are delighted to be able to hold face to face clinics again to discuss our amended site layout and answer residents' questions before a planning application is submitted. We will follow public health guidance and ask anyone wanting to meet the project team to call and book an appointment.
"We are now in a position to share the final proposed layout of turbines with the local community. Our finalised plans are the result of months of public consultation and survey work. The project has been designated a Strategic Infrastructure Development, or SID, and we are aiming to be in a position to submit the planning application to An Bord Pleanala within the next two months.
"Members of the public can view the proposed layout of the 20 turbines and find out more about the development and planning process via our online exhibition on our website. As part of our ongoing consultation activities, anyone wishing to contact the project team for further information can do so via our freephone number on 1800140232 to request a call back."
The Seven Hills wind energy development will potentially consist of up to 20 turbines with a typical output of up to 6MW per turbine - capable of generating enough green energy to power nearly 85,000 Irish homes.
In addition there will be substantial community benefit fund to help support local community projects, taking account of local needs as part of the scheme. The full scheme will be operational in the first year after the windfarm commences operation and an initial scheme would apply during construction.
GED is part of the wider Galetech Energy Group, based in Cavan, with branches across the island of Ireland. The group specialises in development, planning, construction, operation, and maintenance of renewable energy projects in Ireland and currently employs over 100 people and operates over 350 wind turbines.