Midland farm pulled from auction after IFA protest
The online auction of a family farm in North Offaly which had been due to take place yesterday (Thursday) did not proceed after the lot was withdrawn shortly before.
It followed a protest on Thursday morning by members of the Rhode branch of IFA and the Offaly IFA County Executive at the Conway farm between Croghan and Rhode.
In a statement, IFA said it opposed "the forced sale of lands" by what it described as 'vulture fund' Everyday.
Some 90 acres of land had been advertised for sale online on the BRG Gibson auctions platform but it was withdrawn before the noon auction.
Martin Stapleton, the Chairman of IFA's Debt Support Service, said that IFA had attempted to negotiate with the fund earlier this week on behalf of the family.
"Vulture funds have no understanding of the family farm," he claimed, going on to express his view: "Their only objective is to get as much money as they can as quickly as they can. They are not willing to allow a reasonable amount of time for farmers to repay their debts. They just want to cash in.
"It is not acceptable for vulture funds to force the sale of land that has come as security with a debt bought from a bank when there is a viable alternative."
Stapleton, who the IFA said was speaking on behalf of the family, said: "The Conway family put forward a credible proposal to make structured repayments.
"The vulture fund has refused the offer from the Conway family. This is completely unacceptable to IFA."
Stapleton said farm families should get time to repay their debts over a longer term to keep the farm intact.
He now called on Everyday to engage constructively with IFA to agree on a solution with the Conway family.
"It is regrettable that this action had to be taken. Earlier this week, the IFA put forward a very reasonable offer, on behalf of the farmer, but Everyday Finance rejected it," said Rose Mary McDonagh, IFA Farm Business Chair.
IFA Offaly Chairman Richard Scally thanked Offaly IFA and the local community for their efforts.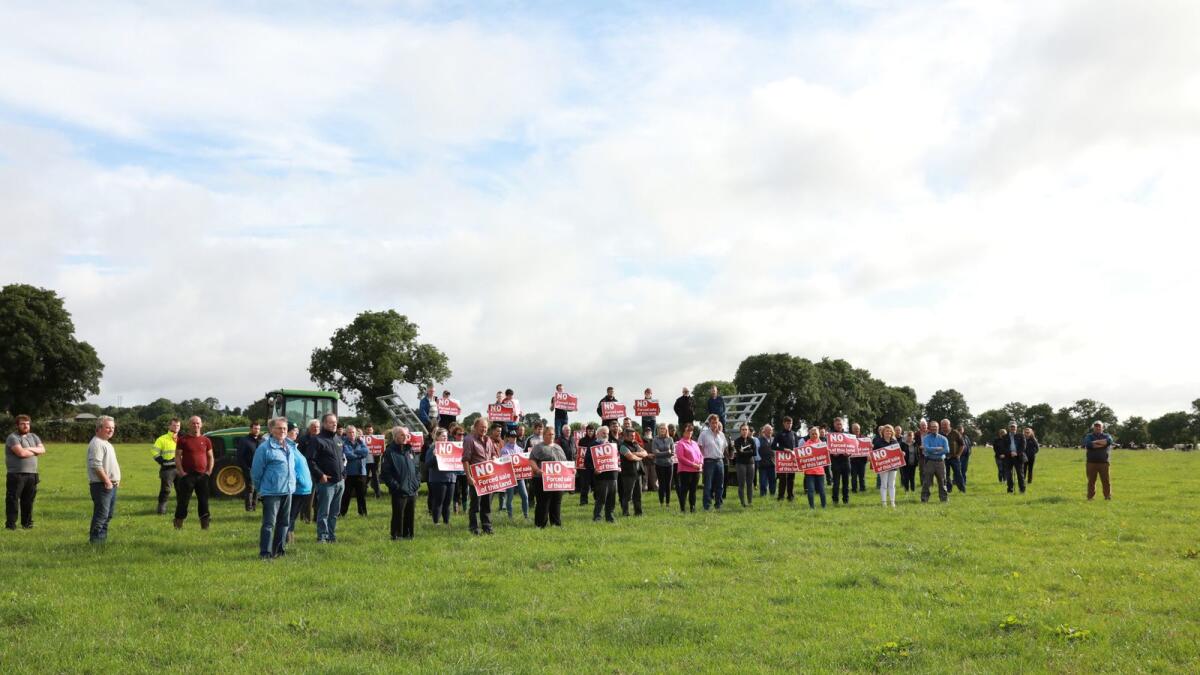 He said: "We sent a strong message today that this type of behaviour by vulture funds is not acceptable.
Farmers, their neighbours, IFA and the farming community, in general, will not stand by and allow individual farmers to be picked off," he said.
Both Everyday and BRG Gibson Auctions were contacted for comment. Neither responded to request for comment, bar a staff member at BRG Gibson Auctions indicating that the land had been withdrawn from auction.
Details on the BRG Gibson Auctions website indicated that the lot involved 90 acres, non-residential, at Coole, Croghan, Rhode.