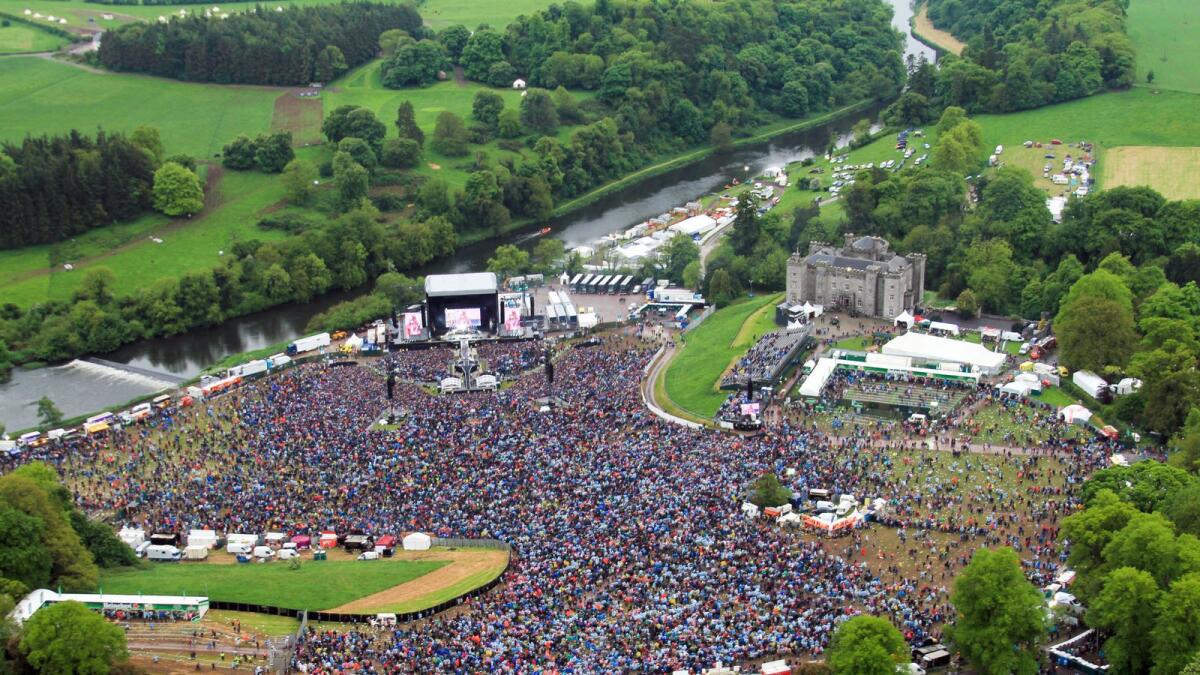 Celebrating 40 years of epic Slane concerts
Meath Chronicle and Slane Castle join forces for special supplement next week
Forty years ago next week, on 16th August, Thin Lizzy headlined a concert at Slane Castle as Lord Henry Mount Charles, inspired by the age-old St Erc's Patron Day at his ancestral home, looked at bringing new gatherings to his lawn.
Little did he realise at the time that the setting by the banks of the Boyne would, over the next four decades, become one of the most famous music venues in the world, attracting almost every big name rock star to its amphitheatre setting, from the Rolling Stones in 1982 to Metallica in 2019, with Queen, Bowie, Springsteen, Guns N' Roses, Robbie Williams, Madonna, Oasis, and Eminem just some of the other acts to perform there.
What was to be a source of revenue for the estate and its eighteenth century castle became all the more significant after disaster struck in November 1991 and Slane was destroyed in a fire.
The following decade saw huge efforts to restore the Conyngham family seat, culminating in an emotional double concert appearance in 2001 by U2, who had played support to Lizzy in 1981, and who had ironically recorded their 'Unforgettable Fire' album at the castle.
In a special 56-page souvenir supplement in next week's Meath Chronicle, and in the absence of a concert this year due to the pandemic, we are looking back at those 25 concerts over four decades. Regular concert attendee Anne Callan from Louth, has penned her memories since attending almost all of the gigs since 1981, while readers and photographers that were there also recall their experiences.
Henry Mount Charles looks back over the rollercoaster 40 years and forward at next year's hoped-for event, while his son Alex recalls childhood memories of hanging out with the stars in their front room.
We also talk to members of Ham Sandwich, the first Meath-based band to take to the Slane stage, and to local lad Luke Reilly, whose band Otherkin played support to Guns N' Roses in 2017.
There will be photographs from the gigs, including from the original Lizzy and Dylan concerts, some that haven't been seen in 40 years.
RTE's Dave Fanning took to the stage as MC for that first concert and he will relive his own recollections and other memories from bands who performed at Slane, on his 2FM radio show on Saturday 14th August. Today FM's Fergal D'Arcy will also broadcast from the castle on the anniversary date itself. Listen in from 2pm-4.30pm on Monday16th August.
Slane Distillery will also launch a special 40th-anniversary whiskey later in the year. Alex, Lord Henry's son stated, "Having grown up with the Slane Concerts in my back garden, I've come to realise the power of a live music experience, something that this extraordinary time has denied us. Although we can't do a gig this year, we wanted to make sure that we mark the occasion."
Some Memories Are Louder Than Others
Covid restrictions will prevent public celebrations at the Castle itself, but everyone is being invited to take part in virtual celebrations online and especially in the 'Some Memories are Louder than Others' campaign which goes live tomorrow, Wednesday, 11th August. Anyone who has attended a concert at Slane will have their own vivid and personal memories and 'Some Memories are Louder than Others' will collect and share these through the Castle website. The idea is to amplify the memories of Slane and allow everyone to relive, reconnect and celebrate its unique place in Irish history.
Slane Castle Estate welcomes visitors from Thursday to Sunday each week with their Silver Fox Food Truck, Tacos & Tunes in the castle courtyard and an upcoming concert field walk. From the anniversary date on, specially designed 40th-anniversary memorabilia including t-shirts and posters will be on sale at the Castle.