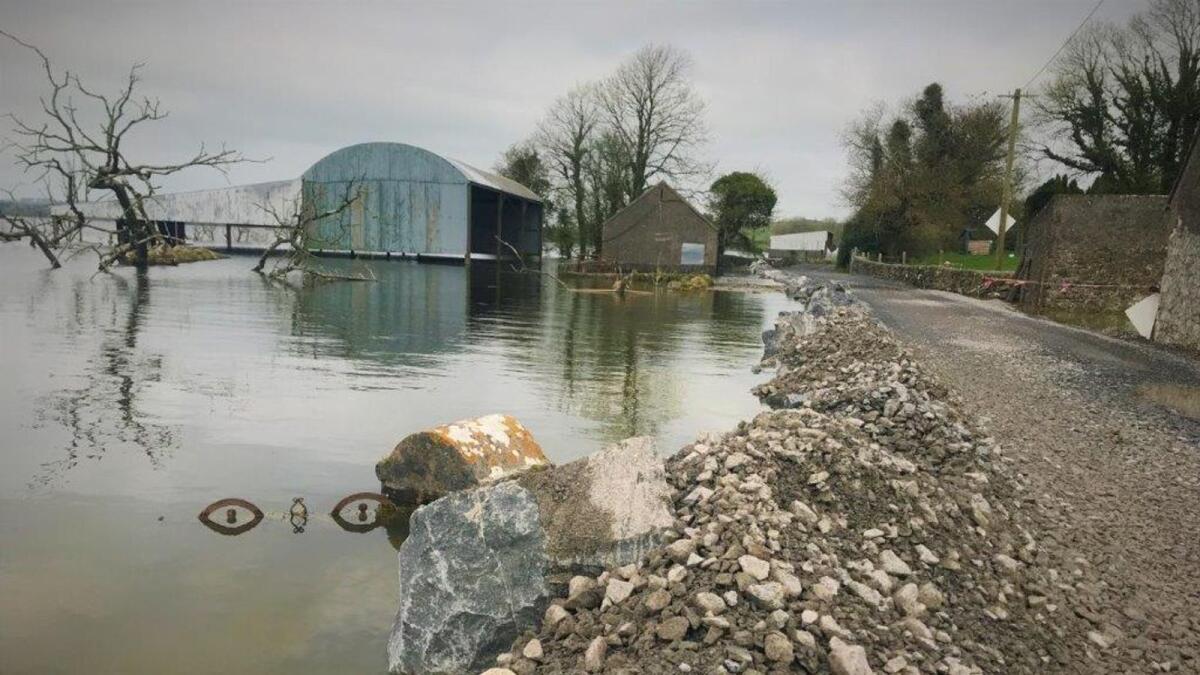 'Planning failures are to blame for Lough Funshinagh floods' says environmental group
The environmental organisation which last month succeeded in a High Court bid to stop work on a pipeline aimed at addressing flooding around Lough Funshinagh in South Roscommon, has said the problem there is a consequence of inadequate planning by the county council.
In a statement issued this morning, Thursday, the Friends of the Irish Environment called on Roscommon County Council "to now properly engage with all the local people potentially affected" by the pipeline proposal.
The statement referred to plans by Macra na Feirme to host a 'Lough Funshinagh Flood Farm Walk' tomorrow (Friday) evening which is due to be attended by Macra president John Keane.
The Friends of the Irish Environment (FIE) said it had been the subject of criticism from farming organisations which it felt would be better off working to ensure that State organisations come up with effective climate change mitigation measures.
"Flooding is a national problem and needs a national strategy which can plan ahead and deploy appropriate measures and responses," said the FIE statement.
"Flood risk management must be conducted in a methodical fashion, looking at how flood alleviation measures might impact on communities and the ecosystems which support them. This is what the EU Floods Directive requires.
"Rather than pillaring (sic) organisations trying to protect the environment, the representatives of farming organisations should be encouraging the state to come up with an effective climate change adaptation and mitigation plan including homes left without insurance or flood relief.
"The records which Friends of the Irish Environment have obtained demonstrate that in this instance Roscommon County Council, having embarked on a procurement exercise to deliver a legally compliant scheme, decided to abandon that compliant response in favour of a shortcut.
"However, FIE is not interested in blame but is interested in ensuring that public bodies are and remain responsible for their actions," it continued.
"Roscommon County Council should be commended for conceding the case at an early point and immediately agreeing to remediate the unlawful works. This will help to ensure that a legally compliant scheme can be delivered quicker than would have been the case had they decided to contest the proceedings.
"The environmental laws which we have, while far from perfect, are the only means available to us by which we can ensure minimum levels of protection for our ecosystems and our communities upon which they depend.
"If any public official was able to declare an emergency without any scientific evidence to support it, particularly one which has been ongoing for over five years, then a very dangerous precedent would have been established with the potential to undo the embedding of those environmental laws into our system of public administration.
"We have seen in other cases the disastrous impacts of ignoring the law and proper procedures. The Derrybrien wind farm landslide in Galway in 2004 devastated farmland and homes, resulted in huge fish kills and has costed the Irish taxpayer millions in fines imposed by the European Courts – including a still ongoing €15k per day.
"Up to now, Roscommon County Council failed to properly explain the issues concerning Lough Funshinagh to local people or give everyone an opportunity to express their arguments as is required by the Aarhus Convention. FIE calls on Roscommon County Council to now properly engage with all the local people potentially affected by the proposal.
"These are the issues that Lough Funshinagh highlights and what Macra na Feirme should be addressing," the FIE statement concluded.