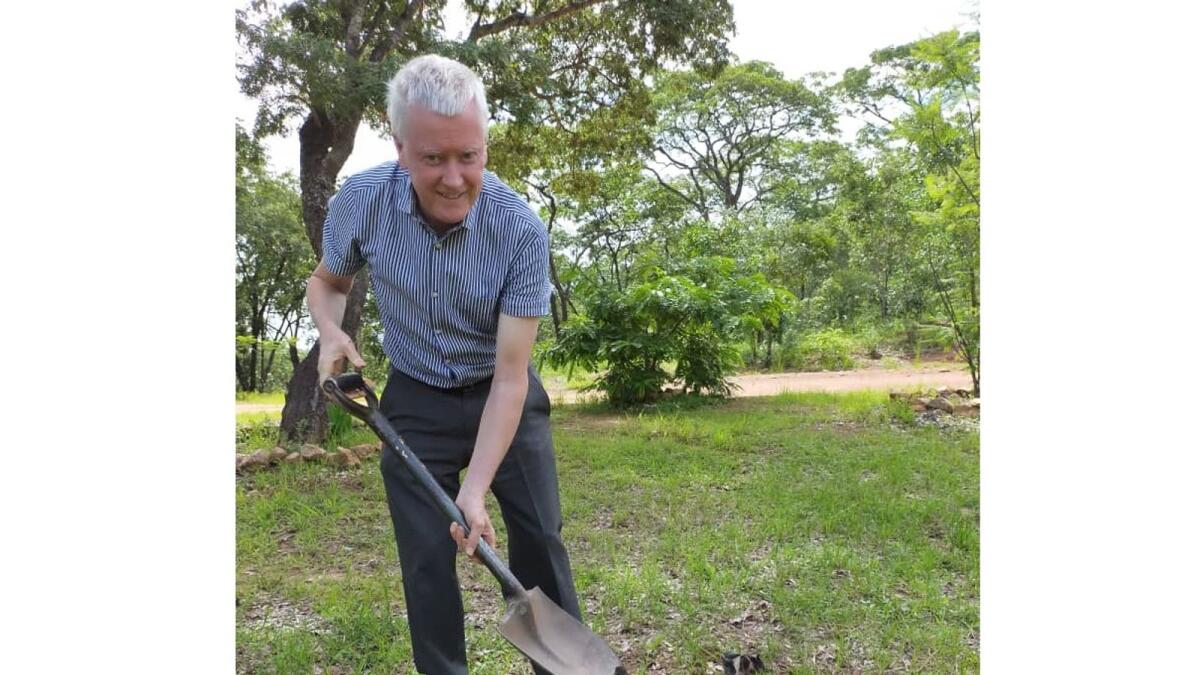 Drumraney fundraiser to support Fr Martin's work in Malawi
On Thursday, after six weeks at home in his native Walderstown, Fr Martin Reilly began his journey from Irish Midlands back to Malawi to continue his work as a missionary priest in one of the world's poorest countries.
"I always feel motivated by the fact that we live in a world where there is enough for everybody, but the goods of this world are badly divided," Fr Martin told the Westmeath Independent.
"I have been blessed to be born in this part of the world, where all our needs are satisfied, but any of us could have been born in any part of the world. I think we have that duty to reach out to others and share something of what we have. Whether that would be our lives, our resources, or whatever else.
"Covid has been a terrible experience for the world, but maybe one thing it has taught us is that we all have a responsibility to each other on this planet. By looking after others, we are also looking after ourselves."
In support of his work, the local community in Drumraney is organising a fundraising walk which looks set to take place at the Maryland GAA pitch on Sunday, October 17.
Proceeds from it will go directly to Fr Martin and will be put towards the construction of a 68-bed hostel for trainee nurses in Malawi. It will be called The Eileen Browne Hostel in memory of Fr Martin's aunt, a dedicated nurse and native of Rosemount who died in 2019.
Money which Eileen left to her nieces and nephews is being put towards the hostel but it won't cover the full cost of the project, and therefore it's hoped that events like next month's walk in Drumraney will help make up the shortfall.
"(Eileen) was generous to her nieces and nephews and I thought this would be a good way to remember her - that through her legacy she would be able to give a start to young girls who are training to be nurses in Malawi," Fr Martin explained.
One of a family of seven, he is a brother of mushroom producer Gerry Reilly, who operates the Reilly Mushrooms business in Walderstown. Martin and Gerry have five sisters, living in Westmeath and elsewhere in the country.
In 1980, Fr Martin was ordained for the St Patrick's Missionary Society, headquartered in Kiltegan, Wicklow. Over the years he has worked in Zambia, South Africa, and Grenada in the West Indies, while also serving for spells at home in Dysart, Westmeath and Bushypark, Galway.
He has been based in Malawi since February 2017 and said the poverty of the East African country was immediately apparent on arrival there.
"It's a beautiful country. It has lovely scenery, a beautiful lake, and nice mountains, but you see the poverty as you drive around. The housing is poor. The roads are not good. When you visit some schools they are very overcrowded, in poor conditions, and you see that many people are just surviving from day to day.
"You would also be struck by the spirit of the people, and their resilience. Malawian people are very welcoming and very friendly."
He lives and works in Mzuzu, in the north of the country, serving as chaplain at various institutions such as the university, the college of nursing and midwifery, and the secondary school. He also visits people in prison.
When asked about the impact of the pandemic on Malawi, he replied: "It was not as bad as we expected, or as the World Health Organisation was predicting for Africa. But there were a few bad phases.
"Quite a few people died, and people were sick. The vaccine came in March, but there was a lot of scepticism about the vaccine. There were only a small number of vaccines, but more or less anyone who went for it got it at that time.
"Now, people are taking the vaccine more seriously, because they realise that this thing is still around."
The hostel he's working to develop is designed for students at St John's Institute for Health, which was set up in 1963 by the Medical Missionaries of Mary from Ireland.
"Malawi needs nurses now as much as ever. But many young people who dream of becoming a nurse are caught in a never-ending cycle of poverty, making it impossible to cover the cost of studying and accommodation.
"Many young girls who dream of a nursing career end up married off in arranged marriages while still in their teens."
He is hopeful that the hostel in memory of his aunt will help give more young girls a chance to pursue their nursing ambitions, while also providing a boost to the country and its health system.
The building, which will incorporate solar lighting and harvested rainwater, was recently granted planning permission and it's hoped that construction will begin shortly.
"It's easy to get builders there because there's so much unemployment and people are basically waiting for work," said Fr Martin. "I would expect that it might be finished within a year."
Local councillor Tom Farrell is among the organisers of the upcoming fundraiser in support of the hostel in Malawi and he said the local community was delighted to be able to help.
"Fr Martin is from the area, and has served in the missions all his life. We would know the work that he's done over the years and the helping hand he gives to people.
"Knowing the good work that he does, it's fantastic to be able to help with a project like this which will be of immense benefit," said Cllr Farrell.