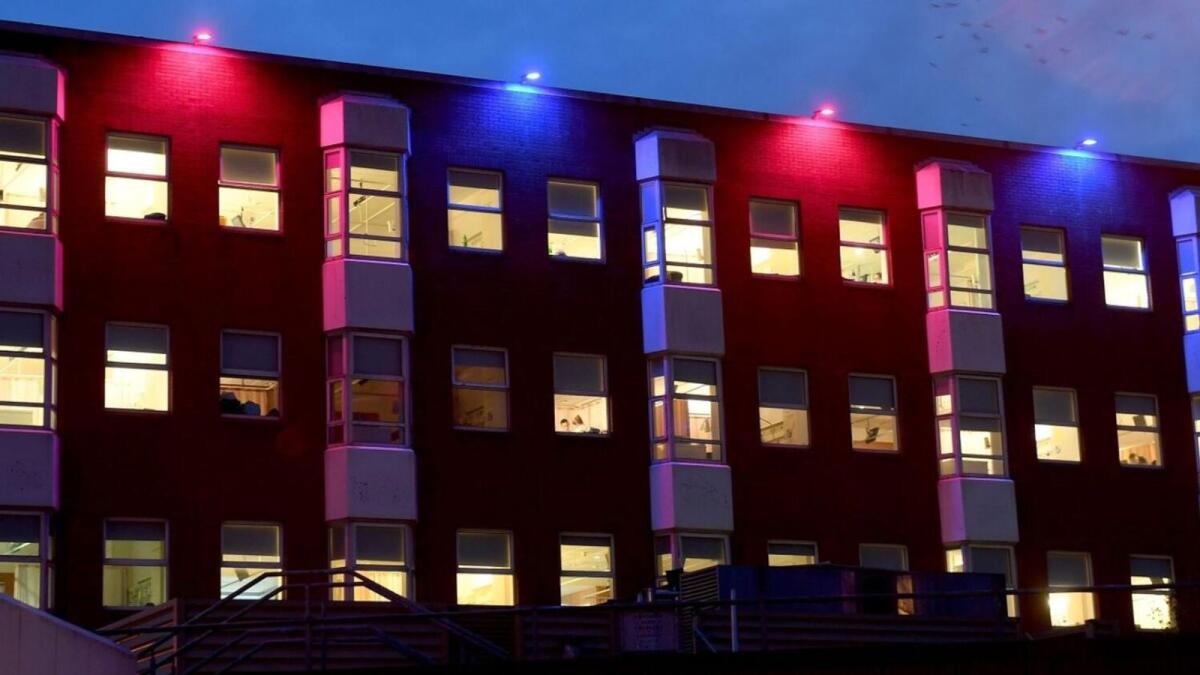 MRH Mullingar to be lit up tomorrow evening for Wave of Light
(Above) The exterior of MRH Mullingar lit up for the Wave of Light in 2019.
Midland Regional Hospital Mullingar will once again take part in the Wave of Light on the evening of Friday October 15.
The date October 15 is International Pregnancy and Infant Loss Remembrance Day. Across the world at 7pm candles, monuments, landmarks and buildings will be lit in pink and blue in the memory of babies that have been lost.
Regional Hospital Mullingar will again host a different remembrance service than usual due to the on-going Covid-19 pandemic. A display table will be set up in the front concourse of the hospital, with the background of pink and blue.
At 7pm on Friday October 15, staff from the hospital will be outside the building as a way of remembering the families who have lost babies, as the hospital is lit in blue and pink.
Kathryn Woods, the bereavement nurse in Regional Hospital Mullingar said, "We want families to be a part of this occasion as much as possible. Families are welcome to come and spend some time with us in Regional Hospital Mullingar on the fifteenth."
The staff in Regional Hospital Mullingar hope turning buildings and landmarks blue and pink will spark conversations about baby loss and give bereaved parents and families an opportunity to talk about their precious babies.
In 2018 Liberty Hall was the first and only Irish building to be lit up blue and pink for Pregnancy and Infant Loss Remembrance. In 2019, 83 buildings including hospitals, castles, hotels and civic buildings were lit up. While last year this number increased to 150.
Every county had at least one building lighting up and it brought so much comfort to bereaved parents and their families.
Féileacáin (Stillbirth and Neonatal Death Association of Ireland) which is the national charity supporting families affected by perinatal loss, spearhead the Wave of Light initiative in this country. October is Pregnancy and Infant Loss Awareness Month.
Nina Farrell, Féileacáin volunteer, said, "Like most people around the world bereaved parents have been badly affected by Covid-19 with support meetings and remembrance services cancelled. We feel there will be extra significance on buildings lighting up this year and hope to reassure parents that their babies are still being remembered and honoured."
Remembrance Book
At the same time, the Hospital's new Pregnancy Loss Awareness Remembrance Book will be displayed to the public in the hospital. This beautiful book is a tribute to families who have suffered pregnancy loss. It is supported by all the multidisciplinary teams in the maternity unit in Mullingar Hospital, who will be informing bereaved families of the Remembrance Book.