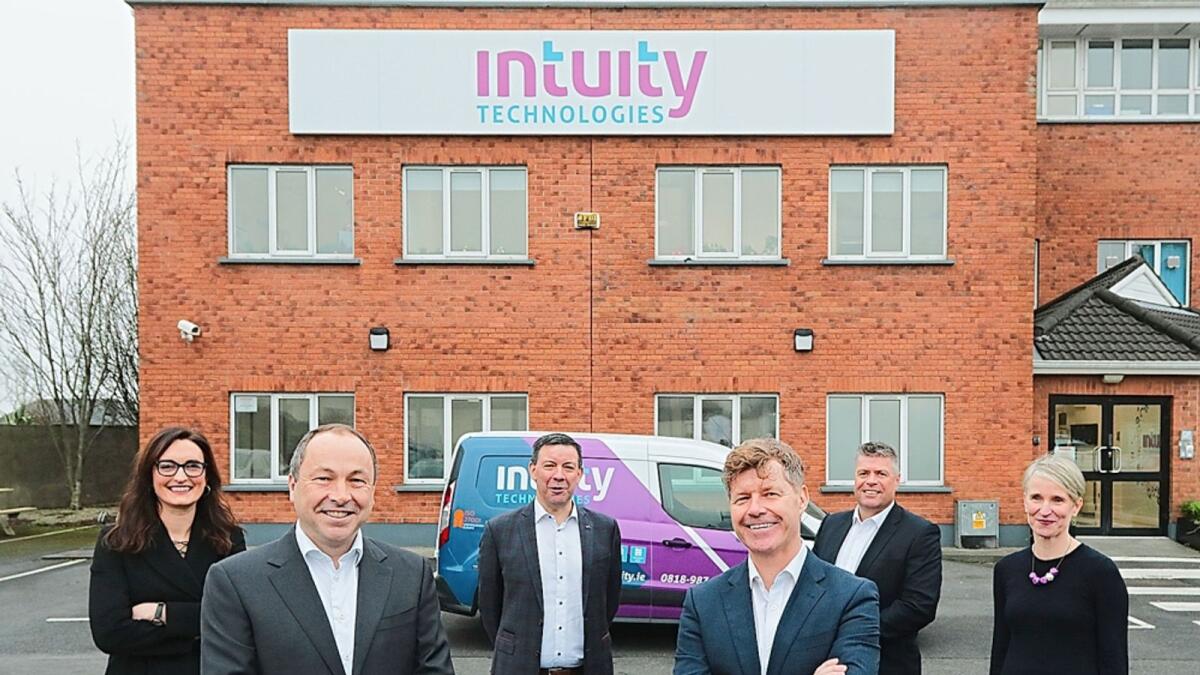 Athlone man appointed MD of fast-growing IT firm
An Athlone native has been confirmed as the managing director of Intuity Technologies.
As part of a strategic growth plan for the company, Intuity Technologies announced the appointment of Seamus Quinn, from Baylough, a former student of St Aloysius College, as its new managing director, while also announcing the appointment of Michael Kavanagh and Alan Shaughnessy as non-executive board members.
Headquartered in Galway, Intuity Technologies is one of Ireland's fastest-growing managed IT providers.
The company has grown from a team of three nearly 50 years ago to over 85 employees today, with offices in Galway, Dublin, and Roscommon.
This news comes as part of a strategic growth plan, which will see new jobs created as the team expands and the customer base diversifies.
Commenting on the announcement, CEO of Intuity Technologies, Gerard Cox, said: "This is an exciting time for Intuity Technologies as we continue to grow and expand our services. I am really looking forward to working with the two new board members and our new managing director.
"The appointment of Seamus as our managing director will bring a renewed focus on delivering world class customer service while creating efficiencies throughout our business.
"We believe that technology is key for any company owner seeking to protect their business while undertaking a digital transformation programme. As a result of this, Intuity will be better positioned to guide companies on their own journey. Furthermore, I am delighted with the appointment of Michael and Alan to our board because it will significantly enhance our skills, experience, and strengthen our capability to grow."
Seamus Quinn was appointed as managing director of Intuity Technologies following the successful merger of Intuity and myITdepartment in April 2021. Quinn founded myITdepartment in 2003 after starting his career in the IT industry in the late nineties. Over the years, myITdepartment grew to 25 staff supporting over 240 businesses in Ireland and the UK.
Speaking after his appointment as managing director, Quinn stated, "I am delighted to be appointed to this new role and look forward to working with the leadership team and staff in Intuity as we complete the integration of the two businesses.
"Both companies share a strong 'customer-first' ethos and together we will provide best-in-class services and solutions to our many loyal customers. The merger allows us to further invest in our people and technologies to ensure we are best placed to advise our customers on the ever-changing world of technology."
Michael Kavanagh, formerly of LK Shields, joins Intuity as a non-executive board member. Kavanagh has over twenty years' management experience in one of Ireland's leading corporate law firms, where he served a term as chairman.
Alan Shaughnessy, a partner with DFS & Co. Accounting and Business Advisors, also joins Intuity as a non-executive board member. Shaughnessy has fourteen years' investment banking experience in capital markets.