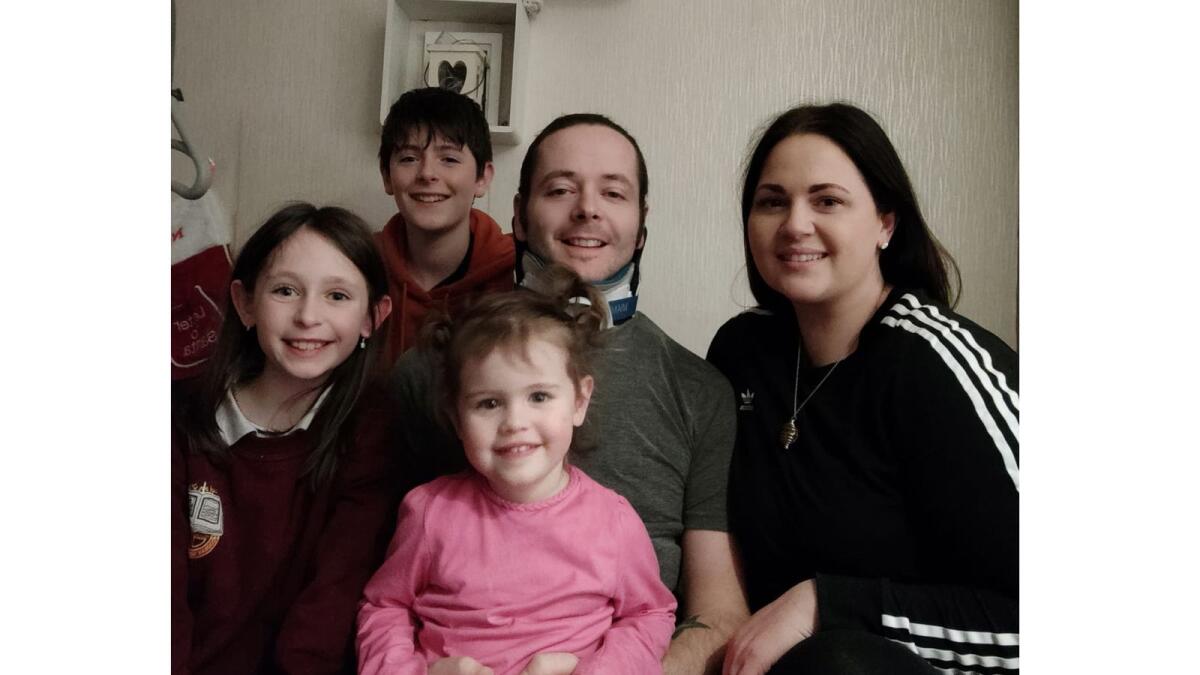 Athlone firefighter recovering after the accident that almost ended his life
He didn't see it coming. It was mid-October, and Athlone firefighter Patrick Berry was attending the scene of a house fire in Mount Temple when the gable wall of the building collapsed in one piece on top of him.
The moments that followed were chaotic, as colleagues tried to move him from underneath the pile of singed rubble. But, for Patrick, everything started to get calm and quiet, and he began to feel it very clearly. He was going to die.
"There were four or five firefighters around me, trying to get me out. The rest of the building was dangerous, and collapsing, so they had to move me, and I just remember sounds starting to fade out.
"A blanket of calm just came over me and inside my head I thought, 'I've only got about five seconds left here.' I was dying, I could feel that I was dying, and a calmness came over me which is hard to describe.
"Everything got really quiet and I remember thinking, 'I can't believe that this is it for me, and that I'm going to die right here and now.'
"I didn't see anything - my life didn't flash before me - but I had a feeling of regret thinking that I was going to die. I was afraid I might not get to see my family again. It felt like it was going to be the end of my story."
Thankfully, there are many chapters left to be written as the father of three managed to survive the traumatic accident and is now on the long and challenging road to recovery.
The impact of the wall collapse broke multiple bones in his body and, nearly three months on, he is still in a full body and neck brace.
But, even though it will take time, he is confident he can eventually make a full recovery.
"I feel quite lucky," he told the Westmeath Independent. "It could have been a lot worse for me. I could have died, and with the injuries I sustained I could have been paralysed, but I'm not. So I'm very thankful to be alive."
He was rushed from the scene of the accident to Tullamore Hospital, where he would be kept for three weeks, undergoing an array of scans and x-rays, as well as some initial surgery.
"For the first two weeks I was lying completely horizontal, completely flat, and I wasn't allowed to be raised up at all to eat or drink," he recalled.
His broken leg and ankle was put in plaster, and he was fitted with a full body brace. "After a week they brought me down and put titanium plates in the leg, and repaired the broken tibia and fibula.
"The ankle surgeon described the ankle to me by saying it looked like it had exploded. It was completely in bits, so they put in a titanium plate and had a bunch of screws holding that in. I had probably close to fifteen screws put in, between the ankle and the leg, and then the titanium rods and plates."
After his time in Tullamore Hospital he was sent to Esker Rí Nursing Home, outside Clara, where he spent a month in recovery before finally getting back to his home in Assumption Road last month.
At the moment he is sleeping in a hospital bed in the living room of the house and is hoping he will soon be given the green light to start taking off the body brace, for short periods of time at first, as his body gradually heals.
His broken collar bone will require surgery towards the end of this month. Patrick is also still wearing a 'moon boot' on his ankle, but is able to walk around the house with the aid of a crutch.
"I'm on a lot of medication for pain relief, anti-inflammatories, and anti-sickness tablets. The anti-inflammatories are hard on your stomach, and I've been taking them now for almost three months, so I have to take anti-sickness tablets to keep the nausea away," he explained.
He and his partner Nicky Beaumont have a son, Kai (13) and daughters Rainah (9) and Nova (2).
The family have been overwhelmed by the good wishes and fundraising support they received since the accident. A 'Go Fund Me' appeal to help with medical costs and modifications to their home has raised €50,000, from more than 1,000 separate donations.
Fellow firefighters from all over Ireland, and some from as far afield as Canada and the USA, are among those who showed their support by making donations.
"I'm absolutely blown away by the support and all of the fundraising that's happened," said Patrick. "There were all of the donations to the Go Fund Me appeal, and then a lot of people and businesses around the town did fundraising.
"The support from people has just blown us away and it's really going to help us out with medical expenses and God knows what.
"We don't really know yet what's down the road, because it's probably going to take a year or two before I'm back to 100%, so that money is going to come in handy for any medical expenses and anything I'm going to need to get me through this.
"There will be a lot of physio, and if there's cryotherapy or any kind of new treatments available, I'll certainly be open to trying anything to get the body back (to full fitness)."
Patrick's home is virtually a stone's throw from Athlone fire station. He loved being a firefighter - a job he's had for the last five years - and is hopeful he will eventually be able to return to work.
"The plan is to make a full recovery, with a lot of physiotherapy, and to not have back surgery. It will be a slow recovery but the aim is to get back to 100%, and get back to work.
"There were a lot of serious injuries but my body is recovering, so that's the positive to take from it. We have been getting good news all the time from the doctors. It's all moving forward, and we haven't really had a backward step, which is good," he concluded.