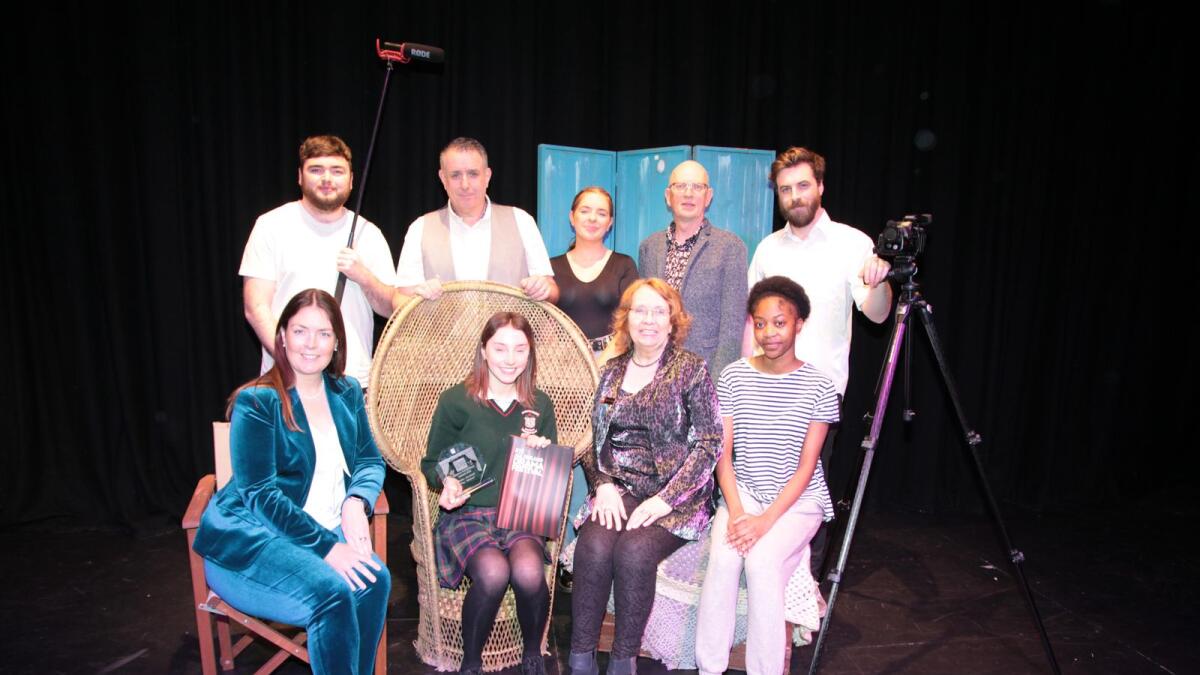 Winners of 2022 Schools Playwright Competition are announced
Athlone's 2022 Schools Playwright Competition, held in conjunction with the RTÉ All Ireland Drama Festival Fringe and sponsored by the Athlone Credit Union saw Transition Year Students from eight counties compete – Cavan, Galway, Kildare, Meath, Offaly, Roscommon, Sligo and Tipperary. The competition, now in its ninth year, involved the creation of an original one act play on the theme of 'Equality'.
Regina Bushell, Festival Director, opened the prize-giving ceremony, thanking the sponsors of the schools playwright competition, Athlone Credit Union, for their continued support. Billy Nott, co-ordinating judge, acted as MC. Special thanks goes to Margaret Egan, Schools Playwright Co-ordinator, who organised the competition. The guest speaker was former director of the RTE All Ireland Drama Festival, Joe MacCarrick, a director and actor himself. He addressed the students complimenting, guiding and encouraging them in a way that marked the completion of the creative journey they had been on.
Eve Smyth, a transition year student from Calasanctius College, Oranmore, Co. Galway was announced as the overall winner of the competition. Selected from a shortlist of fifteen finalists her play, 'Helpless', was performed at the awards ceremony in the Dean Crowe Theatre, Athlone, on Tuesday.
'Helpless', brings together the stark reality of the division that exists between poor and rich countries. An American CNN top live news report from the Congo, a country with one of the lowest vaccination rates in the world, is told through the eyes of a confused, grief-stricken, helpless young girl who confirms that sickness and death is all around her and nobody knows about the Corona Virus. When she requests a vaccine she is met with silent tension and eventual refusal due to the cost involved – a patronising interview leaving her cold and helpless to return home to her poverty stricken existence.
In second place was Esther Moore from St. Raphael's College, Loughrea, Co. Galway with her play 'My Perfect World'. She addresses the need for inclusivity in a classroom setting where the understanding and meaning of equality is managed – a school culture where inappropriate behaviour and bigotry are no longer tolerated.
In third place was Katie Hanlon from Calasanctius College, Oranmore, Co. Galway with her play 'Choiceless'. Katie's play concentrates on an Indian tradition – boys go to school and girls are subjected to arranged marriages to older, rich men. A teenage girl becomes emotional and violent, eventually consoled by her father, when a young prince charming introduces himself as her wedding partner to be.
In fourth place was Fatima Karimi from Tullamore College, Co. Offaly with her play 'The Undesired Response'. Teenagers accused of an attempted arson attack on a tree cutting machine, because of their background, become the catalyst that exposes the wrongdoing of a public body. Protests against deforestation, for environmental reasons were ongoing. One policeman's obsession with and for the truth earned the teenagers the respect and freedom they deserved.
In fifth place was Senan Shiels from St. Patrick's College, Cavan with his play 'Enough Said'. A restaurant owner discriminates on grounds of skin colour, asking such customers to pay for food in advance. This racist treatment annoys them and one of them returns and asks for an apology but in vain.
In sixth place was Robyn Meehan from Oaklands Community College, Edenderry, Co. Offaly with her play 'The Ghost in the Mirror'. This play explores the emotions and feelings of a young girl vacantly staring into the mirror and then writing about her sheltered and loving childhood years of pink dolls and pink birthday cakes. Now her pink notebook is her sheltering space. In a busy corridor in her school, which she describes as a crowd control scene, she drops her books and mistakenly picks up a pink notebook which is not her own. A subsequent meeting to exchange notebooks leads to a secret relationship which sadly ended tragically.