Athlone soldiers among group bound for Syria
As he prepares to depart for Syria on a six-month peacekeeping mission with the Irish Defence Forces, Athlone man Captain Michael Fitzpatrick knows the task at hand is just one part of the story.
As the married father of Maya, who is about to turn five, and two-year-old Jamie, he spoke about the vital importance of the support provided by loved ones at home.
"I am looking forward to the mission, but I'm also conscious that there's going to be another six-month mission at home for my wife, Sinead, taking care of our family," he said.
"It's very important to all members deploying that their family, friends and support networks are recognised because without that we wouldn't be able to deploy."
The 130 personnel of the 66th Infantry Group will depart for Syria in the coming fortnight as part of the United Nations Disengagement Observer Force (UNDOF).
Last Thursday, a ceremonial review of the group by Defence Minister Simon Coveney was held at Cathal Brugha Barracks in Dublin.
While the majority of the troops deploying are from Dublin and other parts of the country, Captain Fitzpatrick said he was one of five or six members of the group from Athlone or surrounding areas.
For the next six months they will be based at Camp Faouar in the Golan Heights, between Syria and Israel, where they will act as a Force Reserve Company, providing a Quick Reaction Force (QRF) available to act on any request from their force commander.
For Captain Fitzpatrick, who lives in Glynwood, Athlone, and is a past pupil of Baylin NS and the Marist College, this will be his second time serving abroad.
"I was deployed as an Ordnance Officer in Lebanon in 2018, for a six-month tour," he explained. "I had been in the Defence Forces for eight or nine years at that stage, and I'd gone through college in the Defence Forces as well, so it was nice to get that first tour abroad.
"I had a good experience with it and I suppose that's what led to me looking for it again."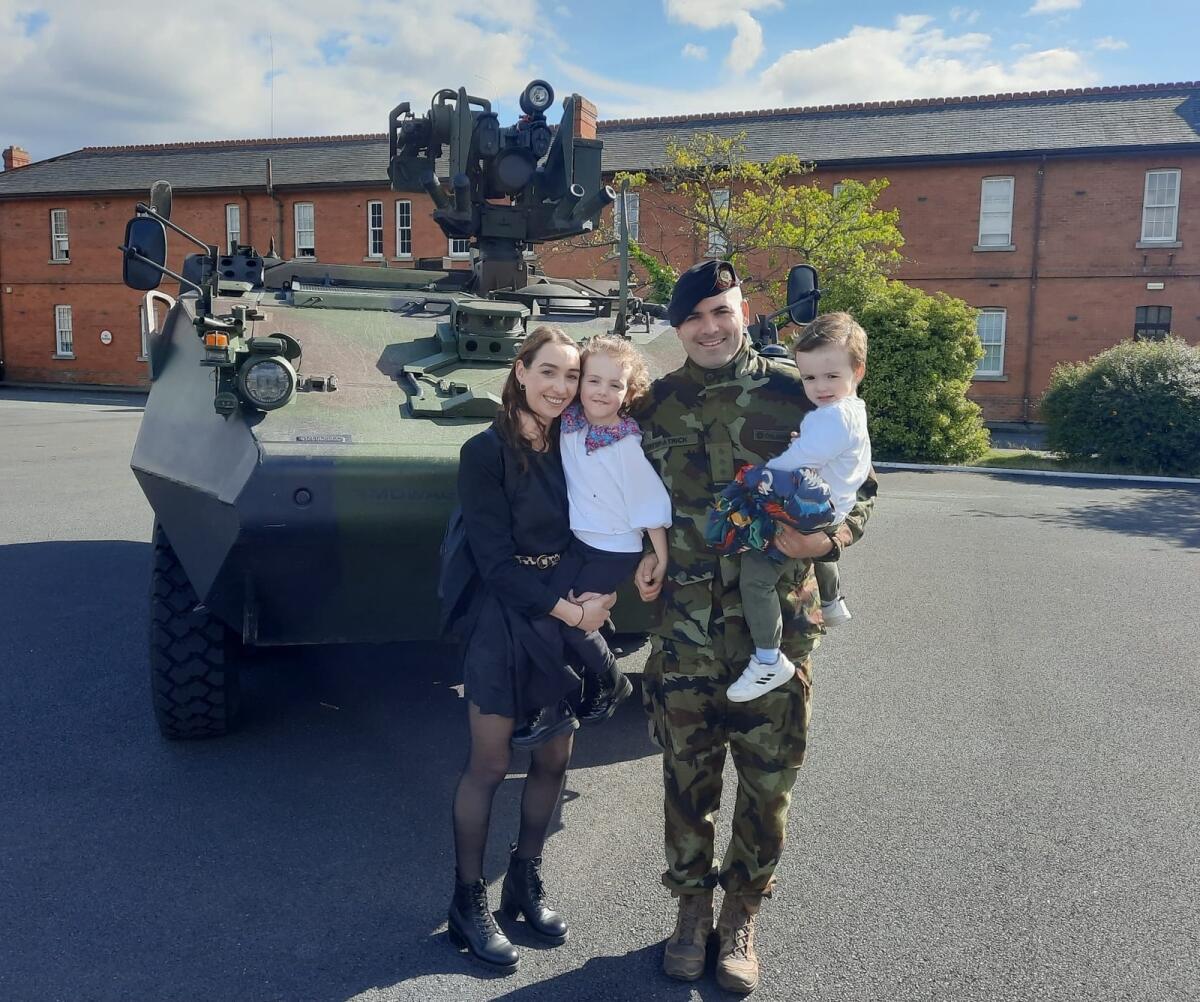 At the beginning of August, the 66th Infantry Group started its pre-deployment preparation, which involved four weeks of skills training in Cathal Brugha Barracks, followed by a two-week mission readiness exercise at the Glen of Imaal in the Wicklow mountains.
Captain Fitzpatrick said one of the benefits of the improvement in the Covid-19 pandemic was that the contingent in the Golan Heights would be granted 16 days leave, which would give him an opportunity to come home for a visit during the tour.
"The timing of when I'll get that leave is not yet decided, but at some point on the mission I'll get to come home for 16 days. That's definitely a positive. It means that you can split it up, so it's not just a solid six months."
Coosan's Private Neal Rattigan is also on the Syrian mission, and will be helping to look for viable explosives part of an Engineer Specialist Search and Clearance team.
"Due to all the conflict (around the Golan Heights) over the years, a lot of the land has been contaminated with mines and unexploded ordnance. Our role is to hand it back to the locals," explained Private Rattigan.
"We have equipment to search the area and make it safe to hand back to the local civilians."
He has been taking part in courses in recent months in order to prepare for his role, which will involve driving an armoured truck.
"There is also a fully-armoured JCB excavator out there, for detailed searches, and I've done a course on (driving) that as well," he said.
At home he plays gaelic football with the Garrycastle senior team, who were recently knocked out of the club championship.
"Football with Garrycastle is a big part of my life when I'm at home... I would have been missing the semi-final (of the championship) if we had got that far.
"In my down time (in Syria) I'll be able to train hard for the winter. There's no distractions out there and it's a Muslim country, a dry camp with no alcohol, which is a good excuse to train hard."
A member of the Defence Forces for twelve years, this will be Private Rattigan's third tour of duty, after two spells in Lebanon.
He said the 16 days of leave which he will get on this tour will be something of a novelty, as leave was not granted during his time in Lebanon.
"The two previous trips I had were nearly seven months, by the time you did the quarantine. This is my first trip with leave, so hopefully that will be easier," he said.
"You will have a target - you'll hit your halfway point and then have your leave, take a break, and when you come back you'll be on the home stretch. Hopefully that's the way it will go, anyway."
The 66th Infantry Group deploying to Syria will be under the command of Naas resident Lieutenant Colonel David McNamara.
The 130 personnel in the group consists of 14 officers, 115 enlisted personnel and one chaplain. A total of 34 of those deploying on the trip will be on their first tour of duty overseas.