Athlone Tennis Club seeks support to complete ambitious project
Athlone Tennis Club is seeking support from the local business community in order to raise the funds needed to complete the first phase of their ambiguous plans to build new facilities.
The club is currently based on the Ballymahon Road, with four courts on the grounds of Athlone GAA Club. However, work has begun on a new club complex adjacent to the Athlone Regional Sports Centre. It is planned to build three outdoor courts initially, followed by three indoor courts under a dome.
Setting out their stall to local businesses, the club said Athlone will "gain a superb, modern state-of-the-art tennis complex that will add hugely to the sporting facilities in the area".
The club is offering three sponsorship options to local businesses: bronze (€250), silver (€500) and gold (€1,000).
Speaking to the Westmeath Independent, Pat Conway, a member of the club's finance committee, insisted that the new complex will be an "amazing amenity" for current and future generations.
"We have the site for 50 years and what we're putting in there will last that length of time. You can imagine the generations that will benefit from it," he said.
"It will enhance the whole sporting facilities in the Athlone area, and it fits in beautifully with the Regional Sports Centre.
"We have planned to do it in two stages. We're going to build three external courts with clay surfaces. Then we're going to build a further three courts which will be indoor. People who go to the Regional Sports Centre will see the progress that we've made," Pat continued.
The club has raised approximately €400,000 primarily through funding from LEADER and the Sports Capital Programme.
"We also raised more than €120,000 from our own members through a bond scheme, but we're short," said Pat, adding that the club needs to raise in the region of €50,000 to finish the first phase (three outdoor courts and a clubhouse).
The club has been selling tickets for a raffle in which the first prize is €5,000, and the draw takes place this Sunday evening, September 25.
"We've done reasonably well with the raffle but it's not enough. So we've decided to go to local businesses and request that they sponsor us for a year for a relatively small amount of money, for either €250, €500 or €1,000 and we will publicise their support in return," said Pat.
The amount needed may not look that much compared to the overall cost, but Pat describes raising the shortfall as "the key to finishing phase one of the project".
"We're going around to local businesses telling them our story and hoping that they will support us. We need to get this €50,000 in the next two or three months and once we have that, it will enable us to draw down the money from the Sports Capital Programme which will finish Phase 1A."
In addition to acknowledging the support of businesses on social media, there will be a board displayed at the club which will highlight the sponsors who provide support.
"For those who give us €1000, we will invite them down for an open day for their staff to show them what's available and maybe it will to encourage people to join as well," said Pat.
"We're inviting some businesses to sponsor competitions and one particular company has sponsored our senior championships and another has agreed to sponsor our junior championships."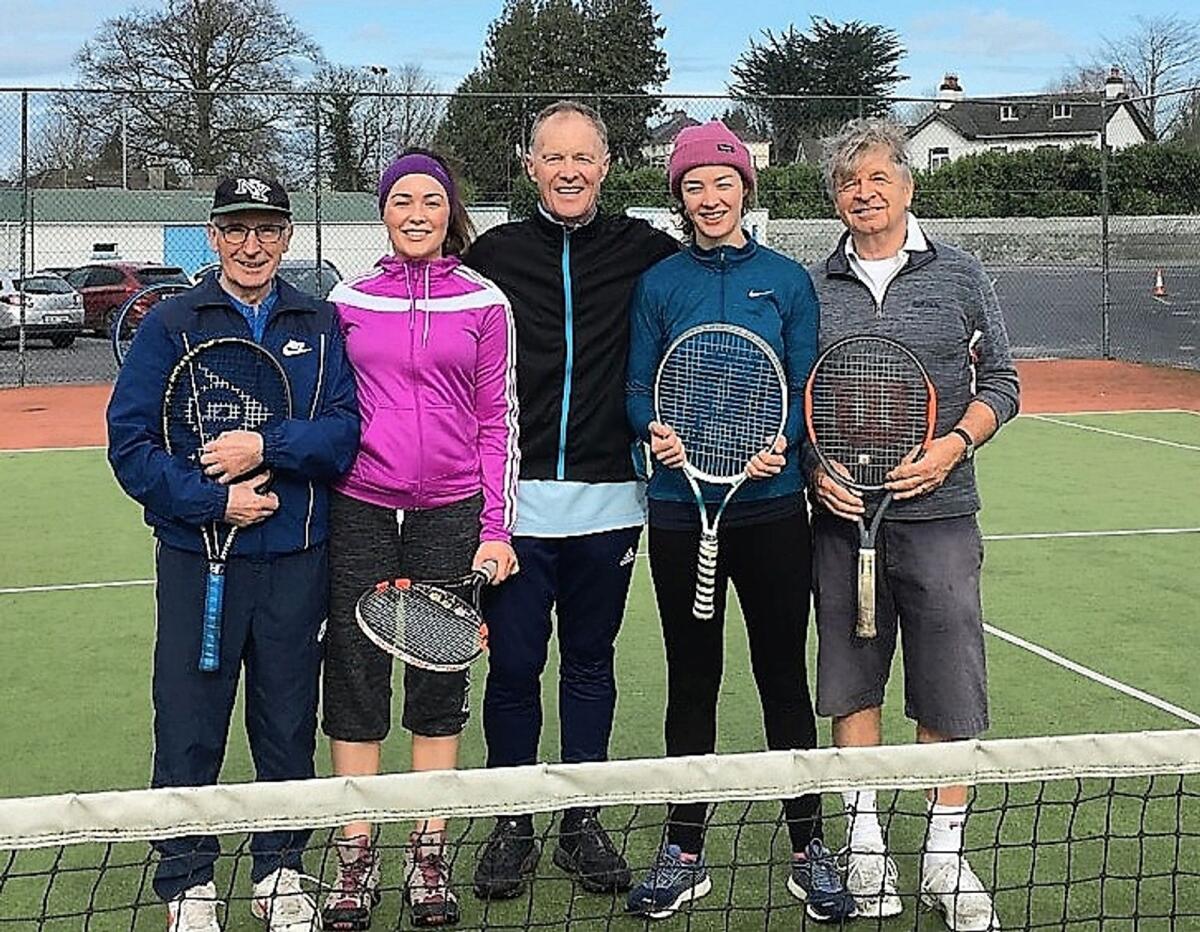 Pat said the club is acutely aware of the increasing costs facing businesses at present and the many other worthwhile demands for support.
"We know that there is fierce pressure, but still it would be terrible to fail at the last hurdle having come so far," he said.
Pat believes the new complex will revolutionise the way tennis is played in Athlone and move things to a different level.
"It will make us independent of the weather and will make us independent of the time of day. It will really open it up and also it will show other sports what's possible," he added.
Having first operated in Athlone in 1885, the club has approximately 400 members. The club draws from a large catchment area and in addition to members from Westmeath and Roscommon, it has members from parts of Offaly, Longford and Galway.
Athlone Tennis Club possibly boasts the most internationally diverse membership of any club in the area, with members from India, Poland, Romania, Czech Republic, France and a number of other countries.