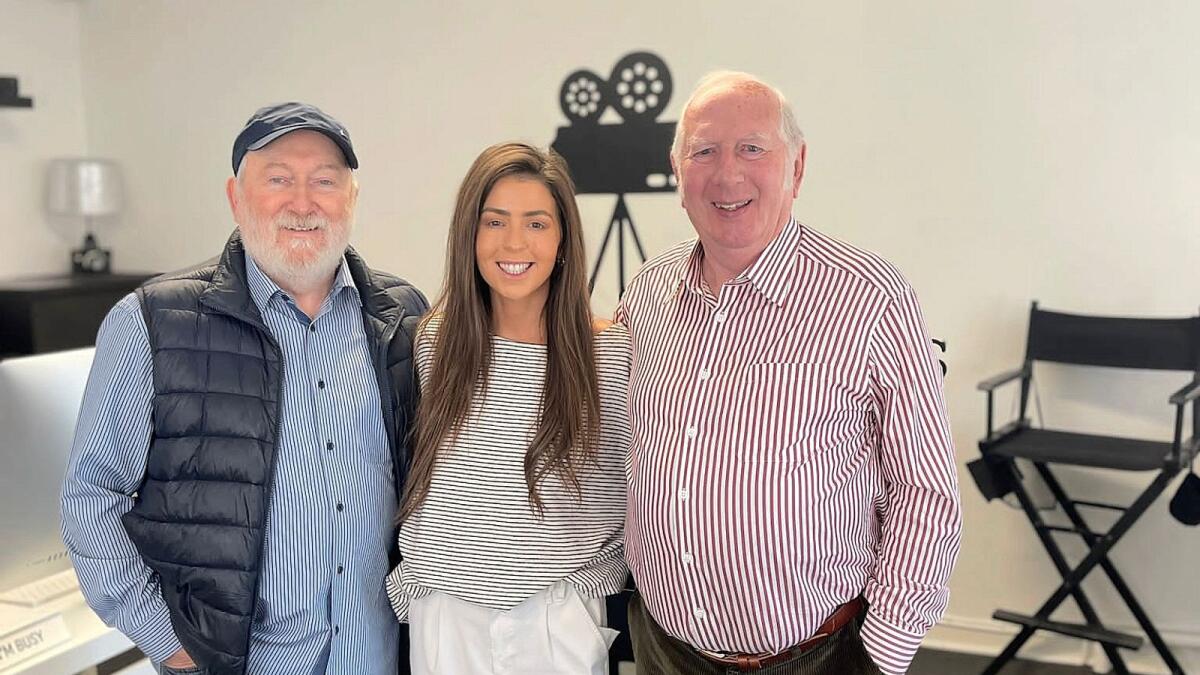 Foster and Allen now rapping and rocking
Foster and Allen doing hip hop? Collaborating on a rap track? Performing as rockers? It might sound unlikely, but that's exactly what the talented two have been doing on and off for several months for an innovative two-part RTÉ documentary, the first part of which goes out this Thursday, October 6, and the second half next week.
'Foster and Allen – Lost in Music' is going to show a side of the two artists that many won't have been expecting – not just their ability to connect so easily with musicians of different generations and traditions, but also the fact that they are just such good craic.
With the two throughout the 18 days of filming was camerawoman Sarah Foster, whose involvement in the project came first as an interviewee, asked to spill the tea on her famous and much-loved granddad, Mick Foster. However, being also the boss of the video production company SJF Productions, Sarah brought her camera with her to capture some behind-the-scenes shots for her own archive – and found herself asked to come on board as a member of the production crew.
"It was filmed over the course of about four or five months," says Sarah.
The work took them all over Ireland – to Cork, Doolin, Dublin, Limerick, Belfast, and of course Westmeath.
Sarah describes the experience as brilliant, and is delighted that the general public is now to see the side of the offstage personalities of the two men..
"They've been together for more than 40 years; they have 30 albums under their belts; 20 million albums sold worldwide, and what the documentary-makers wanted to do was show Foster and Allen in a light that nobody has ever seen them before, and to see them embrace new musical genres, working with younger hip artists, and reinvent themselves for an entirely new audience," says Sarah.
That sees them explore rock music, soul, indie rock, working with artists such as chart topping DJ Robbie G and musicians Steo Wall, Toshín, Pádraig Jack, Ailbhe Reddy, Míde Houlihan and Strange Boy.
"The younger musicians would come to Foster and Allen and say: 'right: this is our song, this is what we do', and then Foster and Allen would say 'right – this is what we do'. And then they mashed it together."
It worked really well, Sarah said: "Some of the music that they got was unbelievable. Genuinely, it was so good. Some of it was just excellent. My favourite in particular was with Steo Wall: he wrote his own song and Foster and Allen collabed with him and it was just so good."
The company behind the documentaries is Dearg Films, who also made the Brendan Grace documentary, 'Thanks for the Memories'.
Some of the filming took place at Sarah's wedding to husband Timmy Murphy last January: the camera crew filmed the veteran music makers performing at the church, and later, also at the reception: "That's going to be actually featured in the show next Thursday, which I cannot wait to see – I actually got interviewed in my wedding dress, just after walking down the aisle!"
• Foster and Allen: Lost in Music, RTÉ 1, 10.15pm on Thursday October 6 and Thursday October 13.