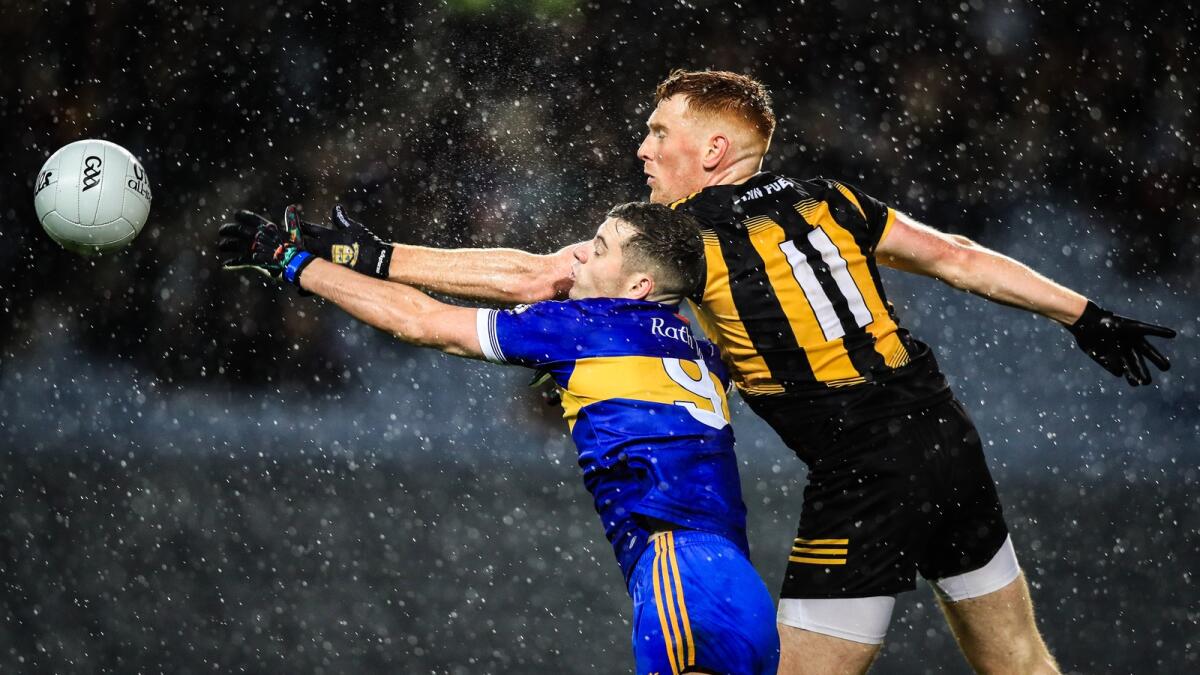 Mitchell goal decisive as The Downs survive late scare
AIB Leinster Club Senior Football Championship Semi-Final: The Downs 2-12, Ratoath 0-17
Gerry Buckley reports
The Downs have become just the second Westmeath side to reach two Leinster club senior finals, the black and amber-clad outfit celebrating the Golden Jubilee of their first by eking out a very hard-earned win against Ratoath in very difficult conditions for football at a sparsely-attended Croke Park last Saturday evening.
Leading by six points with eight minutes of normal time remaining, following goals from Ciaran Nolan and Niall Mitchell in the 26th and 42nd minutes respectively, it looked as if Lar Wall's troops would coast to victory against their Meath counterparts.
However, five late unanswered Ratoath points, allied to the 57th-minute red carding of Andrew Kilmartin, saw a terrific contest go right down to the wire.
Indeed, with the very last kick of the game in the 67th minute (a minute of four minutes' added-time had been signalled), Jack Flynn's very difficult free was wide of the target. Accordingly, it is The Downs who deservedly march on to the decider, albeit they will have the very daunting task therein of trying to dethrone Kilmacud Crokes next Sunday week at the same venue.
Royal County regular Eamonn Wallace opened the scoring after a mere 70 seconds. Luke Loughlin's '45' was soon short of the target, but the very influential Niall Mitchell equalised in the fifth minute from a free.
Tit-for-tat point scoring continued right up to the 25th minute, with white flags swapped by Ian Martin and Bryan McMahon, Loughlin (a fabulous effort) and Bobby O'Brien, Éanna Burke (with Mitchell behind the clever set-up) and Flynn (a '45' after Trevor Martin's outstretched leg had prevented the same player from goaling), Loughlin and Keith McCabe, and Cian Rogers and Jonathan Lynam (a fisted effort shortly after Flynn had taken Loughlin's goalbound lob off the goal line)
Nolan's opportunist goal in the 26th minute, a scrappy score that Ratoath will feel they should have cleared – and more than once – put the Westmeath men 1-6 to 0-6 clear.
Daithí McGowan and Kilmartin (after a great run by Loughlin) traded points before the end of normal time in the first moiety. But David Brady's charges scored an injury-time hat-trick, all from the boot of McGowan (a free and a great brace from play, the second of them with the last kick of the half), to tie up the scoring at the interval (1-7 to 0-10).
A successful Loughlin free (the ball having been moved forward for dissent) in the 31st minute was quickly cancelled out by a Rogers' point from open play. The hard-working Conor Coughlan soon nudged the winners ahead again.
Claims by the ever-threatening Loughlin for a 37th-minute penalty were waved away, but there was no denying The Downs in the 42nd minute when Mitchell pounced for their second green flag, after a clever hand-passing move down the right wing which ended with Kevin O'Sullivan picking out Mitchell who gave Darragh McPartlin no chance from close range.
After McMahon had come close at the other end, Kilmartin doubled his tally in the 45th minute point and, when man of the match Loughlin pointed some three minutes later, the gap was two clear goals (2-11 to 0-11). Sub Conor Rooney and Loughlin (a routine free in the 52nd minute) exchanged points, but this proved to be The Downs' last time to trouble the scoreboard operator.
Wallace came forward for his second point and the second yellow card to Kilmartin in the 57th minute – his first had been entirely avoidable – clearly rattled the Flanagan Cup champions.
Ratoath took full advantage in the closing stages, reeling off scores from Flynn, McGowan, McMahon, and McGowan again (a 'mark').
Sub Dean Egerton was denied a 'point' by Hawkeye, and the very large black and amber-clad contingent in the crowd breathed a collective sigh of relief when Flynn's late, late free from a very difficult position tailed wide.
Scorers – The Downs: L Loughlin 0-5 (2f), N Mitchell 1-1 (0-1f), C Nolan 1-0, A Kilmartin 0-2, I Martin, J Lynam, E Burke, C Coughlan 0-1 each. Ratoath: D McGowan 0-6 (2f, 1m), C Rogers, J Flynn (1'45'), E Wallace, B McMahon 0-2 each, B O'Brien, K McCabe, C Rooney 0-1 each.
The Downs: Trevor Martin; Peter Murray, Eanna Burke, Darragh Egerton; Joe Moran, Conor Coughlan, Mark Kelly; Jonathan Lynam, Charlie Drumm; Ciaran Nolan, Andrew Kilmartin, Kevin O'Sullivan; Ian Martin, Niall Mitchell, Luke Loughlin. Subs used: Dean Clarke for Drumm (30+2-h/t, blood), Tom Tuite for Martin (54), Liam Moran for O'Sullivan (60), Dean Clarke for Drumm (60 +1), Dean Egerton for Kelly (60+4).
Ratoath: Darragh McPartlin; Ben Wyer, Conor McGill, Ciaran O'Ferraigh; Eamonn Wallace, Gavin McGowan, Brian Daly; Ben McGowan, Cian O'Brien; Keith McCabe, Daithí McGowan, Jack Flynn; Bryan McMahon, Cian Rogers, Bobby O'Brien. Subs used: Liam Kelly for O'Ferraigh (24-30, blood), Conor Rooney for McCabe (42), Padraic Byrne for Rogers (53), Andrew Gerrard for G McGowan (55), Brian O'Connor for C O'Brien (58).
Ref: Barry Tiernan (Dublin).