'Athlone's potential for growth is enormous,' strategy launch hears
There is "enormous" potential for Athlone to grow, the launch of the new economic strategy for town and surrounding areas heard recently.
"Athlone is so strategically located - it has such potential," Westmeath council official Barry Kehoe told attendees at the launch of the strategy which was prepared on behalf of Westmeath and Roscommon County Councils.
Mr Kehoe said the challenge for the two councils and industry stakeholders was to "make the most of Athlone and develop it to its full potential as an economic driver," while also delivering "quality of life to all the people who live here and want to come here and do business here".
The economic strategy for Athlone, which was jointly commissioned by the two local authorities, was prepared by the consultancy firm Grant Thornton and was unveiled at an event in Athlone Civic Centre on February 21.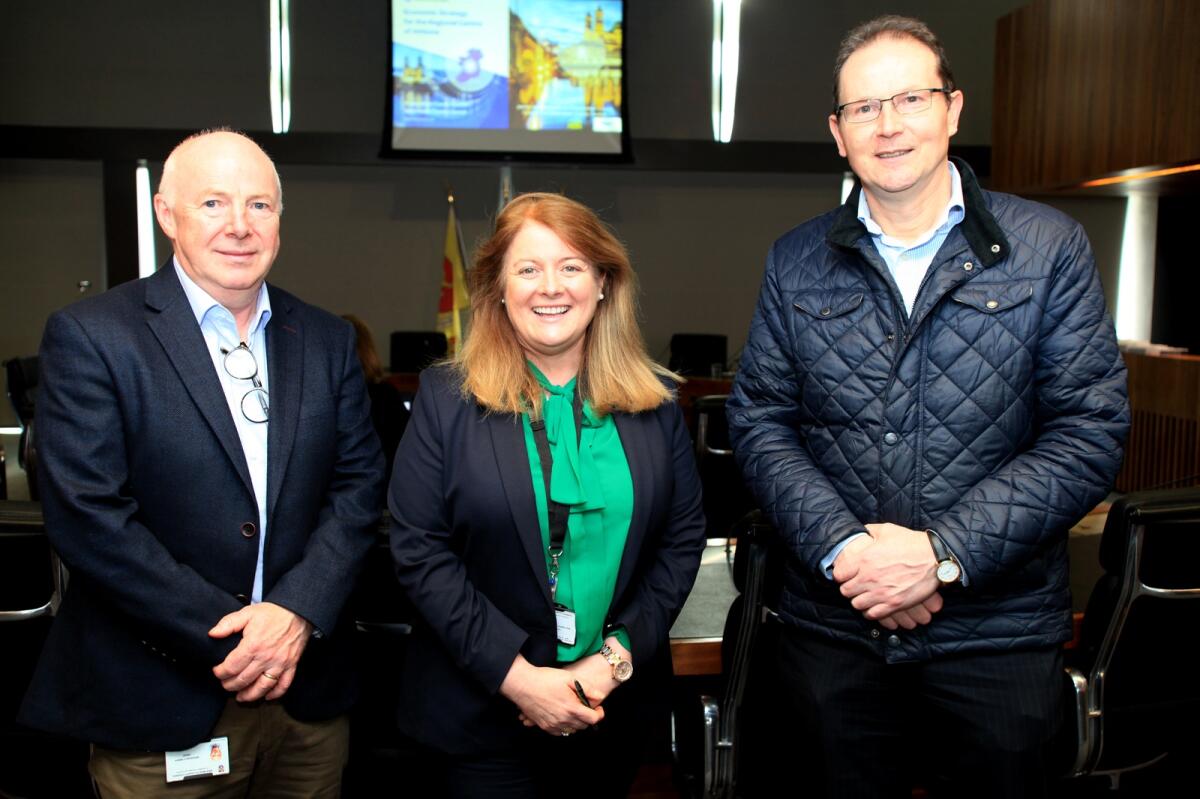 The strategy document pointed out that population of Athlone, which stood at a little over 21,000 at the time of the Census in 2016, had the capacity to grow to 30,000 by 2032, according to the National Planning Framework.
The commissioning of the strategy was prompted by Athlone's designation as one of four 'regional growth centres' in the Government's 'Ireland 2040' National Planning Framework.
Mary Grier, senior planner at Roscommon County Council, noted that, in comparison to the other three designated growth centres (Sligo, Letterkenny, and the Drogheda-Dundalk area), Athlone had "by far" the most advantageous physical location.
A similar point was made by Cllr John Naughten, the chair of the Athlone Municipal District in Roscommon, who argued that, "outside of Dublin and Galway," Athlone was one of the areas of the country with the greatest potential for growth.
Cllr Naughten's counterpart in Westmeath, Cllr Vinny McCormack, said the economic strategy was designed to "help shape the direction of other plans, to ensure that Athlone will not only grow but thrive to become a globally- successful, smart, regional growth centre."
Speaking about attracting new companies to Athlone, Cathaldus Hartin, senior planner with Westmeath County Council, said it was "encouraging to see there are already plans for additions such as the life sciences innovation hub in Monksland, the regeneration plan for Loughanaskin, and the digital and innovation hub at the Athlone Community Taskforce Business Development Centre."
On the future of Athlone's retail offering, Mr Hartin said there would be a need to facilitate "varied, diverse and experiential (retail) offerings such as eating, drinking, culture, sports, leisure and night-time uses."
He added that the consultants preparing the strategy, Grant Thornton, had identified "a clear need" to "create population growth among younger cohorts through the development of a vibrant, liveable and accessible town."
To deliver this, "high-quality affordable housing" would be needed along with "well-designed urban spaces and attractive neighbourhoods." One of the strategy's recommendations was for urban design strategies to be prepared both for Athlone town centre and Monksland.
Another theme of the economic strategy was to develop "a knowledge-based economy built on an innovative higher and further education system" and Mr Hartin felt TUS had the capacity to deliver in this regard.
"There's potential for TUS to become a research and innovation hub for enterprises that will make the region more attractive for inward investment, and this is turn will help grow future jobs and incomes," he said.