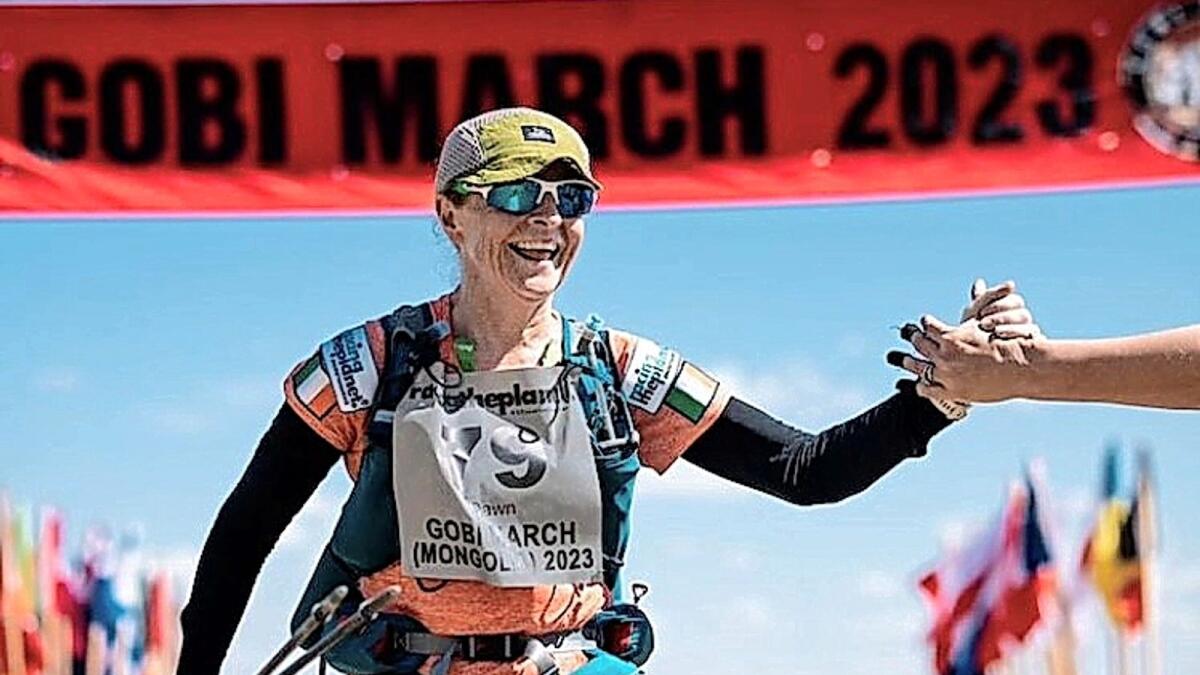 Dawn's epic endurance run across the Gobi Desert
Dawn O'Dowd is the first to admit that she must be "a little bit bonkers" to take part in the extreme sport of ultra running, which has seen her run the equivalent of two marathons in a single day!
The super fit endurance runner, who is currently based in Singapore, is enjoying a short break in her native Athlone for a well-earned rest having just completed a 250km (155 miles) footrace in the Gobi Desert in Mongolia, called the Gobi March.
The Gobi March is one of the four races that comprise the world renowned 4 Deserts Ultramarathon Series which is widely recognised as one of the most prestigious footrace series in the world.
The series consists of 250km/155 mile endurance footraces taking place over seven days and six stages, and the four locations are the Namib Race (Namibia); the Gobi March (Mongolia); Atacama Crossing (Chile) and the Last Desert (Antarctica).
Ironically, when Dawn O'Dowd decided to embark on her first ultra marathon in 2018, she didn't take part in the 4 Deserts series but chose instead to take part in an event which is dubbed the 'toughest footrace on earth' across the Moroccan Sahara Desert, called the Marathon Des Sables (marathon of the sands).
Although she never set out to become an ultra runner, Dawn says she was "always into fitness" and took up running about 15 years ago. "I started off at 5km, then I pushed it to 10km and then I progressed to running marathons and, at the back of my mind I was always wondering how far I could push myself," she said.
"I'm a very, very determined person and if I'm passionate about something and commit to it I will see it through to the end" she added, so the same principles were applied to Dawn O'Dowd's hobby of ultra running.
The daughter of Eileen and Henry O'Dowd from Chapel Street in Athlone has travelled to many parts of the world over the past 10 years with her husband, Conor Shanaghy, whose job as a Site Manager with Medtronic has seen the couple living and working in Switzerland, California, Russia and now Singapore. Having trained as a quality engineer, Dawn now works as a paramedic with the Red Cross in Singapore.
Training conditions for her very first ultra marathon in 2018 proved to be a tough challenge from the outset for the Athlone woman as all her training took place in a Russian winter for a race that was to take place in the blistering heat of the Sahara desert in Morocco!
"The warmest day we got in the Sahara desert was 45 degrees and I had done all my training through a freezing Russian winter, so it was quite a shock," she admitted. To try to counteract the huge variation in temperature, and with her trademark determination, Dawn O'Dowd did all her running in Russia "wearing as many clothes as possible" and also spent a lot of time doing sauna sessions. "I wore a lot of clothes during my sauna sessions as well, which got me some funny looks, and I used to do squats in the sauna to prepare me for the desert heat," she added.
Ultra running is the name given to the sport of long distance running, and the standard definition is anything in excess of the marathon distance of 26.2 miles. Dawn O'Dowd explains that the ultra running events she has taken part in so far are "the equivalent of running one marathon per day over six days" and points out that each of the events includes one 'long march' which equates to two marathons in a single day!
Previous
Next
All the 1,000 participants in the Marathon de Sables in the Sahara desert had to carry everything – including all their food and clothing – in a small backpack while running across the desert, and this is a feature of most ultra running events. "The only thing that is normally provided is a place to sleep, usually in a tent, and drinking water," she recalled.
Dawn's "trusty backpack" has travelled "all over the world" with her at this stage, and as part of her preparation for carrying all her belongings on her back while running at the same time, she started off by putting "small bags of oatmeal" in her backpack and gradually increasing the weights until she got to 9kg.
All participants in ultra running events have to be medically assessed beforehand, and Dawn O'Dowd's resting heart rate before the Marathon de Sable was 42bpm – compared to between 60 and 100bmp for the general population – which put her very firmly in the cohort of super fit athletes.
Having completed the Marathon de Sables, she says she was "hooked" on the challenge of preparing for ultra running events, so she enrolled for a similar event in Namibia in 2019. The intervention of Covid meant no events took place for three years, but she kept up her fitness regime and began training in earnest again over six months ago for the Gobi March in Mongolia last month, having read a heartwarming book called 'Finding Gobi' about an ultra runner who found a dog when he was running across the desert and called it Gobi!
"I had moved to Singapore so I had a great opportunity to do heat training, unlike Russia" she said, "so I did one long run every week and I concentrated on time rather than distance as ultra running is all about endurance."
Dawn's weekly long run regularly consisted of travelling to the Bukit Timah nature reserve, which is a protected rainforest overlooking Singapore, and running, walking and hiking for a period of 12 hours. She combined this with weight training and said her regime was "pretty strict" for the six months leading up to the Gobi March.
The oldest competitor who took part in the Gobi March was 73 years old and the youngest was an 18-year old who completed the gruelling course alongside her father. "Everyone has their own reasons for taking on such a tough challenge," explained Dawn "and you find a lot of people who have a history of addiction and they want to push themselves to find something else, it's a case of mind over matter really."
As someone who loves nature and loves the solo endeavour of distance running, Dawn O'Dowd readily admitted that she too has an addictive personality and is "definitely addicted to ultra running at this stage." However, she also conceded that it doesn't come without its own challenges, one of the biggest being the sheer mental challenge of being able to push through the tiredness, blisters, sleep deprivation and a gamut of emotions.
"When things go wrong, which they often do, you have to dig really deep mentally to get back on track and positive self-talk is a must in these situations" she said, adding that "everyone involved in extreme sports faces these challenges and you just have to confront them head on and get over them."
As an only child, she says she would like to return home to Ireland when her husband's work contract in Singapore comes to an end, as she prefers being "out in nature rather than in a city". She said her parents and her best friend, Sarah, think her ultra running hobby is "crazy" but admits that "it can be difficult" to explain the attraction of such an extreme sport to anybody who is not involved in it.
Dawn has "no intention of giving up ultra running just yet" and is hoping to take part in the Atacama Crossing in Chile next year. "They say that everyone has a tribe and I feel I have really found my tribe, but you really do have to be a little bit bonkers to do ultra running," she laughed.