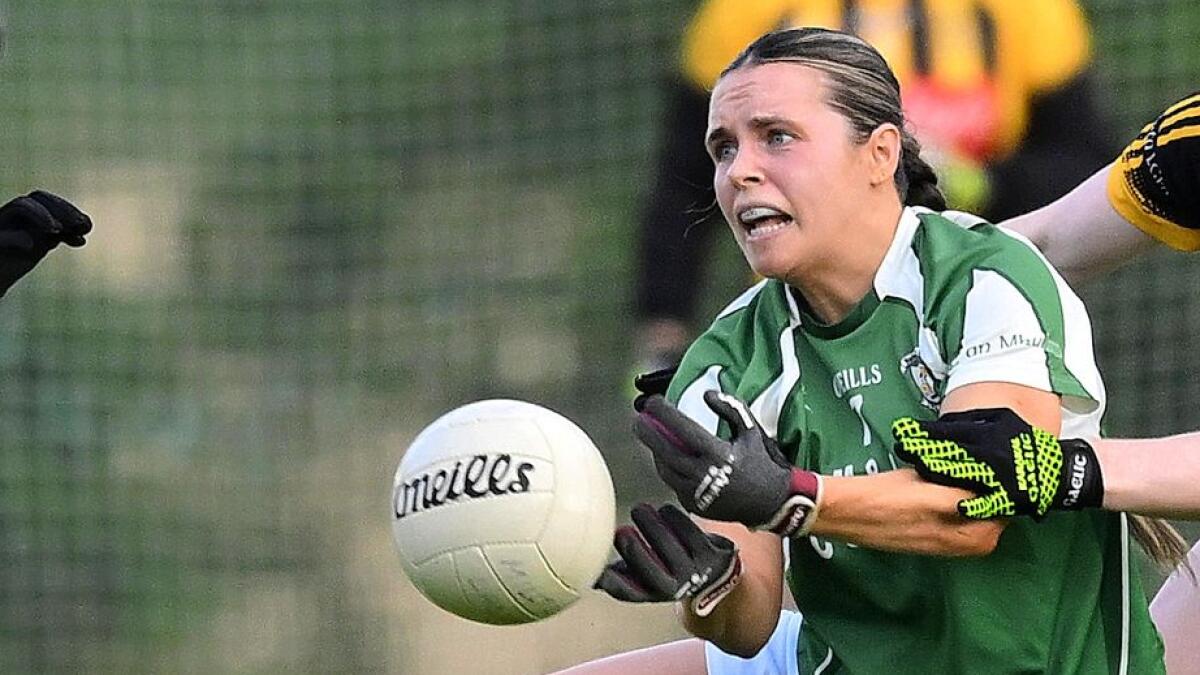 Dominant Milltown outfit maintain unbeaten record
Milltown 2-19, Moate Ladies 1-3
By Shane King
Milltown cruised to a fifth victory in a row at home last Sunday when they hosted Moate in the penultimate round of the Westmeath Ladies Senior Football Championship in glorious conditions.
In what was a very warm day for football, the result never looked in doubt as the home side proved too strong for the visitors and emerged victorious by a 19-point margin. An early goal and a brace of superb scores set the home side on their way to victory from an early stage. Scores were hard to come by for the visitors as they found it difficult to break down their opponents defence. A spirited fourth quarter performance from Moate saw a closer battle at times, however the Milltown team dominated proceedings for the most part of the game to take a comprehensive win.
Milltown are proving to be the team to beat in this championship, boasting an unbeaten record to date. The Dillon contingent on the team, Clodagh, Rachel, Sarah and Tracey were all very impressive, as were the full forward line for the home team, who were all very comfortable and very consistent in front of goal. The range of scorers on the Milltown team was notably impressive with nine different players getting their names on the score sheet: A spectacular feat for any team.
Milltown started brightly with Clodagh Dillon getting the opening score in the first minute of play. A second point for the winners from Orlaith Sheerin extended their lead and was then followed by a high ball into full forward Sinead Boyce, which resulted in her finishing a well taken goal to give her side an early five point advantage. Milltown went on to score three unanswered points to increase their lead once more and created an uphill battle for their opponents.
The game was paused in the 11th when Moate's Claire O'Donohue sustained an ankle injury. This gave players a chance to rehydrate on what was a very hot day.
On the resumption, Katie Smith and Bronagh Beglan both pointed for the girls in green and white. Moate responded through Chloe Moran who got them off the mark in the 15th minute with an excellent solo effort.
Milltown continued their dominance with a further point from Clodagh Dillon on the 20 minute mark. Milltown had a chance of a goal when Nicole Feery made a superb solo run up the field but her effort flashed wide of the target.
Milltown kept the upper hand for the remainder of the half scoring six points, all coming from their consistent forwards and taking the half-time lead on a scoreline of 1-14 to 0-1.
Sarah Dillon was introduced at half-time for Milltown and she immediately made her presence known by delivering a sweet low ball into Clodagh Dillon, who found the back of the net. A period of 10 minutes elapsed without a score before Sarah Dillon scored two points in four minutes, one from play and one free.
Moate got their first score of the half through a well worked play up the middle of the field, with Anne-Marie Moran finishing the play with a fine goal. Therese Geoghegan tapped over a point to add her name to the scoresheet moments before the formidable Sarah Dillon struck two more sublime points from play. Moate replied late on with an Anne Marie Moran point, but it was too little too late as the full time whistle sounded to the delight of the exhausted players in the intense heat.
It was a comprehensive victory for the home side. Both teams have a quick turnaround before heading into the final round of the championship this week.
Scorers: Milltown - Clodagh Dillon 1-4, Sarah Dillon 0-5 (1f), Sinead Boyce 1-1, Orlaith Sheerin 0-2, Sinead Byrne 0-2, Bronagh Beglan 0-2, Laura Kieran 0-1, Katie Smith 0-1 and Tracey Dillon 0-1.
Moate - Anne Marie Moran 1-1, Chloe Moran 0-1 and Therese Geoghegan 0-1(f).
Milltown: Karen Walsh, Emma Ballesty, Kelly Boyce Jordan, Emma Murtagh, Laura Kiernan, Rachel Dillon, Nicole Feery, Tracey Dillon, Orlaith Sheerin, Bronagh Beglan, Katie Smith, Clodagh Dillon, Sinead Boyce and Sinead Byrne. Subs used: Rachel Dillon, Lynda Somers, Jilly Ballesty, Alanna Jones, Maeve Kenny, Sarah Murtagh and Rachel Maguire.
Moate: Niamh Geoghegan, Shóna Neary, Nicola McCormack, Lorna Flanagan, Rebecca Finlay, Fidelma Nolan, Louise Payne, Therese Geoghegan, Claire O'Donohue, Anne-Marie Moran, Carol Price, Holly Keenan, Tara Hughes, Aimee Smyth and Chloe Moran. Subs used: Catriona Folan, Claire McCormack, Amy Hughes and Chanelle O'Neill.
Referee: Paul O'Malley (Killucan Ladies).
Examiner's Eye on game
Player of the match
Clodagh Dillon (Milltown): The corner forward for the home side was brilliant in attack, scoring 1-4 from play and also played a vital role in numerous passages of play for the winners.