President of Athletics Ireland performs opening honours
All weather track at Mullingar Harriers officially opened
Previous
Next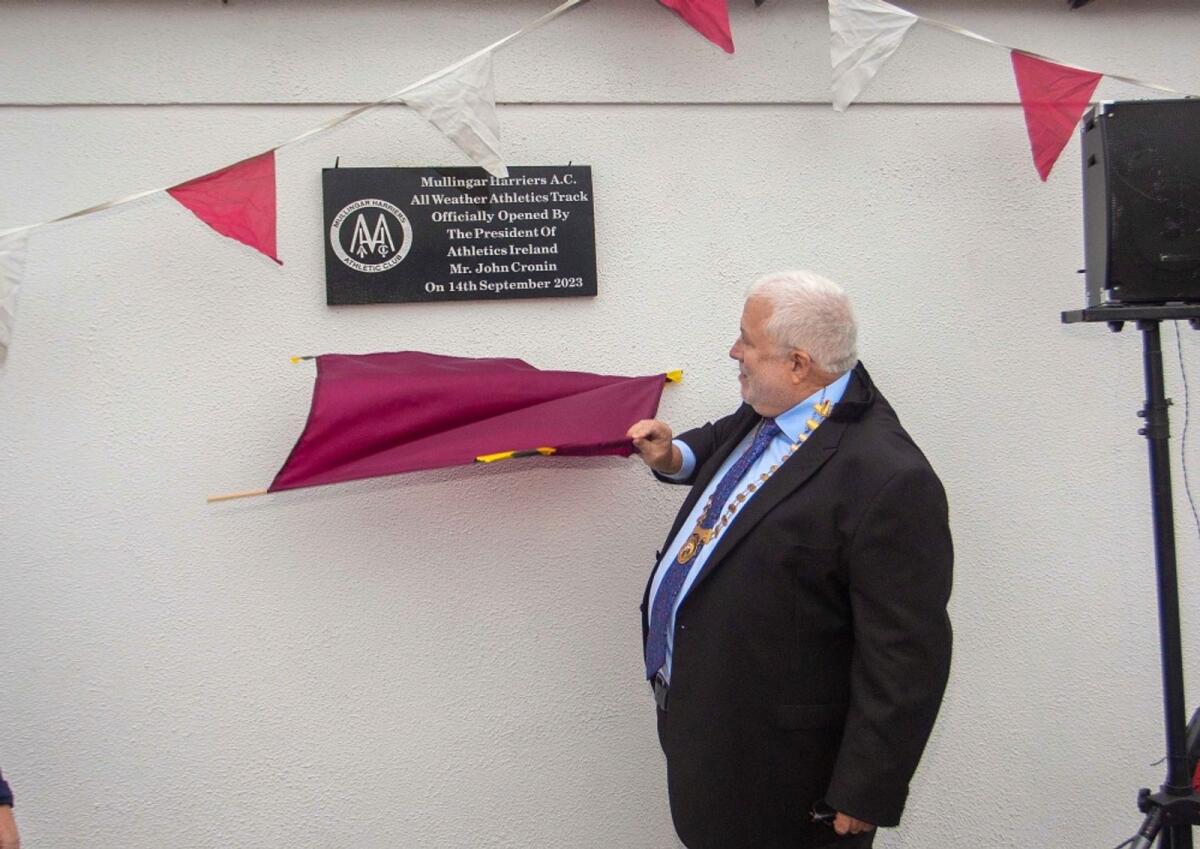 In his remarks to officially open the new all weather track at the Mullingar Harriers grounds, John Cronin said Athletics Ireland were delighted to support the project.
"Our sport is at a high," he said, "and we're getting more and more young athletes joining our organisation – and the two building blocks are coaches and facilities.
"We depend a lot on volunteers; there many of them here who put in countless hours, and we thank them for what they contribute to the wellbeing and future of the young athletes – but facilities are among the more difficult things to get, so congratulations to Mullingar Harriers on taking the initiative and working with the key stakeholders in that."
Mr Cronin acknowledged the importance of political support from the local TDs, (Minister Peter Burke and Deputy Robert Troy were present; as were Cllr Emily Wallace and Cllr Louise Heavin, leas-cathaoirleach, Westmeath County Council) as well as sponsors.
"It's great to see some founding members, Bobby, Seamus, John Mulvihill, Christy Creagh, I've known over a long number of years and it's fantastic to see them still hale and hearty. I'd also like to recognise Bobbie Begley, because I'm wearing a chain that's 101 years old and Bobby's name is on that somewhere as well."
Accepting that it's "impossible to mention everybody", Mr Cronin "called to mind at least two people I got to know over the years who came through these gates often, and who we remember here tonight, Georgie Bell and Pat Finnerty".
He said Mullingar Harriers always punch above their weight and are regularly up near the front at all levels. "I think you've had more than 120 internationals and I'm delighted to see, all the way from Canada, your first national champion and your first international, Eddie Williams."
He continued: "We are a sport that operates from the grassroots up to international level, and often it's the same people, and there are people here, Katrina Duffy, Greg Duggan, Margaret Daly, Mick Lane, the Ryan brothers, Joe and Pat, who operate at local level, and also at county, regional and national level, and without them our sport wouldn't be in as good a place as it is, so we thank them very much for their contribution."
Moving on, he referenced the many masters and the juvenile athletes present at the event and said some of them will be world champions and in the Olympic Games of the future.
"Also, bringing back memories, I see three members of a famous cross country team here, Cormac Finnerty, John Burke and Tom McGrath (the other member of the team was David Burke), who won four national cross country titles in five years, which was fantastic.
"Finally, well done to everybody in the club, and a word of encouragement to the parents and coaches to use these facilities; they're a good bit towards getting there, but you also need commitment, good luck and the support of your families and the club to make it. So once again, thank you for the kind invitation and I'm delighted to be here."
Visitor from Canada
Eddie Williams, a founder member of Mullingar Harriers, was present for the official launch of the all-weather track on Thursday, home on a regular visit from Canada, where he now lives.
An architect by profession, Eddie designed the club logo, and his range of skills were also evident on track. He won the Irish decathlon championship in 1978, and represented Ireland in the 110m hurdles, decathlon, high jump (he made more than seven feet), pole vault, in competitions against Scotland and Denmark; he competed in the European club championships for Crusaders, as a guest.
Eddie was offered a scholarship to Clemson University, South Carolina, but "I didn't take that and ended up going to Canada instead – got married to a Canadian, and that was the end of it".
Eddie was with his wife, Wendy. He comes back every year to visit family, including his brothers.
"This visit just happened to coincide with the opening," said Eddie, "and it's fantastic to see the club and the track, though it's 40 years too late for me! Next time around, eh?!"
READ MORE
THIS WEEK'S CLUB NOTES: Terrific turnout for official opening of new track
Margaret expresses thanks to all who helped develop all weather track