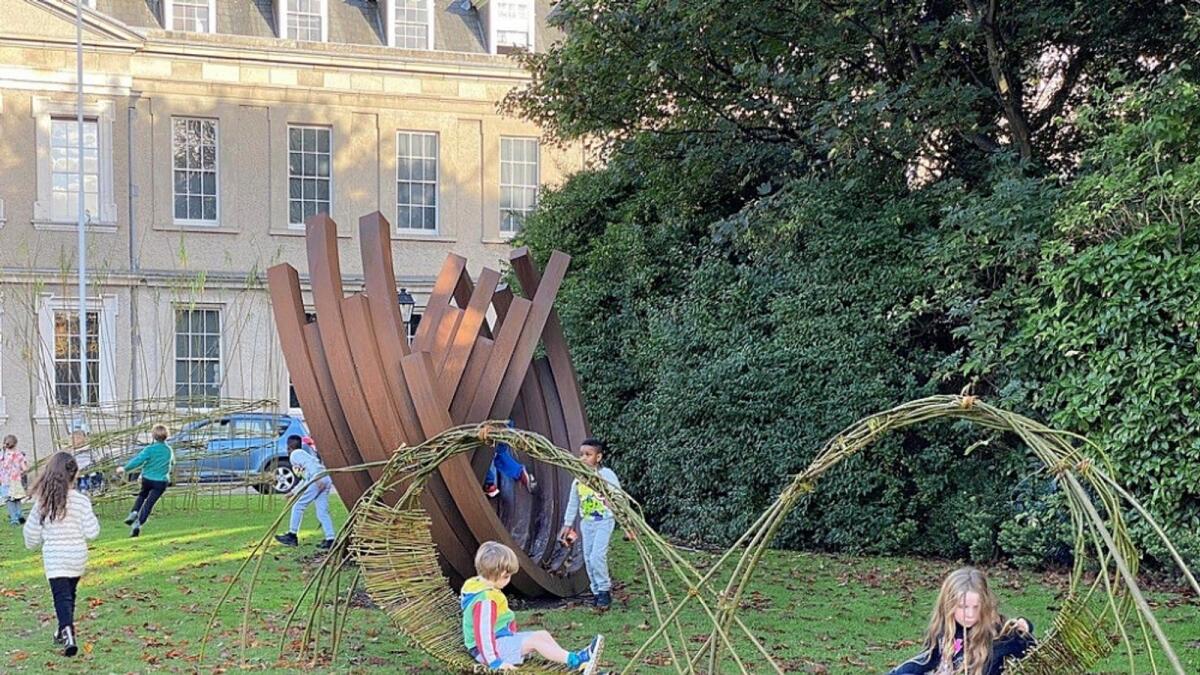 Local artist facilitates willow sculptures at IMMA festival
Sophie Van Maltzan, a German-born artist living in Moyvore, took part in the Earth Rising festival at the Irish Museum of Modern Art (IMMA) recently by helping to facilitate the creation of an artwork from willow.
The festival was held at the museum from September 21 until September 24 and served as an environmental call to action, demonstrating how the immediate environment call can be renewed by the community itself as she involves local residents and schools in the project.
Previous
Next
The artist and landscape architect worked on her first willow weaving project in Phibsborough about seven years ago. Sophie explained that working with a natural material is "hugely satisfying".
"It gives you the feeling that you're reconnecting with nature in an intrinsic and meaningful way and the nice thing is that everyone can do it so we don't do any professional weaving. We ask the children and the students to explore what can you do with willow and figure it out themselves and they end up building these really big playful structures."
Sophie worked on the willow installations in IMMA last year too and said that the children "absolutely loved it".
"We left the sculptures for a few weeks after the festival for the community to enjoy and everyone was really sad when they got taken away." Last year's participants: the schools, the students from University College Dublin and National College of Art and Design and the gardening team at IMMA have expressed how much they would like to see the willow weave to continue at IMMA.
Sophie explained: "We are trying to just inspire children and the students who've never done any weaving before to just build big spatial abstract elements so we're going to start on Monday with a group of NCAD students and a group of landscape architecture students and they're going to come up with designs."
Following last year's festival, community groups from all over Ireland contacted Sophie for advice on how to conduct a community willow weaving project.
During the festival, people were invited to come and create a unique sculpture through the art of willow weaving. Ahead of the festival, Sophie said: "I have no idea what will be built because the community will decide it. My job is empowering other people to create."
"We like the idea of using this material involving all the communities because we believe it's truly within the spirit of the festival, a sustainable eco art festival."
Using willow as a medium, Sophie has conducted several spatial and social activation projects in public parks from 2017 to 2022.
Building the structures is an effective and creative way to empower audiences to become agents of change and to give civic space local and personal meanings beyond the often anonymous design and atmosphere of open spaces in the city.
The week-long project created willow structures which can remain in place for some weeks. The exact duration will be decided by the gardening, maintenance, health and safety and other OPW and IMMA staff. The practice of keeping the willow on site after the festival was successfully tried after last year's festival.
Earth Rising is a four-day festival of free events and experiences at IMMA in Royal Hospital Kilmainham, Dublin which took place from Thursday, September 21 until Sunday, September 24.