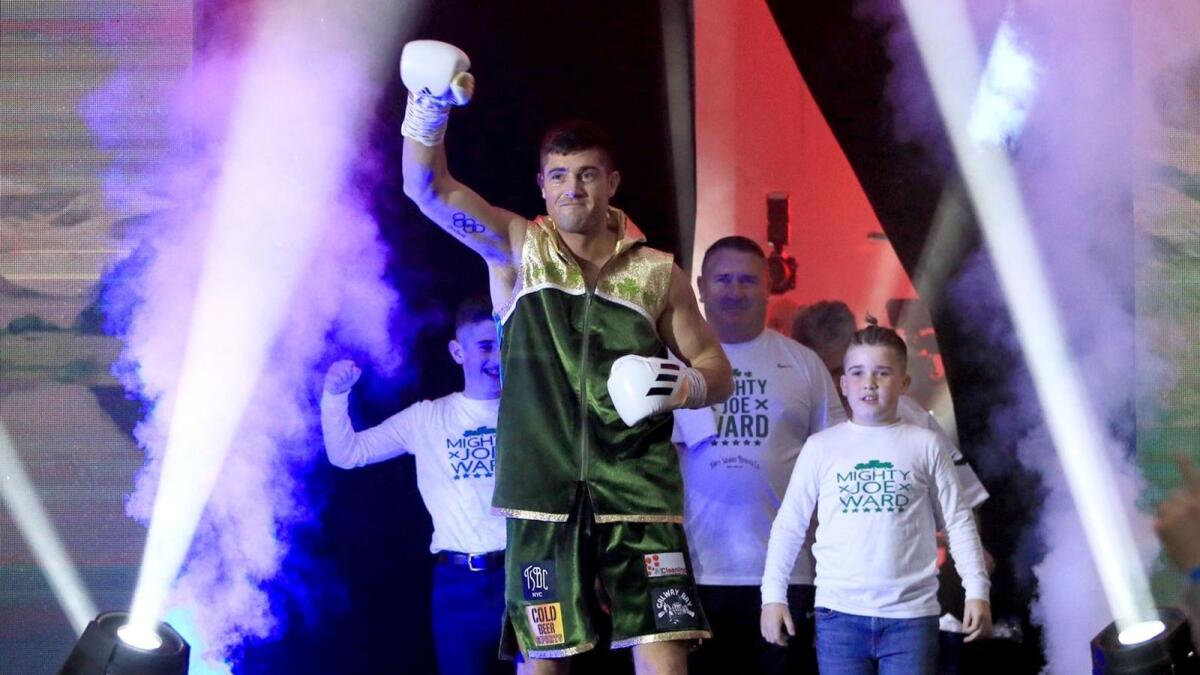 Joe Ward targeting Athlone fight in future after TKO win in Donegal
Last Saturday was billed as Joe Ward's homecoming - his first professional bout on Irish soil.
And after a round TKO win against Prince Oko Nartey in Letterkenny, the 30-year-old Moate light heavyweight is now hoping to fight even closer to home.
"I hope I'll get the opportunity to fight more regularly in Ireland, and maybe fight in Athlone at the Athlone Town football stadium," Ward told the Westmeath Independent.
"That's something I have always dreamed of doing. I believe that it's possible, that it can happen. It would be amazing to fight for a belt, or defend a belt, in Athlone.
"It's in the centre of Ireland, and there's some great stuff happening in Athlone, so it would be great to bring boxing back here and really give the local people an opportunity to come and see me.
"I'd imagine that people involved in Athlone Town, and the local councillors, would be very supportive of something like that if it was done right."
At the weekend, Ward headlined the 'Rumble in the Hills' show at a packed Aura Leisure Centre in Letterkenny.
This was his eleventh professional fight and his first on this side of the Atlantic, after the previous contests took place in the United States (6), Mexico (2), Canada and Puerto Rico.
Nartey, Ward's opponent for the scheduled eight-rounder, had an impressive-looking record of 11 wins and one loss, with ten victories inside the distance.
He had rarely boxed outside of his native Ghana, however, and from the beginning Ward's superior ringcraft and heavier punching power was apparent. The opening round ended with Ward dominating as Nartey staggered along the ropes.
The second round followed a similar pattern, with Ward on the front foot, in complete control. Just one second before the bell was to sound to end the round, the referee stepped in and stopped the contest.
Nartey had displayed courage but that was never going to be enough against his gifted opponent who was one of the most decorated amateurs in Irish boxing history.
"My opponent had good resistance - he took a lot of good shots - but the referee made the right decision (to stop it)," said Ward.
After winning on points in four of his previous six bouts, Ward has now recorded two early stoppage wins in 2023, after defeating Mexican Mario Andrade Rodriguez in the first round in Canada last March.
Asked if he was developing a more ruthless style, he replied: "Absolutely. This is professional boxing, and you've got to be ruthless in order to make a statement and get to the big fights.
"There are levels in the sport, and I need to show (my talent) in the ring. I want to show that I carry power in both hands and that I can finish these fights at any given moment."
He said it had been a memorable experience to box in front of an Irish crowd, including members of his family and supporters who travelled from the Midlands.
"The support was amazing. People travelled three and a half hours, or four hours, to come and watch me fight so I'm very grateful for that. The atmosphere was great and it was great to have local people around and get their support."
Ward is hopeful that 2024 will bring him closer to bouts with some of the world's top light heavyweights. Some of the biggest name in the division globally include Russians Dmitry Bivol and Artur Beterbiev, and Britons Callum Smith and Joshua Buatsi.
"For me, 2024 is hopefully going to be a big year. I want to fight for belts and put myself into a position where I'm challenging the top guys in the world," he concluded.
"I'll be ready to go when I get the call for these big fights so I'm going to sit down with my team, plan it out, and maybe one of them could be in Athlone Town stadium. I'm looking forward to a big push in 2024, and hopefully winning some belts."