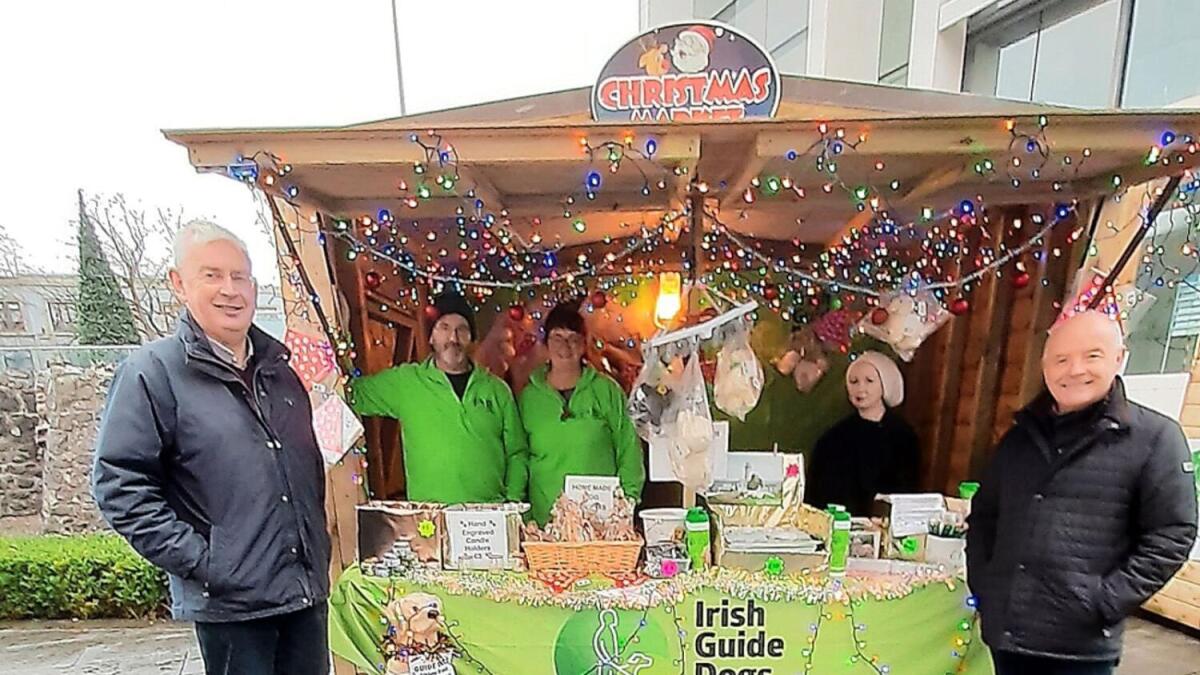 Local Christmas markets set to get underway
A host of Christmas markets and events are about to get underway. This weekend, a Christmas market will take place in St Kieran's Community Centre in Tormey Villas, Athlone on Saturday, November 25 from 10am to 4pm.
There will be arts and crafts stalls, food stalls and entertainment with an opportunity for kids to meet Santa and all proceeds will go towards the Irish Wheelchair Association in Athlone.
The Christmas indoor market in Moate Community Hall will be held on Sunday, November 26 from 10am to 5pm. There will be products on sale from many local crafters and the proceeds will go towards developing a playground for Mount Carmel Drive.
Ballinahown NS will hold a Christmas Coffee Morning and Bake Sale fundraiser this Sunday, November 26 from 10am to 1pm in Ballinahown Community Hall. There will be lots of homemade goodies to choose from including apple tarts, cheesecakes, cupcakes, teabracks, chocolate biscuit puddings and Christmas cakes.
Also, this Sunday, November 26 and on Sunday, December 3 the Mini Christmas Market will kick off in Coosan Point. The market will be held from 1pm to 5pm in the Lough Ree Inn and will feature local crafters selling Christmas gifts and beautiful handmade crafts. There will be festive food and drink stalls, local jewellery and gifts and wreaths, flowers and honey on offer.
An Indoor Market will be held in Monksland Community Centre on Sunday, December 3 from 12pm to 6pm. There wil be something for everyone with stalls selling bric-a-brac, clothes, flowercraft, needlecraft, papercraft, handmade jewellery, preserves, homebaking, pebble art, room scents and more.
A Christmas Market hosted by Ballymore Tidy Towns will take place on High Street in Ballymore on Sunday, December 3 from 1pm to 6pm. There will be a marquee in the village with mulled wine on offer and many local crafts. The event will also include the Christmas lights switch on and some carol singing. There may even be a surprise visitor from the North Pole.
Meanwhile, an indoor Christmas Market will also take place on Sunday, December 3 in Clonfanlough Hall, N37 FH29 from 3pm to 6pm. There will be a raffle and complimentary hot chocolate, tea or coffee on arrival. Vendors will include; Alison Holmes handcrafted jewellery, Anna Boles art, Audrey White Cottage Crafts, Shannonbridge Pottery, Tara's Sweet Treats and Terence Casey Animal Adventure books. Clonmacnois NS will be on hand to entertain the crowd.
There will be a Christmas themed farmers market in Brideswell village on Friday, December 8 from 5.30pm to 8pm. Crafts, baked goods, vegetables and savoury food will all be on sale and there will also be a coffee truck. The kids Christmas decorated tractor run will take place at 5.30pm followed by the Christmas tree lights switch on at 6pm. There will then be a performance by Brideswell School Choir and a kids disco.
Jolly Boys Pizza + Grill will host a Christmas Market at their premises in Ballymahon on Saturday, December 2 and December 3 and on Friday, December 8 and December 9 from 12pm to 6pm on all days. There will be one large marquee for stall holders, a food and beverage marquee and an entertainment marquee with live music by Ballymahon School of Music and Sizzle School of Dance. There will also be colouring competitions and free face painting for children. Santa will also be attending the market on December 3 and December 9 from 2pm to 5pm. Pre-booking is advised. It costs €15 per child and €40 for three children.
A Mini Christmas Market will be held in Rob's Ranch House, Athlone on Saturday, December 9 and December 16 from 12pm to 4.30pm. It will include stalls, art, crafts, raffles and various bargains.
The Ballycumber Christmas Market will take place on Saturday, December 9 from 4pm to 9pm in Gavin's car park in the village. There are over 30 stalls confirmed for the market including baked goods, crafts, mulled wine, hot food and more. There will also be a live performance by St Manchan's choir and the Ballycumber Christmas lights will be turned on at 8.30pm.
A Christmas Market will be held in St Mary's Hall, Moate on Sunday, December 10 supported by St Hilda's Hub Moate.
A Christmas Craft Fair will also take place at Coláiste Chiaráín in Summerhill, Athlone on Sunday, December 10 from 11am to 3pm. Handmade gifts, crafts, seasonal gifts and gourmet baked foods will all be on offer. There will also be a raffle wheel, music and face painting and a bumper Christmas draw for a chance to win a holiday in Centre Parcs Longford.
Moate Action Group will host a Christmas Market on Sunday, December 10 in the old schoolhouse on Station Road, N37 R5P1 from 11am to 6pm.
Finally, Athlone Christmas Market will take place in the Civic Square from Thursday, December 14 to Sunday, December 17, from 10am to 7pm on Thursday and Friday and from 9am to 6pm on Saturday and 10am to 6pm on Sunday. Local businesses such as Bonny Bó, Ballymore Honey, Button Studio, The Paper Lane, deDANU, Bastion Kitchen, A Room in Bloom and Cauldron Designs will all have stalls at the market.