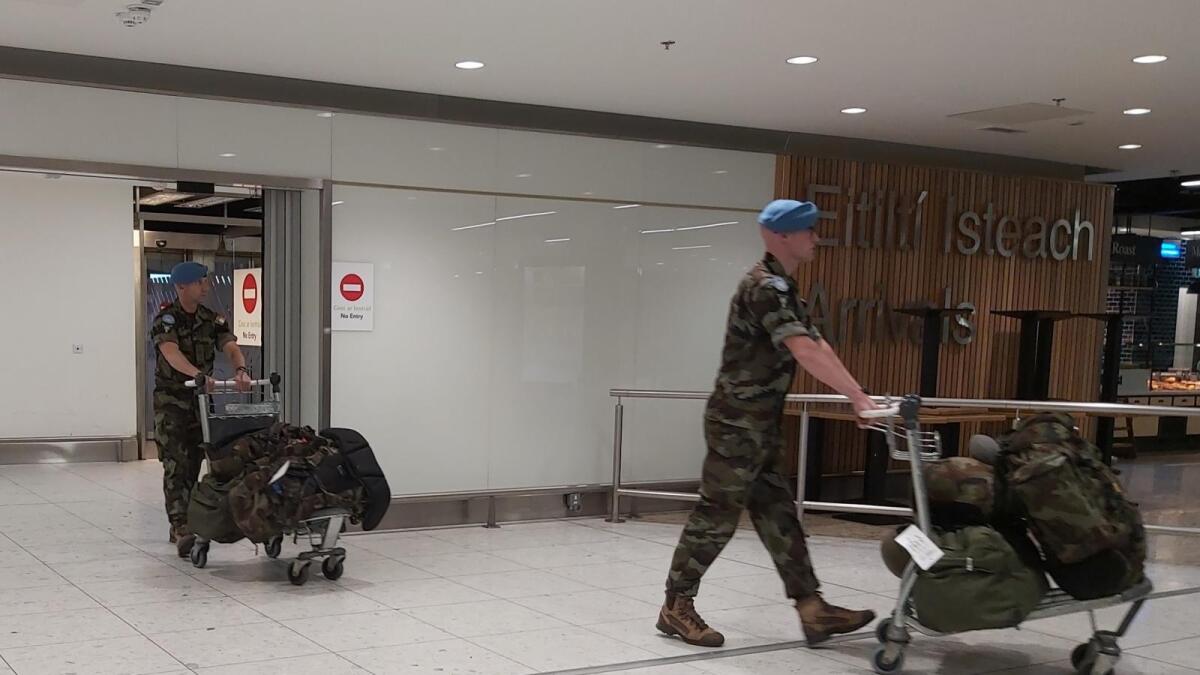 Local troops arrive back from Syria
Some 122 Irish troops from the 60th Infantry Group, United Nations Disengagement Observer Force (UNDOF) returned to Dublin Airport on Saturday evening, landing at 6.50pm, following a six-month deployment to Syria.
The scene from Dublin Airport last night.
The joyous scenes of reunions with families and loved ones were absent at the airport, due to the restrictions imposed as part of the COVID-19 response.
This was the first rotation to transit through Damascus International Airport since the beginning of the Syrian Civil War. Prior to returning home, the members of the 60th Infantry Group were in self isolation for the previous 14 days.
On arrival the Unit were subject to a medical screening, consisting of a temperature check and a symptom screening. Troops were then brought back to their home barracks on Military Transport. They must self-isolate for 14 days. The Defence Forces arranged three transport options on return to their home barracks:
While strictly adhering to HSE restrictions troops were either collected by members of their family, transported door to door by Military Transport, or availed of self isolation accommodation provided by their home unit in barracks.
The majority of the 60th Infantry Group's personnel come from the 6th Infantry Battalion based in Custume Barracks, Athlone.
Meanwhile, their replacements, the 61st Infantry Group, have completed their deployment to Syria and joined their UNDOF colleagues in theatre. Prior to departure, and on arrival at Damascus Airport, the 61st Infantry Group underwent medical screenings of the same type as the returning 60th Infantry Group. On arrival in camp they will undergo a 14-day self-isolation period.