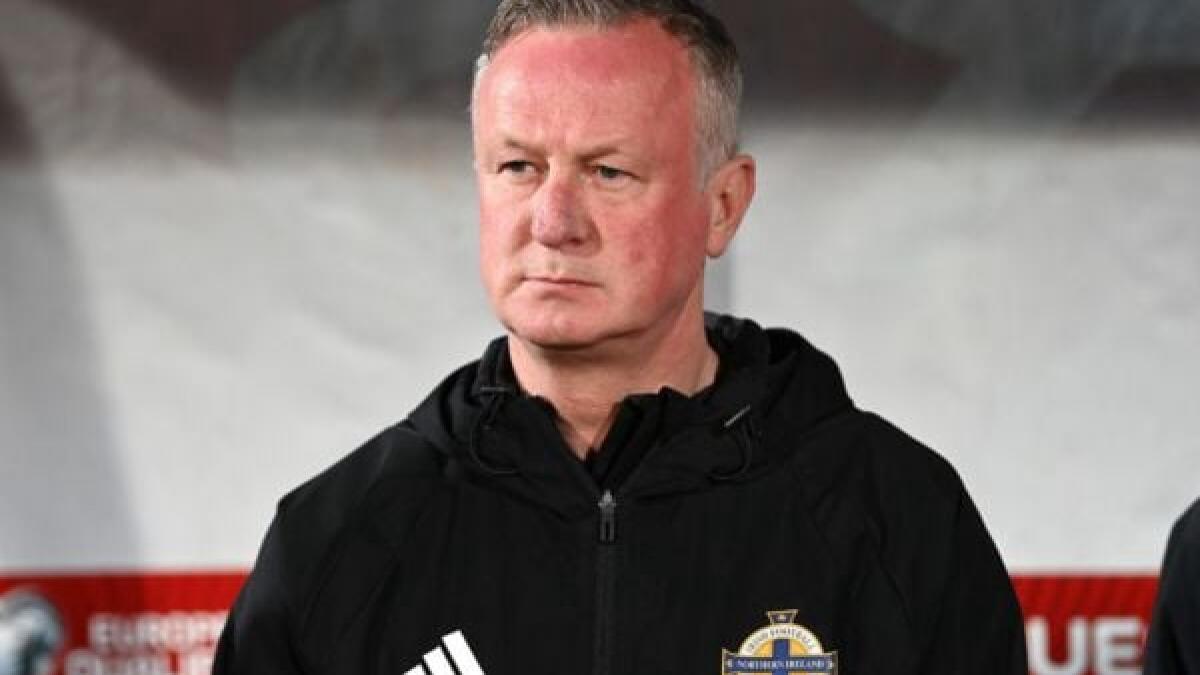 Michael O'Neill determined to remain focused amid emotion of Windsor Park return
By Ian Parker, PA
Michael O'Neill will be back in the Windsor Park limelight on Sunday night, but the Northern Ireland manager insisted emotions would not cloud his thinking going into their Euro 2024 qualifier against Finland.
O'Neill's first home game of his second stint in charge will be a big occasion in south Belfast, but the manager is only interested in three points to build on Thursday's 2-0 win in San Marino.
The 53-year-old insisted he was not an emotional man and joked reporters were "desperate to see me in tears" as the questions kept coming, saying his only focus is on preparing his team.
"At the end of the day it's a game of football," O'Neill said. "We have to keep everything in perspective. I don't know how it will affect me tomorrow, I know we have to be focused. My primary objective is to make sure my head is in the game and that's where it's been all week.
"I'm just looking forward to the game. When Northern Ireland are at their best the stadium has a great atmosphere, there's a real strong bond between the players and the fans. That's something we carried for a number of years, something we developed and something we have to reconnect.
"We have to make sure that's how fans feel about the players going forward. That's where I'll get the most satisfaction and, who knows, maybe a bit of emotion will come out then."
Dion Charles's brace in San Marino has fuelled the optimism that O'Neill's return has generated within the Green and White Army.
A Finland side led by Norwich striker Teemu Pukki, who has 37 goals in 109 internationals, will represent a very different challenge, but O'Neill is hoping his team can take advantage of the greater space they are likely to find compared to facing a San Marino side who kept 10 men behind the ball.
If Northern Ireland can beat a side who came into Group H as second seeds, it would show they can challenge for a place at Euro 2024.
"There is no better thing than winning," O'Neill said. "It breeds confidence, it breeds togetherness in a group of players. We always talk about culture in sporting teams. It is difficult to create a culture in a losing team, so of course winning helps."
Transforming Northern Ireland's culture was key to the success O'Neill enjoyed in his first spell between 2012 and 2020.
The togetherness he helped foster was seen on Saturday as captain Steven Davis and Stuart Dallas, both out with long-term injuries, watched training from the Windsor Park sidelines after joining the squad on Friday night.
"It's brilliant for Steven and Stuart to be here," O'Neill said. "I think it's good for the medical team to see where they are, get their hands on them as well.
"It's a bit of a change for the players as well. When you've got long-term injuries, their clubs are brilliant, but sometimes you need a change of scenery and they've had that the last couple of days.
"They add a lot. We've got a lot of younger players in the squad and for them to see Steven Davis and Stuart Dallas about the place, it can only be a positive."
Craig Cathcart is captain for these games in the absence of Davis and Jonny Evans, and corrected Davis when he called him "skipper".
"I told him not to call me that around you," the Watford defender said. "It's not a term I'm comfortable with, but he tried to wind me up a little bit.
"It was great to lead them out at San Marino on Thursday. It'll be even more special at Windsor Park, especially in Michael's first game back. The atmosphere will be brilliant.
"Maybe he will give us a tear or two if we qualify. I have only ever seen him come close to crying after a few late nights."