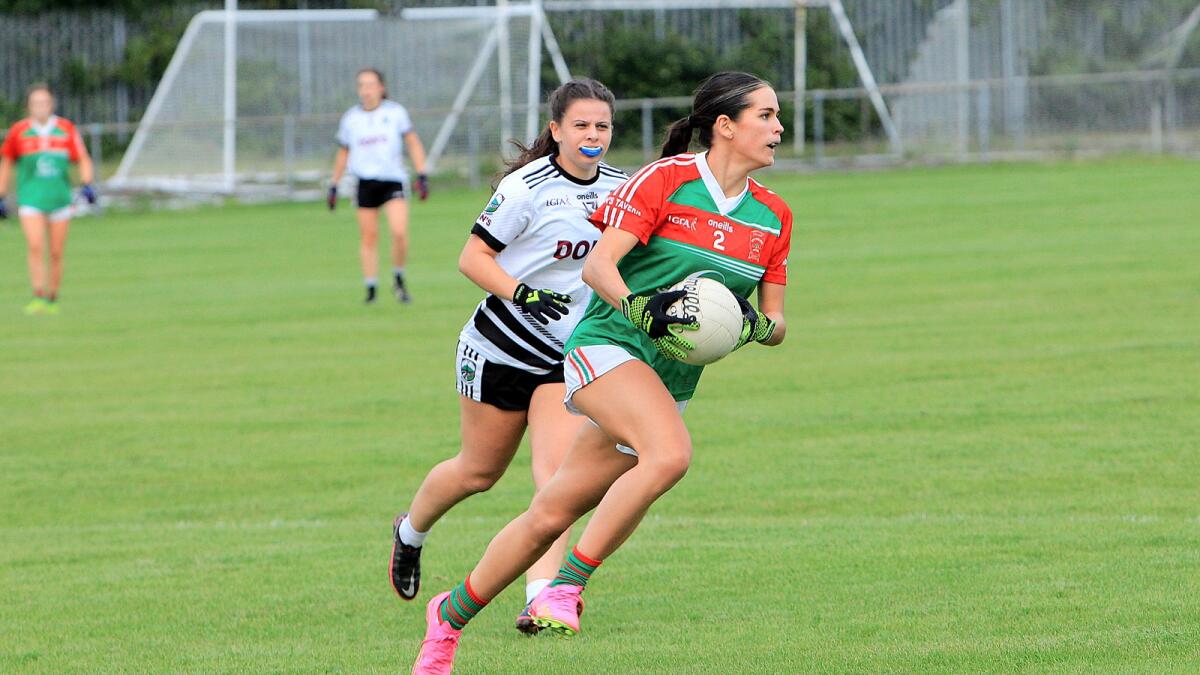 Lynn goal gives Garrycastle deserved victory
Garrycastle 1-9 St Mary's, Rochfortbridge 0-10
An opportunist goal by midfielder Áine Lynn was key as Garrycastle earned a noteworthy victory over St Mary's, Rochfortbridge, in the Westmeath Ladies SFC, at Rochfortbridge on Thursday.
A terrific contest saw Garrycastle take command in the first half and they established a lead of six points at the break, 1-6 to 0-3, before St Mary's, Rochfortbridge battled back in the second half.
Just three points separated the sides with 12 minutes remaining (including added time) as a fascinating finale ensued, but the goal Rochfortbridge required never materialised. They came agonisingly close when Megan Brick sent a high shot into the danger area in the final minute and 'keeper Megan McCormack could only initially parry the ball with Nicola Judge applying pressure.
However, the Rochfortbridge full forward couldn't force the ball to the net and in the end a throw-in resulted. Garrycastle survived a further onslaught as last year's finalists applied serious pressure in the closing moments before the final whistle brought contrasting emotions.
Garrycastle certainly looked a different proposition here with Lauraleee Walsh back at full forward and they will have a major say in the outcome of this year's championship.
SUPERIOR
The lively breeze was a big factor and Garrycastle had the advantage of the elements in the opening half, with Grace Halligan giving them the lead in the second minute when she pointed, following Lorraine Duncan's pass. Shannon Mulvihill's free doubled their lead, but Nicola Judge curled over a point against the breeze to get the home side motoring.
An excellent point from Lisa Fitzpatrick saw Garrycastle open up a two-point lead by the tenth minute and Lauralee Walsh was proving a serious handful for full back Aoife Moran.
Three further unanswered points from Shannon Mulvihill (free), Lauralee Walsh and Lisa Fitzpatrick made it 0-6 to 0-1 in Garrycastle's favour after 25 minutes and at this stage they looked a superior side. St Mary's, Rochfortbridge struggled to get their running game going and scores from play were at a premium: they got two frees from Megan Brick late on and looked to have established a strong position, but there was another twist before the interval.
Lauralee Walsh's delivery was parried by Selina Bradley and midfielder Áine Lynn pounced to slap home a crucial goal.
Shannon Mulvihill's free extended the Garrycastle lead 90 seconds after the restart, following a fine run by Lorraine Duncan. Danielle Madden then set up Shannon Mulvihill for a point, making it 1-8 to 0-3 and asking major questions of Rochfortbridge.
In truth, the response was excellent as an unanswered 0-5 followed. Emma Collins shot a fine point via the upright before midfielder Aoife Brady kicked a minor; Nicola Judge followed with a brace and when Megan Brick converted a free, it was 1-8 to 0-8.
Grace Halligan then slotted over an important free in the 55th minute as Garrycastle re-established a four-point cushion. Aoife Brady's fine score just as the challenge arrived cut the leeway to three points again and Rochfortbridge went in search of the winner.
They almost got the goal they craved in the 60th minute, but Nicola Judge couldn't force the ball home, following Megan Brick's delivery. Further pressure resulted in a pointed free from Megan Brick, but Garrycastle survived and deservedly claimed victory after a great contest.
Player of the match: Lisa Fitzpatrick (Garrycastle): The wing back was excellent, especially in the first half as Garrycastle put the squeeze on the home side and her two points from play were excellent. Full forward Lauralee Walsh proved a real handful for the Rochfortbridge defence.
Scorers - Garrycastle: S Mulvihill 0-4 (3f), Á Lynn 1-0, G Halligan (1f) and L Fitzpatrick 0-2 each, L Walsh 0-1. St Mary's, Rochfortbridge: M Brick 0-4 (4f), N Judge 0-3, A Brady 0-2, E Collins 0-1.
Garrycastle: Megan McCormack; Clodagh McCahey, Aimee Duncan, Jessica Frawley; Aoife McGibbon, Kacey Mulvihill, Lisa Fitzpatrick; Áine Lynn, Lorraine Duncan; Grace Halligan, Sarah Dolan, Danielle Madden; Patricia Igoe, Lauralee Walsh, Shannon Mulvihill. Subs: Fiona Mulroy for P Igoe (inj.), P Igoe for G Halligan.
St Mary's, Rochfortbridge: Selina Bradley; Lisa Flanagan, Aoife Moran, Rebecca Nolan; Niamh Carey, Fiona Coyle, Jen Whelehan; Aoife Brady, Niamh McDermott; Ava Balfe, Emma Collins, Ayesha Roche; Kacey Geoghegan, Nicola Judge, Megan Brick. Subs: Michaela Brady for A Balfe, Jill Draper for N Carey, Lucy Brogan for R Nolan.
Ref: Barry Nea (Killucan).